Auckland's City Rail Link - a very expensive punt, or the city's key economic enabler? Gareth Vaughan wades through the Business Case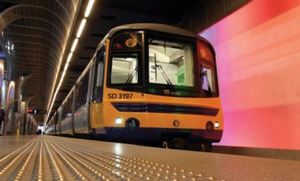 By Gareth Vaughan
The phrase 'bigger than Ben Hur' was coined after the 1959 release of the then very expensive $15 million Hollywood movie Ben Hur. Basically it's a saying used to refer to something of extravagant and epic proportions.
It's easy to paint Auckland's up to $3.4 billion City Rail Link as the city's transport Ben Hur. Or it that price it could be argued it's bigger than Ben Hur, which in its day was the second highest grossing film in history, winning 11 Academy Awards.
So will Auckland's City Rail Link prove as successful?
I've had a wade through the City Rail Link Business Case, issued by Auckland Transport, an Auckland Council controlled organisation, to try and find the answer.
The Business Case certainly talks the project up. The City Rail Link, expected to be completed by 2023/24, is described as an economic enabler and an urban redevelopment catalyst that will provide a station within 10 minutes walk of anywhere in the City Centre.
The Business Case paints a picture of a project that's a lot more than just a rail tunnel. 
It's described as "a lead investment whose major purpose is as an economic intervention, providing transport capacity to enable the top wealth creating location in New Zealand to grow." And, "The City Rail Link is essentially an economic enabler providing the accessibility needed for Auckland's primary economic engine - the City Centre - to grow."
The $3.4 bln price tag is equivalent to the Govt's annual law & order budget
The project's cheer leaders, led by outgoing Mayor Len Brown, eventually won an initially sceptical National Party-led government over. This culminated in a watershed moment last month when the Government announced it (read taxpayers) will stump up 50% of the cost of the City Rail Link. Auckland Council (Auckland ratepayers) will pay the other half. The total cost of the project is currently estimated at between $2.8 billion and $3.4 billion.
To put that price tag in context the Government's 2016 Budget allocated less money to each of tertiary, secondary and primary education, which received $2.1 billion, $2.1 billion and $3 billion, respectively. The $3.4 billion upper end of the City Rail Link's estimated cost matches the 2016 law and order budget. Auckland Council's half contribution towards the project is roughly equivalent to its June year rates revenue of $1.564 billion.
By way of comparison, two of the other major transport infrastructure projects underway in New Zealand, Auckland's 2.4 kilometre Waterview Connection which is half underground, and Wellington's 27 kilometre Transmission Gully motorway, are expected to cost $1.4 billion and $850 million, respectively.
Why is it needed?
So what exactly is the City Rail Link and why is it needed?
It's a 3.45 kilometre rail link, largely via tunnel, from the downtown Britomart Station up to a redeveloped Mt Eden Station. It will include two new underground stations - Aotea and Karangahape Road. According to the Business Case, the City Rail Link will allow 20,000 more passengers per hour to conveniently access the City Centre than would otherwise be possible.
The Business Case acknowledges additional investment in Auckland's rail system will be needed beyond the City Rail Link to provide a "truly world class" railway. But it points out the project will remove a dead-end terminus at Britomart, where trains have to enter and reverse out on the only two tracks available, and remove the need for western line trains to reverse at Newmarket, the second busiest station.
There are also plans for bus routes to be reworked to act as feeder services to suburban stations, thus reducing the numbers of buses arriving in the City Centre from directions where the rail line runs such as the west, and allowing more bus services from other regions, such as the north, that aren't served by rail. In this way, the Business Case argues, the City Rail Link will provide "indirect benefits" to a wider area of Auckland than merely immediate rail catchments.
Here's some of the key argument as to why the City Rail Link is needed, taken from the Business Case.
The fundamental constraint that applies to the Auckland rail network is the maximum train frequency at the Britomart Transport Centre. With only two lines feeding the five platforms in this terminal station the maximum planning capacity is 20 trains per hour. With six trains on each of the main lines in the peak – southern, eastern and western – and two trains per hour on the Onehunga line, the peak period capacity is fully taken up without the CRL [City Rail Link]. 

Further constraints on the rail network at critical junctions and between Wiri and Westfield are planned to be addressed in parallel with CRL construction. These are identified within the Regional Land Transport Plan (RLTP) although funding remains uncertain.

Rail patronage has been growing rapidly in recent years. If the trend were to continue the rail network could be carrying 20m passengers per annum – which the Government has identified as one trigger for investing in the CRL – as soon as 2017.

Once the principal constraint has been addressed, with the CRL turning Britomart into a through station, it will be possible to run up to 24 services per hour, each way, through the Link, with initial plans for 18 services per hour in the peaks. Ultimately, advanced systems and further investment might see that figure rise to 30 services per hour. This means that the expected rapid increase in patronage as the railway progressively takes a greater share of demand with other modes being highly constrained, can be responded to with additional train services
Another argument put up in the Business Case as to why the City Rail Link is needed is to help Auckland's already creaking transport network cope with expected "rapid" population growth, from 1.5 million people to between 2.2 million and 2.5 million in 30 years. The City Rail Link will be a "section of the metro rail system" where high capacity electric trains can move large volumes of passengers.
Pushing the property buttons
For a property obsessed city, the Business Case pushes two key buttons. Firstly, it suggests the City Rail Link will provide enhanced access to the council-government Special Housing Areas, which include 14,000 potential sites near the rail network, and make affordable housing in outer areas more viable by improving public transport links. And secondly it promises increases in property values, estimating property values within 500 metres of each new station could increase by $1 billion, pointing to this British report by Steer Davies Gleave as evidence. 
"The results of our research suggest that the redevelopment of major city centre stations can support increases in property values of 30% or more. Moreover, the impact will tend to be greater where there is a legacy of underinvestment in the station and its environs, with knock-on effects on the surrounding area," the Steer Davies Gleave report says.
The report does, however, go on to say, "These findings should be treated with caution, as observed changes in property values will reflect the impact of a regeneration scheme as whole rather than the station investment in isolation. Station investment must therefore be seen as an important, although not the only, element in a wider process of economic regeneration."
The diagram below outlines benefits the Business Case argues the City Rail Link will deliver.
So what's all the money for?
So just how and why is the project going to cost so much?
Asked for a breakdown of what the $2.8 billion to $3.4 billion cost estimate is made up of, an Auckland Transport spokeswoman simply said the estimate covers "everything associated with the project", including investigation, design, property purchases, planning and construction.
The chart below comes from the Business Case, which was published last year. The total cost estimate has since increased.
Running at a loss
The operating and maintenance costs for the new tunnel and stations are put at $50 million a year. The Business Case estimates $20 million of this will be generated from fare revenue, with Auckland Council and the New Zealand Transport Agency jointly picking up the tab for the balance.
The Business Case puts the City Rail Link's benefit-cost ratio at 1.6 to 1.7, including wider economic benefits. That means it's expected to deliver $1.6 to $1.7 of benefits for every $1 invested.
In comparison, the Waterview Connection is expected to deliver $1.16 of benefits for every $1 invested, and Transmission Gully's expected to deliver $1.6 of benefits for every $1 invested. The benefit-cost ratio for Auckland's $1.25 billion to $1.85 billion East West Link, or East West Connections, is put at 1.4 to 1.9.
However, Government papers obtained by Radio New Zealand under the Official Information Act show Treasury and the Ministry of Transport didn't see the City Rail Link delivering such a strong return, and highlighted concerns it would do little to alleviate Auckland's traffic congestion.
"While the Council attaches considerable importance to the CRL as a city-shaping project, its economic case is not strong. Based on joint work conducted between government and Auckland Council in 2011 and 2012, Treasury and the Ministry of Transport consider that the likely benefit to cost ratio for the project would be somewhere between 0.4 and 0.9. This work also showed that the project has a modest impact on Auckland's congestion problems," Treasury and the Ministry of Transport said.
What about the GDP impact? Council & government to benefit
The Business Plan argues the new central city station at Aotea (near Aotea Square) will boost economic activity in that area, and new and redeveloped stations at Karangahape Road and Mt Eden will support economic and land-use changes planned there.
"Significant development is expected in all the station precincts, valued in total at some $1.2 billion to $1.4 billion, adding patronage as well as possible income for the Council where the development occurs on its land holdings, a form of direct value capture," the Business Case says.
Based on work by Australian firm SGS Economics and Planning, the City Rail Link is expected to lift economic output in 2026 by $48.8 million, equivalent to a 0.04% uplift to Auckland's Gross Domestic Product (GDP), and in 2046 by about $173.1 million, equivalent to a 0.08% uplift to Auckland's GDP. 
Interestingly, the Business Case suggests central government will be the big winner.
"Industries which cluster in the CBD will be 'winners' from the City Rail Link, but the largest single beneficiary is Central Government. Over the 40 year period, Central Government would collect around $1.4 billion (in undiscounted terms) in taxation revenue as a result of the City Rail Link." 
What about the impact on traffic congestion?
The Business Case suggests, without the City Rail Link, congestion in Auckland will significantly worsen as road capacity increase slows and population growth outpaces infrastructure investment. It estimates the demand for travel over the next 30 years will increase by 50% "for person trips", with the volume of freight and commercial trips more than doubling.
While the City Rail Link should take cars off the roads in the central city, what impact will it have elsewhere? Will it noticeably reduce traffic congestion, or the growth of traffic congestion, across Auckland? Or will it just push congestion out a bit from the Central Business District? Time will tell.
The Business Case doesn't look at the potential impact on Auckland transport from the development of electric or, probably more importantly, driverless vehicles. 
Like Britomart Station before it, the City Rail Link feels like another piece of the broader Auckland public transport jigsaw. As noted in the Business Case, further investment will be needed to create a truly world class railway. The City Rail Link won't deliver train stations to suburbs in Auckland currently lacking them. And what does it mean for, and how would it work next to, potential future major transport projects such as reintroducing light rail or trams, and another Waitemata Harbour crossing?
 In terms of big future projects there are, of course, questions about how they could be funded.
The council's Auckland Plan points out that over 30 years new funding mechanisms will be required to help finance the up to $15 billion funding shortfall for transport projects. A range of funding mechanisms could be used including; general rates, targeted rates, development contributions, tax increment financing, regional fuel tax and road user charge/diesel levy, tolling new roads, road pricing on existing roads being some form of network charging or congestion charging, additional car parking charges, visitor taxes, and airport departure tax.
Of course there's also borrowing, and there's the option of bringing in outside investors such as the New Zealand Superannuation Fund, the Accident Compensation Corporation or overseas investors.
What will Len's legacy be?
At the final meeting of the Auckland Council Governing Body for the 2013-2016 electoral term Deputy Mayor Penny Hulse said to Brown, "Your utter belief in the City Rail Link will be your legacy and should be yours alone."
When discussing Auckland's transport challenges many older Aucklanders like to point out things would be very different if the rail network championed by Dove-Myer Robinson, Mayor in the 1960s and 1970s, had got off the ground.
Unlike Robbie's dream, Len's is actually going to come true. Time will tell whether it creates a legacy to be proud of.