RBNZ Governor says still in talks about including Debt to Income multiple limit in tool kit, but wouldn't use it right now because housing market has moderated; says English posing many questions on DTI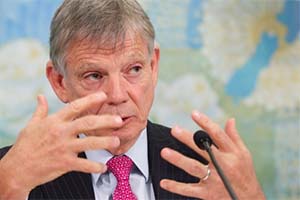 By Bernard Hickey
Reserve Bank Governor Graeme Wheeler says he would not currently use a debt to income multiple limit (DTI) if it was in his Macro-Prudential tool kit because the housing market appeared to be cooling off.
Wheeler told a news conference after his November Monetary Policy Statement (MPS) that he was still in discussions with Finance Minister Bill English about adding the DTI tool to the Memorandum of Understanding (MOU) that allows the Reserve Bank to use various Macro-Prudential tools, including its Loan to Value Ratio (LVR) restrictions. English had asked a range of questions about the suitability of using such a DTI tool and the potential risks and consequences, Wheeler said.
"We have requested approval from the Minister that these be included as in instrument in the memorandum of understanding around macro-prudential policy. We've had a couple of discussions with the Minster. He has asked a number of questions," Wheeler said.
"He asked questions such as 'how would these complement our loan to value ratios, what's the nature of the policy problem that we are trying to address, are there any unintended consequences from DTIs for example, are there issues around measurement of debt and measurement of income (and) who would be affected by DTIs," he said, adding he had had a couple of discussions with English and had another one scheduled in a couple of weeks.
"We should make it clear that at this point it is not our intention, if we had them as an instrument in the MOU, it is not our intention to apply them in this situation. We are seeing the housing market come off to some degree in terms of house price inflation," he said.
"There's a number of reasons for that, it might be linked to the LVRs themselves, it might also be linked to the fact that bank credit criteria has tightened up. You are seeing banks reluctant to lend. In fact, I believe they have stopped their lending to buyers who rely on overseas income to support the loan. You are seeing them tighten up against developers, particularly some apartment developers and you are seeing their funding costs increase, mainly because lending growth is exceeding deposit growth and they are having to look for offshore lending markets to finance.
"So if you put all those reasons together you are starting to see house price inflation slow. We don't know if that is going to continue. We are looking at that very closely, we are watching the data as one would expect and keep an open mind on it."
LVRs could complement DTIs
Asked if the Reserve Bank would prefer to further tighten the existing LVR restrictions before using the DTI, Wheeler was non-committal, but said they could be complementary.
"Both tools can be very helpful in terms of reducing risk to the banking sector. In essence, if you look at DTIs they reduce the risk of forced sales because the borrower has greater capacity to service the debt, so there is reduced risk of getting into distressed and forced sales," he said.
"The LVRs are helpful in that they reduce the risk to the bank of there are forced sales and that's because the borrower has greater equity in the transaction, so they can complement each other very well."
Wheeler said the Reserve Bank felt its current 40% deposit requirement for investors was useful to reduce default risk.
"We felt that at 40% at this stage we pretty well feel we've got it right in terms of that default risk. So that's something that we would need to consider to the extent that if, at any point, we would did need to raise LVRs, and I say 'if', one would have to think how does that match with the integrity of the underlying default data that you have."