Flight Centre launches a Mastercard credit card to enable an expected surge in travel by Kiwis in 2017, a card with rewards but also high interest rates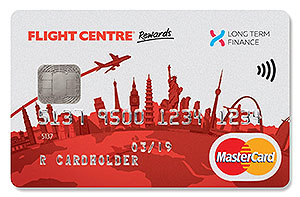 Credit cards are being issued by a wider range of merchants.
Today, Flight Centre has launched a Mastercard credit card offer.
This new offer features 'Flight Centre Rewards".
Rewards dollars are 'earned' at the rate of 1 for every $100 spent. Every reward dollar will equate to a NZ$1 credit and can only be redeemed as a credit to this Mastercard account. A purchase at a Flight Centre store gives a double credit. For example, if you spend $1,200 on a Gold Coast trip at a Flight Centre store, you earn 24 Flight Centre Rewards and each equates to $1 when redeemed. Therefore on redemption the amount credited to your Account for this purchase is NZ$24.
Flight Centre Rewards expire 3 years after the date they are earned.
This Mastercard comes with relatively high interest rates.
The Standard interest rate is currently 22.95%, and their Cash Advance rate is currently 24.95%. These rates are higher than for most other cards.
There is an annual fee of $50, payable in two tranches each six months.
In addition if you use this card to make a Cash Advance within New Zealand, there is a fee of $2 at an ATM plus the bank disbursing the cash may also charge a fee. If you do this overseas, the same fees apply except the ATM fee is $3.
You can use this Mastercard for their Long Term Finance offers, but a fee of $55 also applies.
This card offers 44 days interest-free, but like other cards, that only applies when you start the month with the prior balance paid in full.
You need to make the minimum payment of 3% each month. Failure to do that will will mean any Payment Holiday, Start-up Interest Period of 0% on a Flexi Payment Purchase, or a Pay Later Purchase all to have expired, and the 'normal' 22.95% interest rate will apply immediately. A default fee of $15 will also apply.
Flight Centre NZ managing director David Coombes said, "the 'Golden Era of Travel' on steroids is what we're predicting for travel in 2017, with more freedom to travel for Kiwis than ever before." This card is being offered to enable this surge.
The offer is branded Flight Centre and made by Flexi Card, the same company that bought the Q-Card business from Haier (Fisher&Paykel).
Flight Centre has had a long term association with Q Card, exceeding 10 years and this is the basis of their Long Term Finance offers.
Flexi Cards was the first non-bank to be granted a Mastercard issuing license in New Zealand.
A comptrehensive list of all credit cards, their rates and fees, is here.