Prime Minister John Key steps down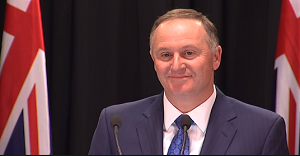 In a shock announcement Prime Minister John Key says he's resigning.
Key says he will support Finance Minister and Deputy Prime Minister Bill English if he puts his name forward to be National Party leader.
He says there is no way he could have served out a full fourth term, and he didn't want to mislead the public. 
The New Zealand dollar dropped about 20 basis points on the news.
"A good leader knows when to go and this is the time to go," Key says.
"I'm not a career politician. I came to do a job. I don't need to be in front of the camera."
Key says he feels he's going out on top with the National Party well funded, with membership high and polling 50%.
Key will step down on December 12, when a new leader will be selected. English says he'll decide on Tuesday whether to seek the job.
Here's Key's full statement
Just a few days ago I marked the anniversary of my eighth year as Prime Minister and my tenth as leader of the National Party. 

Such an occasion seems a fitting time to not only take stock of the past 10 years, but to look forward. 

Being leader of both the party and the country has been an incredible experience. 

Along with my Cabinet and caucus colleagues, we steered the country through the global financial crisis which was arguably the worst recession since the Great Depression. 

We have stood with Christchurch in the wake of the earthquakes - the greatest natural disaster to hit our country since 1931, and we have mourned the victims of the Pike River Mine disaster; one of the saddest days our small nation has endured in recent times. 

During my time as Prime Minister the Government has positioned New Zealand so that our economy could harness the opportunities offered by a burgeoning Asia and a more connected world. 

Reforms have been far reaching, including substantial changes to our tax, welfare, planning and labour laws, not to mention the successful partial sell-down of state companies, the considerable overhaul of our Justice, Security and Corrections agencies and, of course, trade liberalisation. 

Ten years since I first became leader of the National Party, I believe we can look back on advanced race relations and real momentum in the Treaty settlement programme. 

We also have a more confident, outward-looking and multi-cultural New Zealand that competes and succeeds on the world stage.

Throughout these years I have given everything I could to this job that I cherish, and this country that I love. All of this has come at quite some sacrifice for the people who are dearest to me - my family. 

For my wife Bronagh, there have been many nights and weekends spent alone, many occasions that were important to her that I simply could not attend.

My daughter Stephie and my son Max have transitioned from teenagers to young adults while coping with an extraordinary level of intrusion and pressure because of their father's job. 

I thank them for their tolerance. Bronagh and I are immensely proud of them. My family has also had remarkable opportunities and experiences as we have met people and visited places from one end of our country to the other. 

We have celebrated alongside fellow Kiwis in their happiest times, and wept with them in their saddest. 

Simply put, it has, for me, been the most remarkable, satisfying and exciting time of my life. 

But despite the amazing career I have had in politics, I have never seen myself as a career politician. I have certainly never wanted my success in politics to be measured by how long I spent in Parliament. 

The National Party is in great shape. Bill English has told me that in all his years here, ours is the most cohesive Cabinet he has seen. And I personally am humbled and gratified that after eight years as Prime Minister, my personal support from the public remains high. 

I absolutely believe we can win the next election. 

But I do not believe that, if you asked me if I was committed to serving out a fourth term, that I could look the public in the eye and say yes. 

And more than anything else in my time here, I have tried to be straight and true with New Zealanders. 

I also believe that leadership change, for the right reasons and handled well, is good for a political party. 

For all these reasons, I today told my Cabinet and caucus colleagues of my decision to step down as Leader of the National Party and as Prime Minister. 

It is my expectation that on Monday 12 December National MPs will hold a special caucus meeting to select a new leader and later that day I will tender my resignation to the Governor-General. 

This has been the hardest decision I have ever made and I do not know what I will do next. 

But for me this feels the right time to go. 

It gives the Cabinet and caucus plenty of time to settle in with a new leader before heading into the next election with a proud record of strong economic management, a commitment to the most vulnerable in our society and lots of ideas to keep lifting New Zealanders up in the world. 

It would be easy to say I have made this decision solely to rediscover the personal and family life I once had, and that is a factor, but it is one among many. 

Over the years I have observed many leaders who, in a similar position, fail to take this step. 

I can understand why. It is a hard job to leave. 

But, for me and the National Party, this is a good time to go. Party membership is high and the party is well-funded. The caucus is talented and eager to serve, and one of the achievements of which I am proud is having built with my colleagues a Cabinet team that is capable, committed and cohesive. 

That is a great legacy for National's next leader. 

Just as I grasped the challenge of leadership so will a new leader. 

Inevitably they will bring their own personality, emphasis and priorities to the role. 

This is part of the process that allows a long-serving government to keep delivering. 

For my part I am confident the caucus has a number of individuals who would make a fine future PM. 

It is inevitable I will be asked who I will vote for at the caucus meeting on December 12. 

Whoever the caucus elects will have my unwavering support, but if Bill English puts his name forward then I will vote for him. 

For 10 years now Bill and I have worked as a team. I have witnessed first-hand his leadership style, his capacity for work, his grasp of the economy, his commitment to change and, most of all, his decency as a husband, as a father, as a friend, a colleague and as a politician. 

Bill has, I believe, grown a great deal since he was last Party leader. Fifteen years on he has more experience and the party and political cycles are quite different. 

I believe that National, under Bill's leadership, would win the election in 2017. This is not the time to thank all of those who have made the past 10 years possible for me. 

But nor can I stand here without acknowledging Bronagh, Stephie and Max who have sacrificed a lot for me to have been able to do what the job demands. 

No person in this role can succeed without the support of an enormous number of talented and dedicated individuals.  

I thank my deputy Bill English, the Cabinet and caucus for their loyalty and energy and, of course, my wonderful staff, so well led by Wayne Eagleson, who have done more than I ever could have hoped or expected. 

I also wish to thank and acknowledge our support partners ACT, United Future and the Maori Party without whom the strong and stable Government we have delivered would not have been possible. 

I have no doubt my successor will look to build upon these relationships. 

Last but not least, I wish to put on record my everlasting gratitude to the people of Helensville for electing me, and to the New Zealand public for their support, faith and encouragement. It has been my privilege to serve you all. 

I have always believed that the test of a good Prime Minister is that he or she leaves the country in better shape than they found it. Over time, others will judge whether I have done that. 

All I can say is that I gave it everything I had. 

I have left nothing in the tank. 

Finally, while I intend to stay in Parliament long enough to avoid the cost and inconvenience a by-election would cause the good people of Helensville, I will at an appropriate time prior to the next election step down as an MP. 

On that day, I shall walk from these buildings for the last time, a richer person for the experience and privilege of being here, and hoping and believing that New Zealand has been well served by the Government I led.
And here's a statement from English
John Key's intelligence, optimism and integrity as Leader of the National Party and Prime Minister of New Zealand means he will be judged by history as one of New Zealand's greatest leaders, Deputy Prime Minister Bill English says.

"On behalf of the National Party, the Government and New Zealand I thank John for his years of dedicated and outstanding service to our country. 

"Through good times and bad, his strong leadership has been steadfast and this is a more confident, successful and self-assured country because of his contribution. He has truly made a difference. 

"I thank Bronagh, Stephie and Max for the sacrifice they've made to enable John to be an extremely successful and effective leader. We are deeply appreciative. 

"While the gap he leaves is huge we understand and respect his decision to step down from a job from which there is no respite. We wish John and his family every success with their life out of the public eye. 

"Under John Key's leadership the Government has worked alongside New Zealanders to ensure our country is one of the most desirable places to live, work and raise a family in the world." 

The National Caucus will consider the implications of the Prime Minister's decision and how to ensure New Zealand stays on course to continue building a strong economy, increasing opportunities for our families and businesses, rewarding enterprise and effort, while protecting the most vulnerable. 

"It is a tribute to the Prime Minister's outstanding leadership that he will leave behind a united team with plenty of talent to take New Zealand forward and build on his legacy," Mr English says.
Labour Party leader Andrew Little tweeted: "John Key has served New Zealand generously and with dedication. I wish him and his family the best for the future."
Key's predecessor as PM, Helen Clark, tweeted: "Wishing @johnkeypm & his family all the best for the future. He has advocated tirelessly for NZ internationally these past 8 years."
And Australian PM Malcolm Turnbull tweeted: "John Key has been an extraordinary & inspiring world leader, role model and great friend. His resignation is a great loss for NZ & the world."
Winston Peters puts the boot in
NZ First leader Winston Peters was not as gracious as Little and Clark.
"Prime Minister John Key's announcement today that he is to stand down cannot be credible, or for any reasons he has given, says Peters.
"The fact is that the economy is not in the healthy state that the Prime Minister has for so long claimed, and there are other issues which have caused this decision as well. The New Zealand public should have been informed of this a long time ago. Clearly the Prime Minister does not believe the superficial polls any longer. Contrary to certain perceptions the Prime Minister and his Finance Minister are unable to muddy the waters anymore."
And here's a statement from Little
Labour Party Leader Andrew Little has acknowledged John Key's contribution to Government. 

"John Key has served New Zealand generously and with dedication. Although we may have had our policy differences over the years, I respect the Prime Minister's decision to stand down. 

"I can empathise with his reasons. Politics requires much sacrifice. We may all be politicians, but not all our lives are politics.

"The Prime Minister has served New Zealand through times of considerable global instability, and will leave politics proud of his achievements. I wish him and his family the best for the future. 

"Labour is ready and willing to contest the 2017 general election. We will present a credible choice for people and look forward to the opportunity to contest the election on our values and vision for New Zealand."
The Greens
The Green Party wishes to extend its best wishes to the Prime Minister, following his resignation today. 

"On behalf of Metiria, the Green Party MPs and the Party, I would like to thank John Key for his eight years of service as Prime Minister," said Green Party Co-leader James Shaw. 

"No matter your political allegiance, you have to respect someone who chooses to make the personal sacrifices required to be our country's Prime Minister. 

"I would like to pass along our best wishes to him for whatever his future holds, and to his wife, Bronagh, and children Stephie and Max as well, who I'm sure have made many sacrifices of their own. 

"Being the leader of a major political party, and indeed the country, is not an easy job; Mr Key should be applauded for his commitment to public service and to New Zealand," said Mr Shaw.
ACT's David Seymour
"The ACT Party congratulates John Key on eight years as Prime Minister, and the noble way he has bowed out," says ACT Leader David Seymour.

"Under John's leadership, the Government has steadfastly maintained New Zealand's policy settings. As a result, we remain at the top of almost every international league table for good policy settings. In the long term, all Prime Ministers are judged for the policies they leave behind, and John will be judged well. 

"It is a reality of MMP that ACT has played a vital role helping John to become and remain Prime Minister. He thanked me for that this morning. I'd like to thank him on behalf of ACT and its previous leaders for the constructive way we've worked together over the past eight years. 

"We also extend our warmest regards to Bronagh as the Keys get their lives back after a decade of service to the country."
And the Maori Party
The Māori Party will always be grateful to John Key for making a space at the table of his Government for a kaupapa Māori Party. 

"It has been under the leadership of John Key that the Māori Party has been able to secure gains for Maori and advance kaupapa Māori over the past eight years," said Maori Party co-leader Te Ururoa Flavell.  

"We may not have agreed on everything but we've always maintained a respectful relationship with the Prime Minister and he with us," said Mr Flavell. 

"We've had some tough talks on many issues but at the end of the day, respect for each other prevailed and that's why he has always seen us as a party that governments can work with," said Māori Party co-leader Marama Fox. 

"We're all about whānau in the Māori Party, so we understand and support Mr Key's call to return to his family and be with them more."

Both co-leaders were confident that the new Prime Minister would continue the mana-enhancing relationship between the National Party and the Māori Party. 

"It's up to the National Party to decide who will lead them now. The Māori Party will work with anyone to advance kaupapa Māori."