Oil & gas to be significant for global economy for some time yet, Energy and Resources Minister Judith Collins says as prices pick up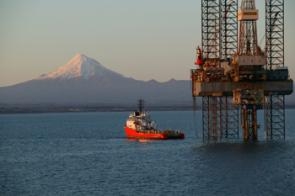 Oil and gas will continue to play a vital role in the world economy "for some time yet" as rising usage for freight, aviation and petrochemicals will drive demand due to scarce alternatives, Energy and Resources Minister Judith Collins says.
Speaking in New Plymouth to launch the government's 2017 Block Offer, Collins welcomed the recent pick-up in global oil prices, suggesting a sustained recovery appeared underway with prices having passed their lowest points in the current cycle.
Her comments appear more confident on the industry's outlook than former Energy and Resources Minister Simon Bridges last year. Speaking in March 2016 at the launch of the government's previous block offer, Bridges had mentioned the industry's difficulties would likely lead to innovation by oil companies to adjust to the low-price environment.
Collins on Wednesday said the oil & gas sector made particularly significant contributions to economies all around the world. "As we look back on where the industry has come from, now is a good time to take stock of just how much of a vital role oil and gas plays in the world economy," she said. "It's a role that will continue for some time yet."
While it was widely appreciated how integral petroleum was to the transportation and energy generation sectors, it was not as well-known just how much it contributed "to quality of life more generally."
"It's commonly used in chemicals, plastics and synthetic materials. This includes everything from clothing to asphalt for roads, fertilisers for agriculture, to smartphones that have become so prevalent around the world," Collins said.
"And there are no signs the contribution the sector makes in keeping economies going will abate any time soon."
Collins touched on climate change:
Of course, economies around the world have a responsibility to limit the effects of climate change. There's much we can do and a great deal of work is underway globally, including in New Zealand, in encouraging greater use of renewable forms of energy and greater uptake of electric vehicles.

But looking at the broader picture, we also need to take a balanced approach.

If nations abide by the Paris Agreement pledges, the IEA forecasts that 37 per cent of electricity will be generated from renewables globally by 2040, meaning petroleum products will still form a large part of the energy mix for decades to come. That's why taking a long-term view of global energy supply is in everyone's interests.

It's important to emphasise, too, in the debate around the sector's contribution to carbon emissions, that not all oil is burned and turned into energy sources such as transport fuels and electricity generation.

The petroleum industry has a role in transitioning to low carbon fuels. Natural gas has 40 per cent lower carbon emissions than coal for electricity generation, making it a key transition fuel. It's believed natural gas could displace coal as an energy source in countries such as China and India, where coal is heavily used.
And she announced a government consultation process on the risks of decommissioning offshore oil and gas fields nearing the ends of their working lives:
Some offshore oil and gas fields are, for the first time in New Zealand, nearing the end of their lives and we need to think about how best to decommission them. NZ Petroleum and Minerals is working with other government agencies to develop the regulations for decommissioning and I am leading the group of Ministers involved in this.

We need to make sure the environment is protected but I want to make sure that risk and cost are appropriately balanced.

Following concerns raised by the Parliamentary Commissioner for the Environment about liability for the failure of onshore petroleum wells and NZ Petroleum and Mineral's investigation into historic abandoned wells last year, I'd like to announce that consultation has begun on potential responses to this issue.

Realistically the likelihood of well failure is low and operators are usually responsible for managing any issues. To give perspective, of the almost 1000 wells drilled in New Zealand to date, third parties have only had to pay in four cases. As an industry we need to work out the best way to manage this. The consultation document is available on MBIE's website, and I'm looking forward to hearing your views. If you're interested, there is a presentation on this topic tomorrow.

We're also looking at offshore financial assurance. Last year my officials worked with the Ministry of Transport to develop legislation to ensure that operators of offshore installations have appropriate levels of insurance to cover the costs of potential oil spills.