Capital gains, wealth & progressive income taxes: How to make New Zealand's tax settings fairer, reduce inequalities and provide a broader base for funding public services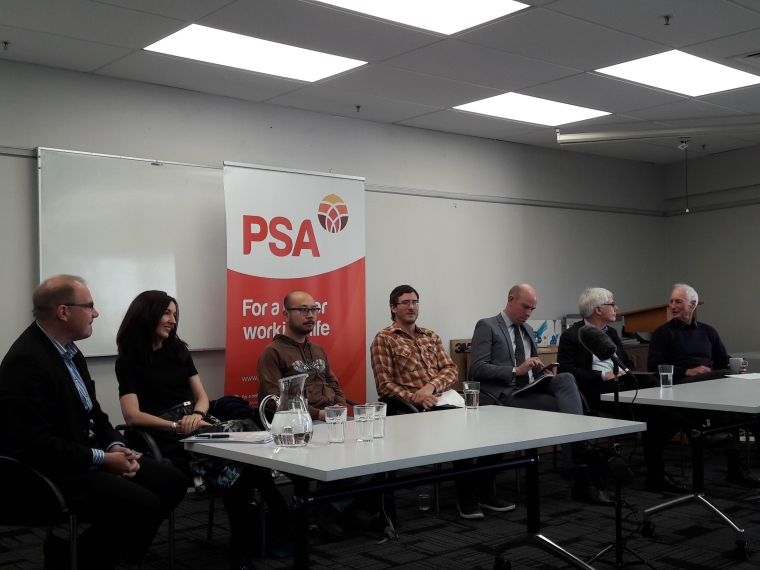 By Alex Tarrant
"Some consistent themes do emerge…New Zealand's lack of a comprehensive Capital Gains Tax, for example…"
We need to talk about tax.
That's the message from the Public Service Association (PSA). This week it released a booklet on New Zealand's tax system, with chapters by tax specialists, academics, unionists and economists.
Tax treatment of capital gains, wealth and assets were high on the agenda as panellists at the booklet's Wellington launch discussed the fairness of New Zealand's tax system and how tax settings had contributed to growing income, wealth and social inequalities.
New Zealand made a good start in moving towards a low-rate broad based tax system in the 1980s, but we stalled when we reached the part where we were supposed to include capital gains under the income umbrella.
If that sounds familiar, then yes, Andrew Coleman's research on changes made in 1989 to how income was taxed across different asset classes was cited. And interest.co.nz columnist Terry Baucher, who has also recently raised the subject, was one of the booklet's authors.
Since the ball was dropped in the 1980s, the subject of capital gains tax has become a political hot potato. Labour contested a couple of elections on a (watered down) CGT platform, but under Andrew Little the policy was gone by lunchtime.
In its place, we have a promise for another tax working group to be set up if Labour leads government after September 23, with the focus to be fairness across income, assets and wealth. But other than looking to what the Green Party might demand next term if in government, we're not going to see anything until after the 2020 election addressing underlying imbalances in our tax settings.
So who do we look towards to lead the conversation on tax fairness until then? Perhaps the authors of this booklet. (These are my comments - not the PSA's.)
The PSA says the booklet is not a manifesto. The services its members provide can only be done so effectively if New Zealand has a strong tax base. These services are not nice-to-have add-ons for a prosperous society, the PSA says. "They are the necessary foundations for any well-functioning nation."
That is why they want to have a conversation.
Further below I cover some the discussion between several of the booklet's authors at its launch in Wellington this week, for readers who are interested.
First though, for those just wanting to get a feel for things, here's a selection of extracts:
"The most glaring hole in New Zealand's tax system, from a fairness point of view, is the failure to tax wealth in any form, except for the government's very minimal tax on houses sold within two years of purchase."
- Institute for Governance and Policy Studies research associate Max Rashbrooke.
"A large part of wealth is in housing. Home ownership can boost local communities and social stability. But fewer people live in their own homes, which are becoming increasingly unaffordable. Fixing that is a complex issue…but taxes on wealth are among the policies that need to change."
- CTU economist Bill Rosenberg.
"Are there lessons from overseas tax systems for New Zealand? Yes, in the form of a comprehensive capital gains tax (CGT). This would apply without the need to determine a person's intent. Its introduction should broaden the tax base to meet future health and superannuation demands and help address growing wealth inequality."
- Tax consultant Terry Baucher.
"Tax policy isn't sexy and often too complex to lend to pithy straplines. In poll-driven politics, this makes tax policy a low priority. Tax policy is difficult and a measured approach makes sense. It also makes sense to act early, rather than wait for some consensus – which inevitably takes too long and gets too diluted by the time all the special interest groups are appeased."
- Sense Partners economist Shamubeel Eaqub.
"Enter Rogernomics and the low flat-tax broad base solution of the late 1980s. However, a comprehensive view of income was not achieved because the capital gains part of the package did not eventuate."
- Auckland University Retirement Policy and Research Centre's Susan St John.
"New Zealand has few taxes that would typically be considered as wealth taxes. However, this has not always been the case. Death duties and gift duties were introduced in 1866 and 1885, respectively. The initial objective of these taxes was revenue generation and redistribution…There appeared to be little political appetite to strengthen these forms of taxes, which contributed to their eventual demise…Historically New Zealand had a land tax that operated from 1878 to 1992…However there has never been a comprehensive capital gains tax."
- Associate Professor, taxation, at Victoria University, Lisa Marriott.
"This is a plea to understand taxation in context. Tax isn't a weapon politicians use against the economy. Tax is what we use to pool our resources and secure the things we need: schools, hospitals, homes and more."
- Trade unionist and writer, Morgan Godfrey.
All are extracts from Progressive Thinking: ten perspectives on tax, a booklet released this week by the Public Service Association.
The discussion – Assets, wealth & income
Perhaps the most interesting part of the panel discussion came right at the end, during the Q&A session. Each of the authors present was asked for a single sentence describing which aspect of New Zealand's tax system they would most want to see changed.
One advocated for increasing tax exemptions to low-income households to help overcome income inequalities. A more progressive income tax system was next – higher rates at the top. Third: "Some kind of tax on wealth; any kind of tax on wealth". Higher taxation of greenhouse gas emissions, with that revenue recycled into spending on work to reduce emissions further was fourth, while the final three suggestions included two advocating capital gains tax, and the other a form of wealth tax.
New Zealand's lack of a comprehensive capital gains tax had been a key topic. The two-year bright line test was a start; the next move should be extending that to five years, Terry Baucher had said. "Capital gains is almost there."
But, as always, the political roadblocks were raised. One panellist suggested the political opposition to a CGT was weakening, with Labour and the Greens having promoted the policy.
I pointed out though that these policies had only been palatable to the two parties with the 'family home' exempted, indicating a comprehensive CGT was not politically possible.
Max Rashbrooke gave an interesting response: Yes, in terms of pure economics the family home should not be exempt. But, the question should shift to the ethics of such a policy and "what people think is right." Regular people don't tend to buy a house with the intention of making capital gains from it, Rashbrooke argued.
This led to Baucher raising the US capital gains tax system, which at its most simple level, homeowners can exempt the first $500,000 (for a couple) of capital gains from the sale of the family home.
Which raises the question – does this present a roadmap? Extend the bright line test to five years (as Labour is currently advocating), then introduce an 'ethical' CGT that captures investment properties but exempts capital gains on the 'family home' up to a certain threshold?
'It's all or nothing'
Terry Baucher earlier kicked off the panel discussion by describing how New Zealand in the 1980s had strived for a broad-based, low rate-style (BBLR) tax system.
To some extents New Zealand became world-leading. For example, our GST is the most comprehensive consumption tax in the world, bringing in 26% of the tax take against a 20% average across the OECD, Baucher said.
But building of the foundations of the BBLR system stalled when then then-Palmer Labour government got to capital gains. Jim Bolger's subsequent National government dropped the idea altogether. As a result, New Zealand's tax system became weighted in favour of property – now valued at nine times the stock market – for nearly 30 years.
Inequalities inevitably develop if BBLR isn't done whole-hog, Baucher said. "It's all in or nothing,"
'Tax system needs to be fair'
IGPS researcher and former journalist Max Rashbrooke raised the notion of fairness. The function of the tax system is "to push back against inequality," he said. The ultimate disparity between rich and poor in an economy came down to how much the tax system reduced that imbalance.
The discussion needs to focus on fairness, he said, posing the question, how much of people's income should they hand back to go towards the common pool of a society's assets?
'Myths have been created'
Data journalist Keith Ng said myths had been propagated about the tax system which served to reinforce prejudices about who had the greatest tax burden.
Ng raised the notion of 'net tax' payments used by the current National-led government since about 2011. This 'income tax paid less benefits received' term had led to headlines about which parts of society 'pay no tax,' Ng said. "Which is patently not true."
The term had reinforced prejudices among people not receiving those benefits that "I pay too much tax," Ng said. He urged the dropping of the net tax debate in favour of a focus on average tax rates. He also poured scorn on people using figures such as 'the top 10% pay a large proportion of overall taxes' – that invariably led to suggestions that top tax rates should fall.
Social contract
Former Vic Uni Associate Professor Bob Stephens discussed the notion of a 'social contract', signed at the political rather than individual level. This referred to paying tax and receiving the benefits from government expenditures.
Stephens picked up on Baucher's BBLR notion. The idea behind the move in the 1980s was to overcome an inequitable tax system and create a fair tax playing field horizontally across income levels, he said.
While the focus of the system should be vertical redistribution (ie from rich to poor), Stephens said that could only work if all people on the same income level (horizontal) were paying the same rate of tax. If not, "vertical redistribution is just a lottery."
He also touched on the intergenerational social contract - the idea that a person pays tax at one point in their life to receive a benefit at another. Child education was one example of this, he said.
About 70% of people receive the same in benefits as they pay into the tax system over their lifetime, Stephens said. But he raised the notion of rising costs of superannuation, and that 'millennials' now are likely to receive less in benefits than they pay into the tax system over their life time.
The real absence is wealth taxes
Victoria University Associate Professor of Taxation, Lisa Marriott ran through the history of New Zealand's tax system.
Over time, the top marginal rate had fallen while GST had risen, she noted. Like Baucher, Marriott said New Zealand's GST was very good in terms of international comparisons. But one problem is that it does not have the ability to target peoples' ability to pay tax.
New Zealand's company tax rate had fallen over time as well – although was still relatively high by international standards, she said.
The real absence from the system, though, was wealth taxes. In the past, New Zealand had a land tax, estate and gift duties. So while New Zealand hadn't gone near a proper capital gains tax, the notion of wealth taxes is not foreign. "But that's very much in the past." Nothing now resembles a deliberate wealth tax, she said.
'High wealth inequality'
CTU economist Bill Rosenberg raised the "fundamentally political" opposition to a capital gains tax or a tax on property holdings. He went as far as link the National Party's support base as being tied up in property – whether farm land or property dealing – saying that this had affected policy making.
"We have very high wealth inequality," he said, adding that wealth was different to income – it also includes holdings of property and financial assets. "New Zealand has high wealth inequality – higher than income inequality."
The wealthiest 1% in New Zealand held 18% of the nation's wealth, he said. This was equivalent to the 60% least wealthiest.
"Wealth gives rise to income; it gives rise to power." The more you allow wealth inequality to grow, the greater the risk to our democracy and electoral system, Rosenberg said. He talked about how a lack of estate tax and gift duty allowed wealth to be passed on over generations. There was an "obvious way to address that."
The lack of a comprehensive CGT was "destructive but incredibly attractive" to people, Rosenberg said. And he made the point that while a CGT in itself would not prevent housing bubbles, it could play a part by helping rebalance the economy away from housing to more productive industries.
Tax settings & impact on climate change
Morgan Foundation researcher Paul Young made an interesting link between how housing is taxed (or not) in New Zealand, and climate change.
Referencing Andrew Coleman's research that our tax settings since 1989 had effectively encouraged the building of larger houses, he argued this inevitably led to greater energy consumption.
On another angle, Young also argued for a broadening of ways in New Zealand to tax carbon. He discussed how a carbon price – effectively a tax on carbon - was one of the central response mechanisms to tackling climate change. There was increasing recognition that a big package to deal with climate change was needed, he said.
But New Zealand is out of step with other developed nations, he said. Soon, New Zealand and Russia will be the only OECD countries without fuel emission standards for cars. While we have an Emissions Trading Scheme, there is a range of other taxes on fuel and energy that could be used to place a price on carbon, he said.
Our use of road-user charges rather than an excise tax does not create incentives to purchase more fuel efficient diesel vehicles, Young argued.