Labour's alternative Budget to include 'families package'; Little defends against accusations of split Left, says Greens and NZF in line with Labour mostly; 'Everything on the table' for post-election tax fairness review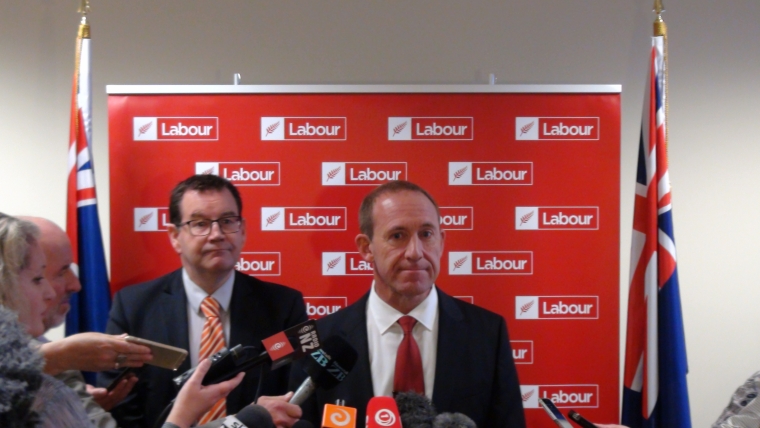 By Alex Tarrant
Labour will be announcing an alternative fiscal plan to the government's Budget in coming weeks with a "families package" set to play a leading role.
And while increased revenue forecasts in last week's Budget have caught Andrew Little's eye, the Labour Party leader said all plans would be fundable and that Labour would stick to its Budget responsibility rules.
In other comments, Little reiterated Labour's promise to review the broader fairness of New Zealand's tax system post-election still holds. "Everything is on the table," he said.
Split on the left?
The Labour leader faced a series of questions on how Labour would respond to the Budget, and on whether there was a rift between Labour and its potential support partners the Green Party and New Zealand First, after both voted for the Budget centre-piece incomes package.
He played down the differences saying that, even though the opposition parties had voted differently, they had also lined up together in opposition to key parts of Finance Minister Steven Joyce's package.
"The Greens and us, and I think you'll find New Zealand First, were pretty clear in our speeches and our public comments about the things that we thought were good in the incomes package: Working for Families, because it is well-targeted; Accommodation Supplement, which even though it does have potential to push rents up, provides short term relief," Little said.
"But no-one agreed with the balance of the tax part of the package. We all had that view. We just happened to vote differently in Parliament."
Alternative Budget
The tax changes also featured heavily in the questions. Little was asked whether Labour's opposition to them meant the party would repeal that aspect of the Budget if elected on 23 September.
Labour was "most unlikely" to implement the changes to tax brackets as they stood. Asked if he would rule out letting them carry through, he replied: "when we come up with our plan, you will see what we will do."
That 'plan' would in effect be an alternative Budget, Little said.
"We'll work out what is right and allows us to achieve the things we that we stand for, which is, restoring those social foundations, good health, good housing, good education, good schools, getting those young people who are out of work and with no hope at the moment into work and doing something," Little said.
Finance spokesman Grant Robertson added that: "Andrew's said what our priorities are. We now match that up against this package, create our families package and then we announce it."
See Alex Tarrant's weekend column on how Labour looked set to respond to the Budget with a 'families package' of its own.
Detailed work will be done on how, for "a government, led by Labour, to raise the revenue that it needs to do those things that are restoring those social foundations. It will all be laid out," Little said. He reiterated the Budget responsibility rules Labour and the Greens had signed up to.
But Little would still not be drawn on whether Labour would keep to its 'no tax change' stance for the Election 2017 campaign. Robertson earlier this year had said Labour would not be contesting the election on new taxes, although "everything was caveated in what was in the Budget."
"Do not draw me on a detailed plan that we've got to get to work on and do and sort out, and give voters the confidence that the plan we put together as we go into the election is one that's credible and one that restores the social foundation for New Zealand," Little said.
Every promise Labour had made before the Budget was able to be funded out of previous revenue projections, Little said. "That landscape has changed. We now have to go back and have a look."
"Do not read into things that I haven't said. We've got work to do. The landscape has changed. There is more revenue. We have a set of priorities that we are totally committed to doing."
Tax system needs to be fair
Meanwhile, Labour's promise to set up another tax working group post-election was still good. Little said he was cautious about "tinkering at the edges" when there were "bigger questions afoot, which is about the fairness of the system overall."
"We are totally committed to reviewing the entire system against a principal of fairness. And everything is on the table," Little said.
"Tinkering and fiddling around gets you through a short term, but it doesn't fix the long-term problems. And we are focussed very much on fixing the long-term, system problems that we've got right now."