Families with young children and pensioners the main beneficiaries of Labour's Families Package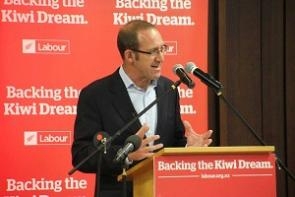 Families with young children and pensioners struggling with high winter energy bills would be the main beneficiaries of three election policies announced by Labour leader Andrew Little.
The flagship policy is what Labour is calling its Best Start scheme which would pay families $60 a week for every child under three.
It would not be means tested for a child's first year, but would be means tested for years two and three.
"Nearly 60,000 families a year will be eligible for a $60 a week payment per baby," Little said when launching the scheme.
"Families on low and middle incomes will be able to continue to receive the Best Start payment until their child turns three.
"This will help our families give their children the best start in life."
Pensioners and beneficiaries are also in line for some election year goodies, with Labour saying it would introduce a Winter Energy Payment of up $700 a year for superannuitants and beneficiaries.
This would be $700 a year for childless couples and parents with children living at home, or  $450 a year for single people, with the payments made in five monthly instalments from May to September.
"I have met retirees and solo mums who have told me that they can't afford the power bills they face in winter, so they're forced to turn the heaters off," Little said.
"That makes them cold, it makes them sick.
"It's time for a fresh approach to fix this."
Little also made it clear that the new initiatives would come at the expense of future tax cuts.
"Labour's priority is investing in the services Kiwis need and boosting the incomes of low and middle income families," he said.
"National's priority after nine years is an election tax bribe aimed at those at the top."
"At a time when we have crises in mental health and housing, now is not the time for tax cuts," he said.
Here are the details of the new policies: