Labour/Greens just ahead of National In July Roy Morgan poll but NZ First again in the 'box seat'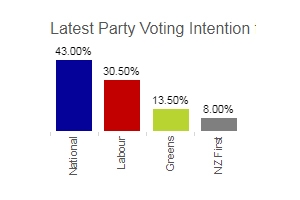 Content supplied by RoyMorgan
In July New Zealand's opposition Labour/Greens has jumped 4.5% to 44% now just ahead of incumbent National on 43% (down 3.5%) following the scandal involving National MP Todd Barclay. However, in New Zealand's September election the issues of Poverty, Housing and Homelessness and Inequality will be critical to the outcome.
The overall support for the governing National-led coalition was down 3.5% to 45.5% with National support down 3.5% to 43% while support for their Coalition partners was unchanged with Maori Party on 1.5%, Act NZ on 1% and United Future on 0%.
 
Support for a potential Labour/Greens alliance was up 4.5% to 44% driven by the 5% rise in support for Labour, now on 30.5%, while support for the Greens was down 0.5% to 13.5%. Support for New Zealand First was down 1% to 8%.
 
Support for the parties currently outside Parliament was unchanged at 2.5%.
New Zealand Roy Morgan Government Confidence Rating up in July
The Roy Morgan Government Confidence Rating has increased 5pts to 139.5pts in July with 63% of NZ electors (up 1.5%) saying NZ is 'heading in the right direction' cf. 23.5% of NZ electors (down 3.5%) that say New Zealand is 'heading in the wrong direction'.
Gary Morgan, Executive Chairman of Roy Morgan Research, says this year's New Zealand Election is on a knife's edge and New Zealand First are likely to decide the Government:
"New Zealand's Election in two months is now too close to call with governing National falling to 43% in July (down 3.5%) now just behind a potential Labour/Greens alliance on 44% (up 4.5%). This month's tight result means New Zealand First with 8% support (down 1%), led by maverick MP Winston Peters, are once again in the box seat to determine which parties form Government.

"The drop in support for National follows the scandal involving National MP Todd Barclay – forced to step down as a candidate at the forthcoming election after it emerged he had secretly recorded staffers in his office. Questions have been raised about Prime Minister Bill English's leadership given his handling of the situation.

"The open squabbling this week between potential governing partners the Greens and New Zealand First after Greens MP Barry Coates suggested the Greens would find a Labour-New Zealand First Government 'unacceptable' and potentially force a new election shows the instability that may await New Zealand in the wake of a close election result. Coates' comments also strengthen National's negotiating hand with New Zealand First.

"In contrast to the political gamesmanship in Wellington, New Zealanders aren't interested in the political intrigue and a recent Roy Morgan New Zealand Issues survey shows Economic issues, including Poverty and the gap between rich and poor, mentioned by 26.7% of New Zealanders, House prices and Housing affordability (13.7%) and Housing shortages and Homelessness (9.6%) are the major issues voters want the parties to address to win their votes."
Electors were asked: "If a New Zealand Election were held today which party would receive your party vote?" This latest New Zealand Roy Morgan Poll on voting intention was conducted by telephone – both landline and mobile telephone – with a NZ wide cross-section of 868 electors during June 26 – July 9, 2017. Of all electors surveyed 8.5% (up 2%) didn't name a party.

Government confidence rating
 
Right
direction
Wrong
direction
Roy Morgan
GCR*
Can't
say
Total
 
%
%
Pts
%
%
2017
 
 
 
 
 
Jun 26 - Jul 9
63
23.5
139.5
13.5
100
May 29 - Jun 11
61.5
27
134.5
11.5
100
May 1-14
60.5
27
133.5
12.5
100
April 3-16
58
29
129
13
100
Feb 27 - Mar 12
61.5
25.5
136
13
100
Jan 30 - Feb 12
63.5
23.5
140
13
100
January 3-16
63
23
140
14
100
2016
 
 
 
 
 
Nov 28 - Dec 11
58.5
27.5
131
14
100
Nov 7-20
65
24
141
11
100
Oct 10-23
55.5
29
126.5
15.5
100
Sep 5-18
52
35
117
13
100
Aug 8-21
58
30.5
127.5
11.5
100
July 4-17
57.5
30.5
127
12
100
May 30 - Jun 12
54.5
34
120.5
11.5
100
May 2-15
59
29
130
12
100
Apr 4-17
57.5
30.5
127
12
100
Feb 29 - Mar 13
61
29
132
10
100
Feb 1-14
56.5
28.5
128
15
100
Jan 4-17
59.5
28
131.5
12.5
100