This is our promised update of our earlier analysis here.
In the end, another 422,094 votes were counted after the election night counts.
The election night counts, including the advance votes, favoured the National Party (46.0%) over the Labour (35.8%) / Greens (5.9%) alliance.
Kingmaker, NZ First gained 7.5% on the night.
But the late counted 'specials' favoured Labour (42.6% and the Greens (8.4%) while National gained only 36.3% and NZ First only 5.6%.
That shifted the seat counts by 2 to the left. However, the result is still 'hung'.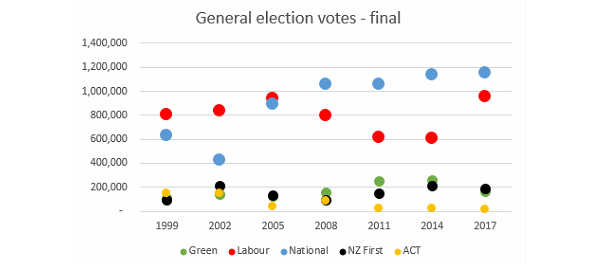 The only consistent thing about this is that NZ First lost support at every turn. Its leader lost his seat, it lost votes from 2014, and it lost share after the 'specials' are included. But despite all this, it has won the right to decide who forms the next government.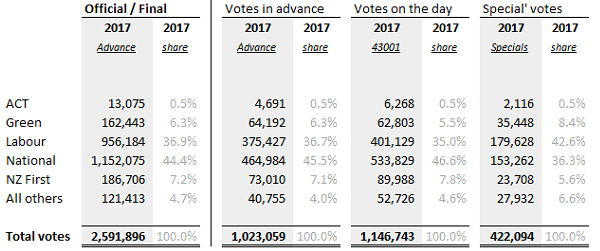 The turnout was 79.8% and that compares with 77.9% at the 2014 election. This is the highest turnout since 2005 when it was 80.9%.
The final enrolment rate was 92.4% of all eligible voters, almost the same as the 2014 rate of 92.6%.