National will regroup and be strong Opposition, English and Bennett say; English says decision on his position to be made over the next few weeks, congratulates Ardern and wishes the new government well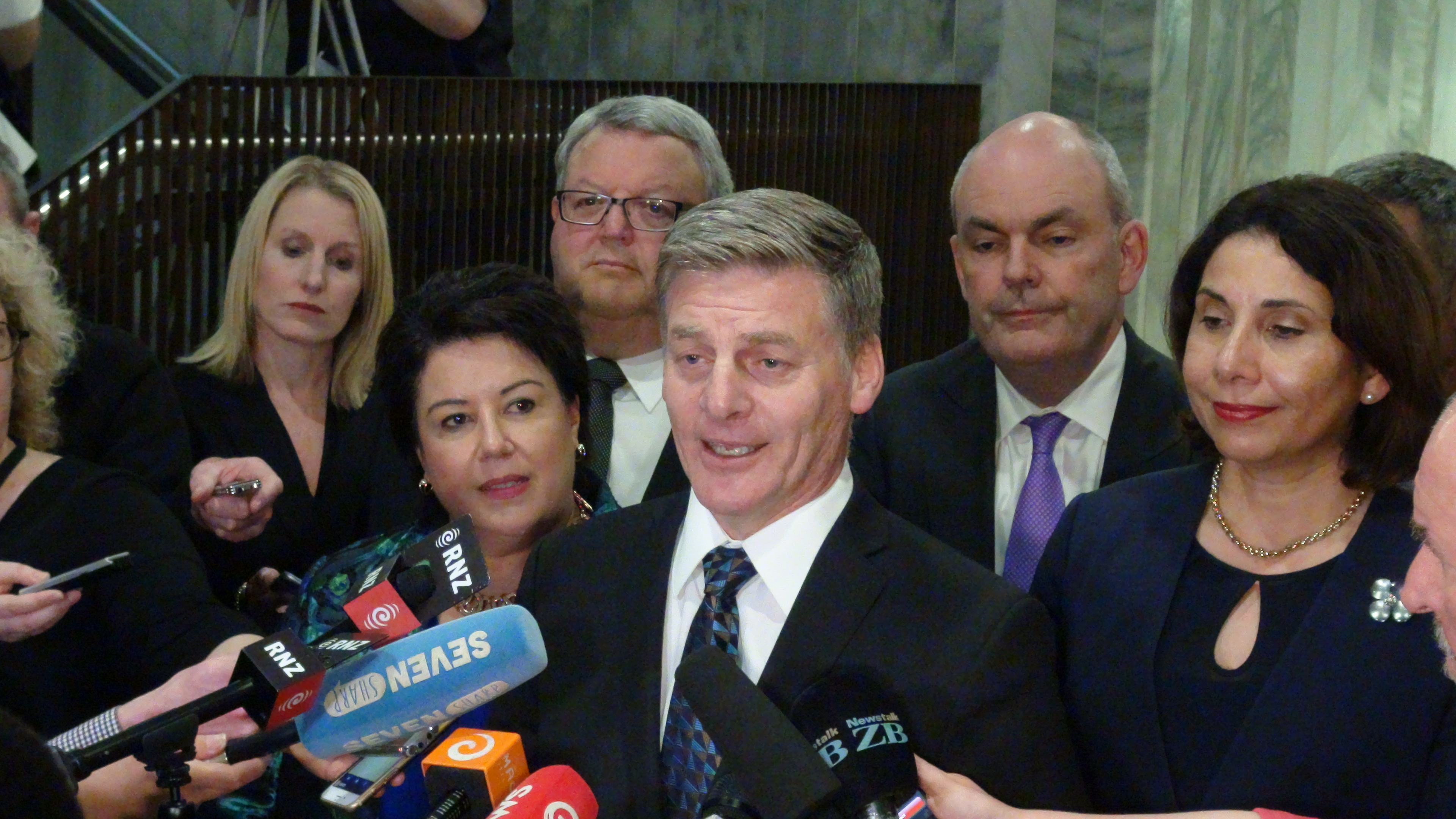 By Alex Tarrant
National Party leader Bill English was gracious in defeat, but warned that National will be the strongest Opposition Parliament has ever seen after it has regrouped over the next few weeks.
English said he'd called Ardern to congratulate her on becoming Prime Minister, and wished her well in efforts to make generational shifts in policy, off the back of a strong economy and sound government finances.
But National isn't going to let Labour off lightly – English said they would be biting at their heels from the other side of the house. His deputy Paula Bennett said National would soon pick itself up after the defeat.
Whether English is the person leading National into Opposition is still open. He said the matter of his position would be decided over the next few weeks.
Speaking to media in Parliament Thursday night, English noted the democratic process had played out.
He said National was proud that as an outgoing government they had left New Zealand "in great shape by any international measure." New Zealand was a more confident country with more aspiration having recovered from the global financial crisis.
"And we wish the new government well in taking the opportunity which we have, which is a generational opportunity for New Zealanders, to build on the economic strength, but also deal with long-standing issues that New Zealanders want to see dealt with."
He thanked his negotiating team for the process over the last three or four weeks. The National Party had also run an energised campaign right across the country. "However, MMP means that we do not get an opportunity to form that government," he said.
National would be "by far the strongest Opposition party that the Parliament has seen."
"From here, the National Party will re-group," he said. Caucus would meet next week to discuss the way forward. Asked whether he would lead National in Opposition, he said that was a matter for "the next few weeks for us to discuss among ourselves."
Meanwhile, English said National had satisfactory negotiations with New Zealand First during the process. A National-NZF government would have been strong and cohesive, he said.
Circumstances meant that Peters would have more influence forming a government with Labour over National, he said.
English said the speculation Thursday afternoon that National was holding out over NZ First Cabinet position demands was wrong – something Peters also said during his Q&A with the media.
Asked whether National had a mandate to form a government as it won the largest party vote, English said that after the election he'd said it was not a matter of moral authority, rather taking on the responsibility of forming a government, which National wasn't successful at.
English did say, though, that this was an unusual result under MMP – there probably wouldn't be a party anywhere in the world that got 44.5% of the vote and didn't win the election. But New Zealand had a way of adapting to these things, he said.
"But, we all know the rules – we play by them." National campaigned according to those rules.
He also said he was sure New Zealanders would accept the result. "They'll get up in the morning and go off to work and look forward to a new government."
English declined to comment about the New Zealand dollar's drop after the result was announced, other than to say it could be down just to there being a new government. The economy was in pretty good shape as a result of the work of all New Zealanders since the GFC. "That presents a very positive opportunity for an incoming government."
For a party going into Opposition, National was in good shape with "talent and energy and ideas." While the new government would get the opportunity to put its ideas together and get underway, National would fulfil the traditional job of holding them to account.
English said that he was "naturally disappointed" with the final outcome, particularly for the 44.5% of people who voted for National, and his team. He was also disappointed to not be taking New Zealand towards the good opportunities available as a result of the government's books being in such good shape.
"And I just hope that the incoming government takes those opportunities."
He noted Ardern's performance, given that she had only become leader of a flailing Opposition ten weeks ago. Advice to her was to take the role very seriously, while not taking oneself too seriously. Also to understand that New Zealanders had seen their country going in a positive direction "and she's got an opportunity to build on that."
Asked what he was most proud of over the past nine years, he replied that it wasn't what he should be proud of, but what New Zealanders should be – the achievements, and aspirations of the country. There were real opportunities now after the last nine years.
English said he was particularly interested in social investment, where New Zealand could do a much better job for the most vulnerable. He hoped an incoming government would build on that progress.
Meanwhile, Paula Bennett said it had been a big few weeks – she was proud of English, National and those who voted for them. "But that's MMP."
"I'll tell you what, this party of ours is pretty strong and we're ready to pick ourselves up, regroup and get back on with it," she said.