If financial markets are driven by two powerful emotions, greed and fear, then the lack of fear in bond markets suggests a cavalier attitude that may not end well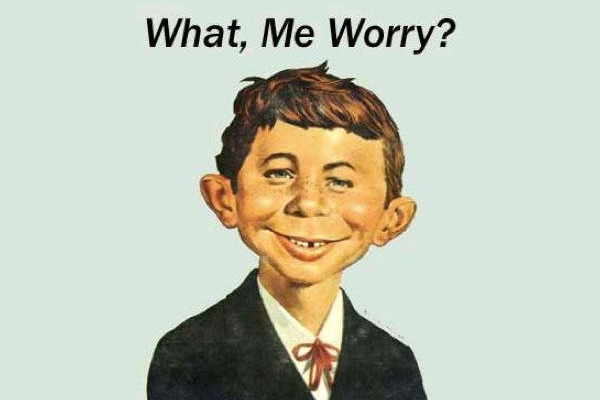 Political uncertainty is everywhere.
We have a narcissistic adolescent as President of the US, playing cavalier power games with a nutty North Korean. We have Europeans dicing with existential threats in the UK and Spain. We have a Chinese President grabbing totalitarian power. Across the ditch, Australian politics is infected with crazy and unstable partisanship (even within parties). Dictators are feeling emboldened in Russia, Hungary, Turkey, Malaysia, the Philippines, and across Africa as well. A cyber war is going on trying to destabilise rivals.
Yes, there are pockets of stability - and New Zealand is one such place - but they tend to be small in the global scale.
Economically, the world is trying to find a way out of unconventional monetary policy, and that road is very uncertain still.
And millennials are besotted with bitcoin. Say no more.
But bond and equity markets are pricing in the lowest levels of risk in living memory, and certainly lower than before the GFC.
It's spooky.
Here's the data at the close of Wall Street for 2017.
1. The key volatility measure is very low
The VIX closed at an index level of 11. That is low; it ended 2016 at 14 and 2015 at 21.
During 2017 it got down to just over 9 on November 3 and its high for the year was just over 16. The equivalent levels in 2016 2017 were 11 and 28.
And remember, during the GFC this index got as high as 81.
The VIX is a market volatility signal. It is measuring very little volatility risk going into 2018. You can keep track of the daily movements here.
The VIX is also known as the 'fear index'. Basically, there is little fear exhibited by investors.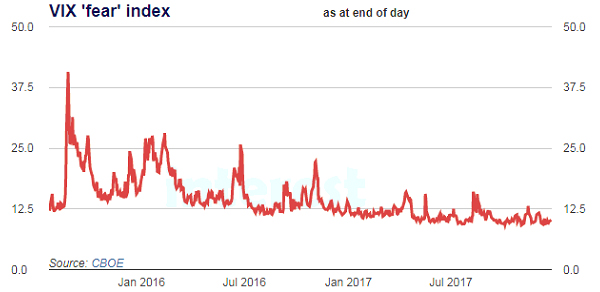 2. Credit default swap spreads are very low
CDS spreads measure bond default risk. They are ending 2017 signalling very low risks, unusually low.
They are back to levels we had just prior to the GFC.
More than that, AU-NZ corporate debt is unusually low. And the premium to US equivalents is at record low levels. There is a premium, but it is now trivial (+2 bps). It was more than +10 bps at the end of September and +42 bps at the start of the year. Recent "usual" is about 25 bps. It was +100 bps two years ago, and over +200 bps in early 2012.
All this is not happening because American risks are rising and we are static; no, local investment grade corporate risk is being marked lower faster than falling risks for American corporates. It is very unusual indeed.
And it isn't just investment grade corporates. New Zealand's sovereign risk is getting the star treatment as well. This is priced at just 14.94 bps, the lowest we have every seen it. It is lower than for Australia, the UK, or Japan. Only a handful of northern European countries are lower (Germany is 9.8 bps).
Our companies and our Government is rated by investors as almost fail-safe. Hard to fathom.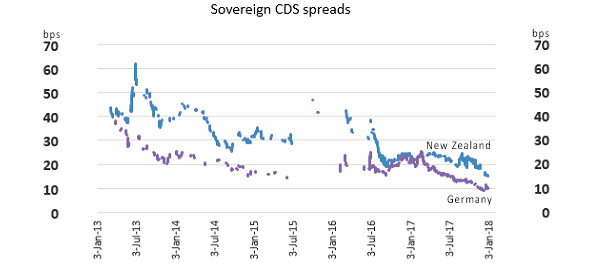 3. Short term rates are at record low levels
The New Zealand one year swap rate is just on 2%, at close to a record low level we reached in mid December of 1.98%.
This however is different to what is happening in the US. There short term rates are rising, and quite quickly. Check this UST chart for 1, 2 and 5 year rates. It will surprise you how quickly these rates have risen recently, even though the level are still not that high. Still, it is unusual how close our wholesale swap rates are to UST rates of the same duration.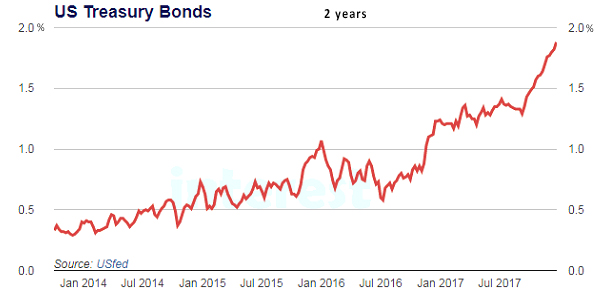 4. The yield curve is flattening
We do have a positive yield curve, so that's good. But the 2-10 curve is back under +100 bps and near its lowest in a year. At one point it was over +125 bps, but to be fair it has spent most of the year in the +100 bps region. (In 2016 it got down to just +26 bps.)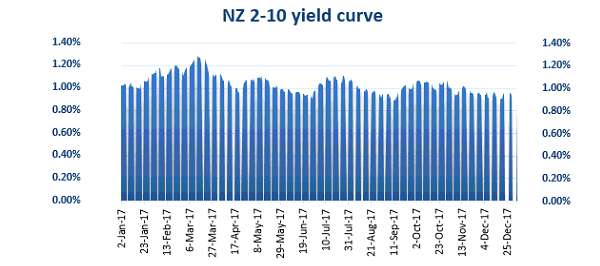 5. The Government must not pay down its debt
Wisely, the Government has made no attempt to pay down its borrowing. And the new government will likely follow the same strategy. Low "Govt-debt-to-GDP" is the mantra, not paying it down. The last time we did that, it almost ruined our bond markets, distorting the base-line risk-free benchmarks and starving access for trustees who are mandated to hold such securities. It was ugly. Now that problem is more acute, with large amounts going into KiwiSaver funds who have similar mandates. Paying down Government debt now would create a crisis for a significant section of KiwiSaver funds, and just force that money offshore and into even lower yield environments.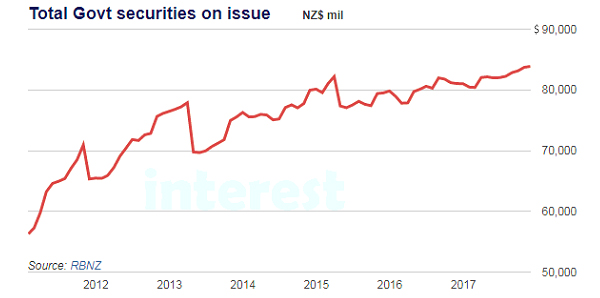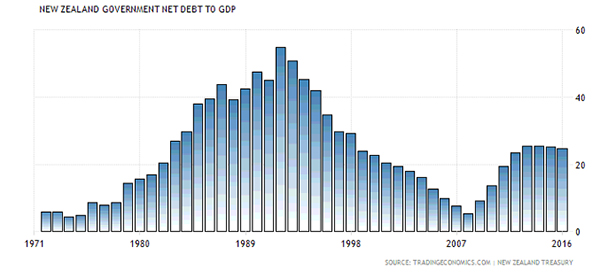 6. And there are big demographic shifts going on
The Western boomer generation is facing very low returns from traditional investments and are starting to chase higher yields, regardless of risk. Banks are flush with cash deposits and in many cases they are growing faster than lending opportunities. Banks only really look for lending opportunity if it is backed by real estate, but if values underpinning that security start falling, then their appetite for lending may in fact shrink. That will accentuate the mismatch between deposit growth and lending 'growth', leading to even lower bank offers for deposits. That in turn will make alternative asset investment seem attractive - but the problem there is that there is not a lot of that around. Demand for it will push down risk premiums. The problem is circular. (And a honey-pot for the unscrupulous.) These issues are very real for New Zealand.
It is this group, who hold a disproportionate share of household assets, who will drive demand for fixed-income investments.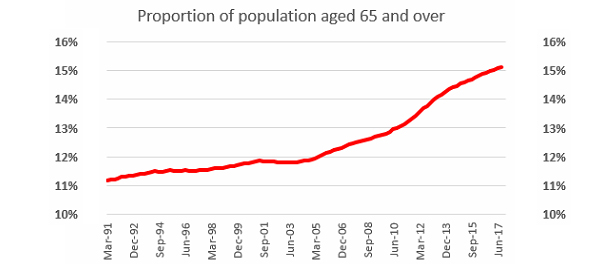 7. The yields on Chinese sovereign debt are rising
This benchmark has risen from 3% to 4% over 2017.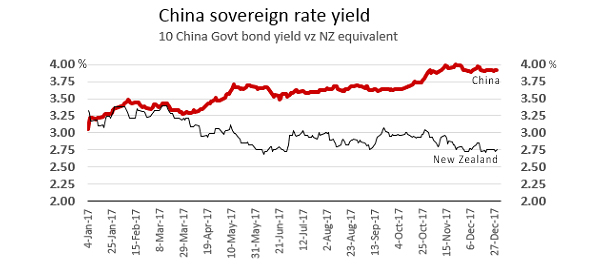 8. The 5-10 Chinese yield curve is non-existent
But the yield curve is completely flat in China, and the 2-10 curve is barely positive.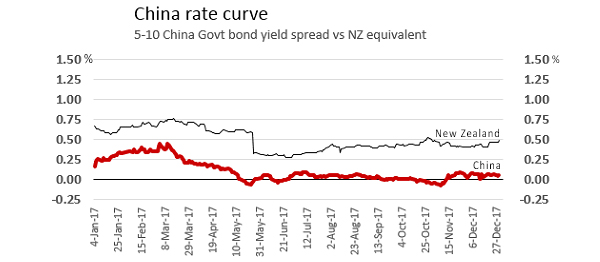 And then, there is this.