After some bumpy negotiation, the Trans Pacific Partnership Agreement has been agreed by all eleven remaining participants. But some details remain to be sorted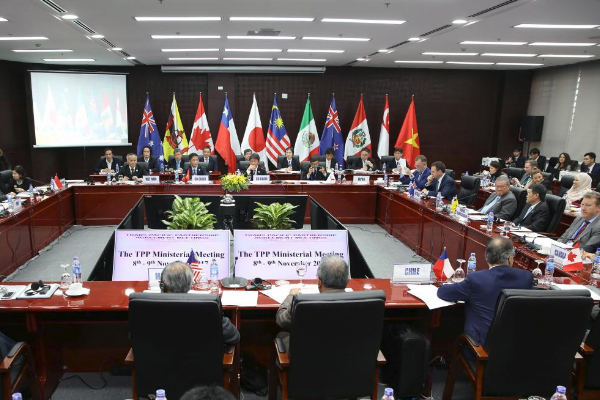 Update: Formal agreement concluded. Ministers Statement added below.
On the sidelines of the APEC meeting in Da Nang, Vietnam, the eleven countries trying to negotiate the TPP have agreed on the "core elements" of the trade deal, but some contentious areas – including culture and dispute settlement – were set aside for further negotiation.
It came just hours after the Canadians were accused of blocking an agreement earlier in the day.
The political drama included a scheduled meeting of TPP leaders that the Canadian prime minister did not attend and that was ultimately cancelled, leading to international media reports that Canada had "screwed" its TPP allies after getting cold feet.
However, Canada's Trade Minister dismissed the reports as a "misunderstanding," and said Canada took the time it needed to push for stronger protections related to the environment and labour.
The challenge for Canada and Mexico is that both TPP nations are also in the middle of renegotiating the North American free-trade agreement with the Americans, meaning that many of the same issues are in play at the two separate negotiating tables.
While APEC includes 21 member countries, the 11 nations of the TPP include New Zealand, Australia, Brunei, Canada, Chile, Japan, Malaysia, Mexico, Peru, Singapore and Vietnam. The TPP parties are all APEC members.
Here is the Statement issued after the latest meeting:
"Ministers are pleased to announce that they have agreed on the core elements of the Comprehensive and Progressive Agreement for Trans-Pacific Partnership. Ministers agree that the CPTPP maintains the high standards, overall balance and integrity of the TPP while ensuring the commercial and other interests of all participants and preserving our inherent right to regulate, including the flexibility of the parties to set legislative and regulatory priorities."
You can find detailed analysis and critique of the Trans Pacific Partnership Agreement here (and follow the links at the foot of that review which cover each Chapter of the Agreement), and more here.
Update: Here is the NZ Trade Minister's Statrement:
Minister for Trade and Export Growth David Parker has welcomed the 11-member Comprehensive and Progressive Agreement for the Trans-Pacific Partnership (CPTPP) which incorporates the TPP.

 A Ministerial Statement has been issued today by all eleven Ministers in Da Nang, Viet Nam, which confirms the core elements of the deal are now agreed, with just four issues requiring further technical work and discussion.

"My Ministerial counterparts and I also agreed this week to suspend a number of the most controversial parts of the of the original TPP in the new Agreement," says Minister Parker.

"At the same time, there will be no change to the goods market access outcomes contained in the original TPP.

"This is a now an improved deal for New Zealand.

"The overall outcome satisfies the five conditions that the Labour-led Government laid out for a revised TPP:

• It achieves meaningful gains in market access for farmers and supports the more than 620,000 New Zealanders whose jobs depend on exports. The CPTPP will also provide New Zealand for the first time with preferential market access into Japan, the world's third-largest economy, as well as Canada, Mexico and Peru;

• It upholds the unique status of the Treaty of Waitangi;

• It preserves New Zealand's right to regulate in the public interest. We have also retained the reciprocal agreement with Australia, which is the source of 80 per cent of our overseas investment from this new grouping, that ISDS clauses will not apply between our countries. We continue to seek similar agreements with the other countries in this new Agreement. In addition, the scope to make ISDS claims has also been narrowed;

• The Pharmac model continues to be protected. Further improvements now achieved include suspension of patent extensions which could have increased the cost of medicine to the government; and

• The ability to control the sale of New Zealand homes is being preserved by separate legislation in New Zealand.

 "New Zealand will now be focused on working together with our partner countries toward signature, including on the four specific items to be finalised by the date of signature of the new Agreement.

"I expect negotiators will need to meet again in the next few months to take this forward.

"In the meantime, I want New Zealanders to have the opportunity to understand what has been agreed and what it means for them, their families and their country, before anything is signed or ratified.

"Like all free trade agreements, the Foreign Affairs, Defence and Trade Select Committee will scrutinise the CPTPP and Parliament will consider the necessary legislative changes needed to give effect to the agreement."