Phils Twyford & Goff unveil $28 bln decade long Auckland transport plan including light rail, Penlink & Mill Rd, heavy rail & bus upgrades, safety improvements, plus more dedicated cycle lanes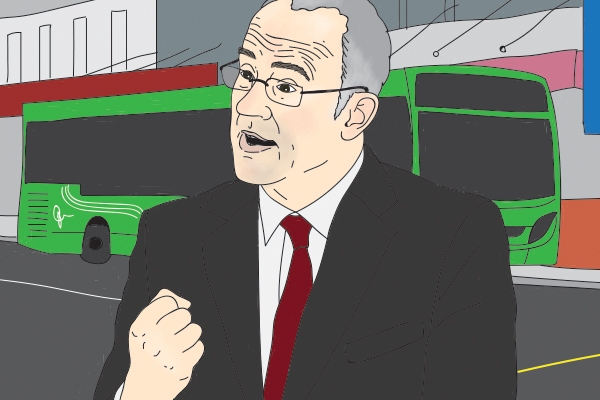 The Government will pour $28 billion into what Auckland Mayor Phil Goff has described as the country's largest ever civil construction project.
Speaking at the Newmarket train station alongside Transport Minister Phil Twyford, Goff called the 10-year package "transformational."
Projects which will be funded by the package include light rail, Penlink and Mill Road, heavy rail and bus upgrades, safety improvements, and more dedicated cycle lanes.
"This $28 billion plan will help ease the awful congestion that has been caused by a decade of under-investment," Twyford says.
"We will create a congestion-free rapid transit network and boost other alternatives to driving to help free up the roads, enable growth, and improve safety for drivers and others."
The price tag for the multi-billion packages will be split between Auckland Council and central Government, with the lion's share coming from the latter (see below).

Twyford also used the opportunity to take a swipe at the previous National-led Government, saying a previous Auckland Transport Alignment Project (ATAP) report revealed there was a $5.9 billion funding gap.
But those calculations and modeling failed to "inflation-proof" that programme of spending for the 10-year period, Twyford says.
He says the "fiscal hole" that was left by National is actually $9.7 billion.
"Today's package fills that gap," Twyford says.
The Government is also reviewing the East-West Link - a project Twyford called a "gold-plated" and "wasteful" in the House earlier this month.
While the exact form of this investment is not yet known, it will generally focus on addressing the most significant congestion and freight access problems in the area in a way that better optimises existing infrastructure, the report says.
The ATAP Package has assumed approximately $800 million will be invested in this corridor, representing a reduction of around $950 million from the earlier proposal. The East-West Link was last year touted as
the world's most expensive road.
The ATAP package seeks an appropriate balance that supports change, while also addressing Auckland's transport challenges faces today (see below).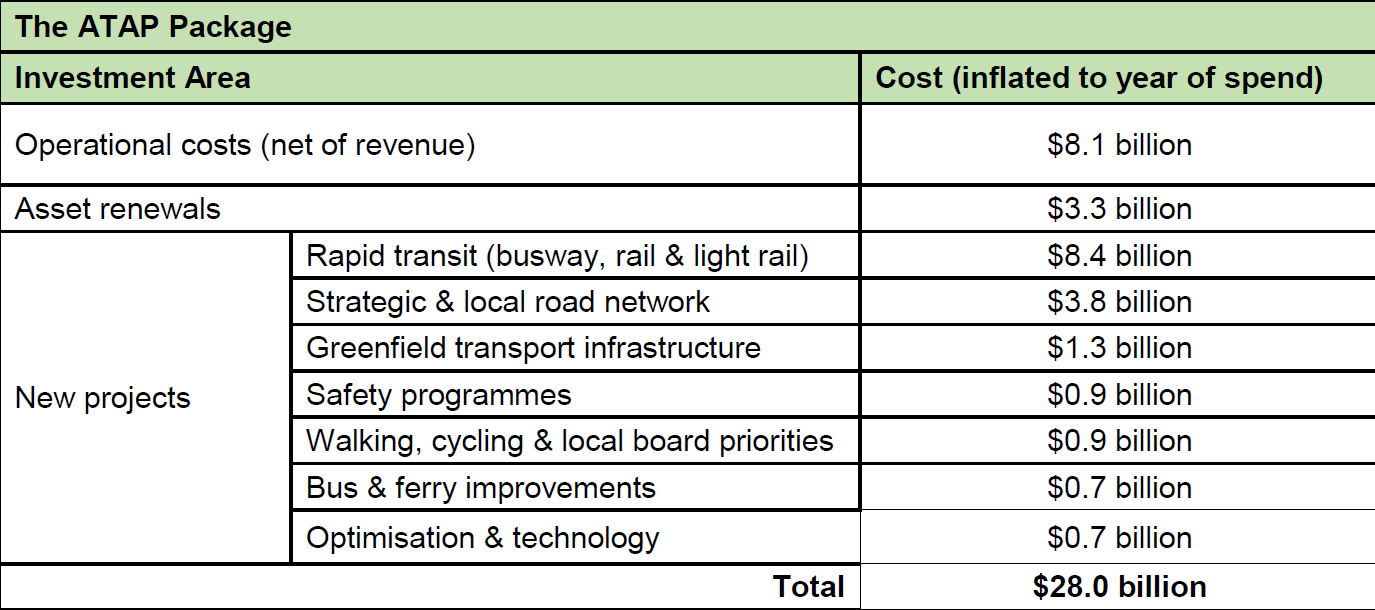 Goff says the new projects are possible because of the Auckland fuel tax, which will raise an extra $4.4 billion in expenditure for the Council.
"To raise the same sum from rates would result in a total rate increase of over 13% this year. Alternatively, to do nothing would see Auckland become increasingly gridlocked," he says.
But Goff says central and local Government still need to find innovative ways to fund further development such as public-private partnerships (PPPs), special purpose vehicles (SPVs) or infrastructure bonds.
A work programme is underway to leverage sources of investment capital outside of ATAP for light rail, and an announcement will be made soon.
Under ATAP, Auckland is expected to receive 38% of the National Land Transport Fund over the next decade, proportionate with the region's growing share of New Zealand's population.
But Goff says that this "still falls short of Auckland's projected 55% share of the country's population growth over the next decade."
ATAP major investments include:
Committed projects like the City Rail Link and northern motorway improvements.
Light rail
Eastern busway (Panmure-Botany)
Airport-Puhinui State highway upgrade, including a high quality public transport link to an upgraded Puhinui rail station
Bus priority programme, to more rapidly grow Auckland's bus lane network and support faster, more reliable and more efficient bus services
Albany-Silverdale bus improvements
Lower cost East West Link to address key freight issues in the area
Papakura-Drury motorway widening
First phase of the Mill Road corridor
Penlink (tolled)
Walking and cycling programme to expand the network and complete key connections (e.g. SkyPath)
The reaction
EMA Chief Executive Kim Campbell says the plan should be commended.
"Auckland's a growing city and it needs a transport network which supports this. We know congestion is stifling the city's economy and productivity. Which is why we encourage the Government and council to keep the pressure on to streamline these projects and ensure they happen at pace."
But National says the only new idea in the package is a "multibillion-dollar tram," paid for by motorists.
"The Government has just re-announced National's Auckland transport package but confirmed it will tax Aucklanders an extra 25 cents a litre of fuel to deliver its half-planned, half-funded multi-billion-dollar tram to the Airport," says the party's Transport spokesman Jami-Lee Ross.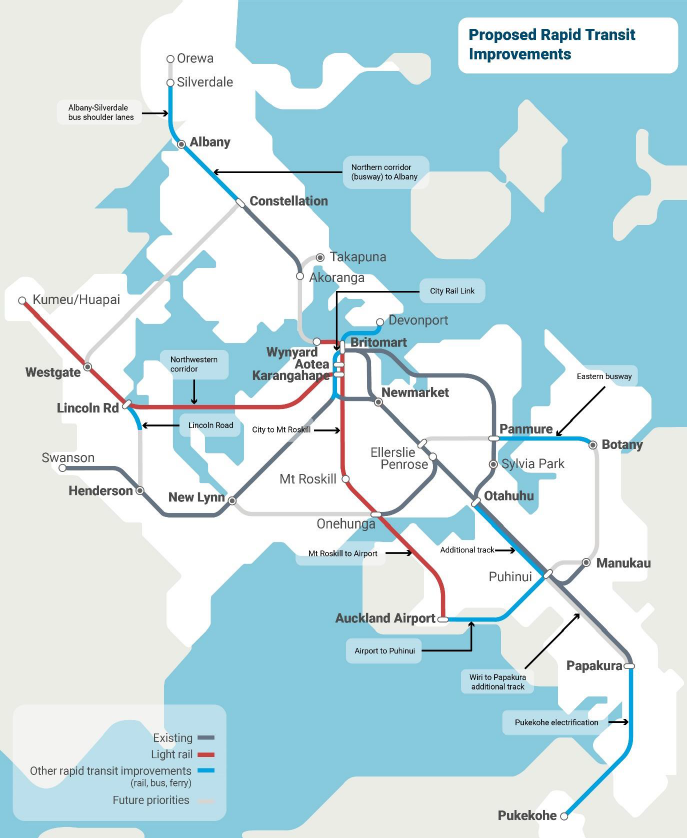 And here's the full Auckland Transport Alignment Project report.