Parliament's register of pecuniary interests turns up everything from property ownership, to tickets to see pop star Adele, income from work as a celebrity dancer & a strange alcohol drinking flask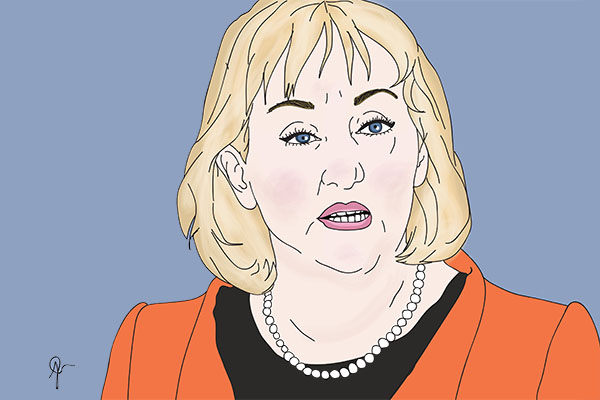 National Party MPs dominate the Parliament's property ownership list, according to the 2018 register of pecuniary interests which was made public on Tuesday.
By law, MPs are required to make an annual return of all their pecuniary and other specified personal interests.
These include properties, company directorships and controlling interests, gifts and superannuation schemes they're members of.
Adams, MP for Selwyn and National's finance spokesperson, owns three residential properties in Cromwell, West Melton and Wellington. She has another two in Templeton and Temuka and owns two areas of bare land in Darfield and Te Kauwhata, as well as a farm property in Aylesbury. Her eight disclosed real property interests are unchanged from last year.
Otaki MP Nathan Guy is second on the list, with seven real property interests, but interests in 15 other commercial properties, up two from last year.
Four of his properties are farmland, dwellings and buildings north of Levin, where he also owns a family home.
Although the only real property he owns, or jointly owns is a family home in Whangaehu, Labour MP for Tai Hauauru Adrian Rurawhe has interests in 26 Maori land blocks in the Aotea District and 11 blocks in the Takitimu District.
Other MPs with multiple properties include Nationals' Parmjeet Parmar (seven), Gerry Brownlee (six), Nicky Wagner (six) and Anne Tolley, who owns and jointly owns four properties plus six shops in Napier.
National's Ian McKelvie has declared ownership of four real properties but an NZ Herald report in 2013 said he had properties spread across 53 legal titles owned by "various entities," totalling $68.4 million based on 2013 capital valuations.
Prime Minister Jacinda Ardern owns one property, and Deputy Prime Minister Winston Peters owns two houses and land in Northland.
Of the 120 MPs in Parliament, just five don't own property – Barroch Ball (NZ First), Marama Davidson (Greens), Kieran McAnulty (Labour), David Seymour (ACT), and Chloe Swarbrick (Greens).
Gifts and company interests
As to be expected, Ardern received the most gifts last year, many of which were from overseas dignitaries.
The register also shows she was given tickets to see pop star Adele last year by Regional Facilities Auckland.
And it's not just the Prime Minister who is a fan of the Grammy Award-winning artist.
Five other MPs, including Jonathan Coleman, Steven Joyce, Nikki Kaye (who got two tickets) Louisa Wall and Judith Collins all declared the tickets as gifts.
Collins was busy too, declaring 10 separate sets of tickets to events ranging from All Blacks games to boxing matches.
National Leader Simon Bridges declared no gifts.
MPs also have to declare all other forms of employment under law. Although very few have incomes from other jobs, Seymour declared income from Media Works for his work as a "celebrity dancer," for his appearance on Dancing with the Stars.
In terms of gifts, National's Chris Finlayson declared; "An alcohol drinking flask in the form of what seems to be a sheep or a goat (quite difficult to identify the species) made of a form of dark or green-coloured material, possibly bronze or iron – [from a] visiting delegation from the Supreme People's Court of the People's Republic of China."
Former Speaker of the House, National's David Carter, declared interests in 11 companies or businesses, including Heartland Bank, Silver Fern Farms and Alliance Group.
Nathan Guy declared interests in six other companies, five of which involved in commercial property development and National's Barbara Kuriger has interests in seven farming related businesses.
Read the full Register of Pecuniary and Other Specified Interests of Members of Parliament here.