ANZ say the Government has overestimated how many students its new work rights policy will affect by up to 6000 people per year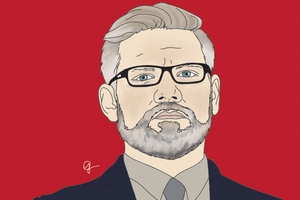 The Government has overestimated how much its latest student immigration policy will cost the economy and how many students will be impacted, according to analysis by ANZ.
Immigration Minister Iain Lees-Galloway unveiled the changes to post-study work rights, which he says will help eliminate migrant exploitation, earlier this month.
He told Newshub's The Nation the policy would affect between 12,000-16,000 students and will cost the economy $260 million in lost revenue per year.
But ANZ economist Miles Workman says the Government hasn't provided enough detail on how it arrived at this figure and the bank's research shows it is likely to only cost $100 million a year and is likely to affect 10,000 students.
He says industry players in the tertiary education sector say maybe 50% or fewer international students actually go on to apply for a post-study work visa.
"You then have to consider how many within that pool are actually going to be impacted by the policy changes, based on what they're studying or how long they study for."
Assuming that's roughly 50% as well, this would imply that the work rights of around 10,000 students could be impacted per year, he says.
And there is a "decent chance" that only a small proportion of those 10,000 are likely to be dissuaded from studying in New Zealand, Workman says.
All up, the policy is likely to have a negligible impact on economic growth.
"We estimate nominal GDP could be up to $100 million lower per annum as a result of these policy changes, due to both reduced export earnings and lower domestic demand for goods and services," Workman says.
But National's immigration spokesman Michael Woodhouse says that figure is "understated."
"[ANZ] appears to have used the new student visas, but most students stay here for between two and five years.
"So actually, the impact of this, if those people don't come is going to be much, much greater."
The full cost, he says could be between $300 million and "several hundred more."
Lees-Galloway says the Government is focussed on providing a high-quality education, not getting more bums on seats.
"That shift from volume to value will improve outcomes for the students and ensure that export education continues to make a significant contribution to New Zealand's economic and social wellbeing."