Opposition Leader Simon Bridges says National will have a 'significant' RMA bill ready some time in 2019 that will deal with the issue of land supply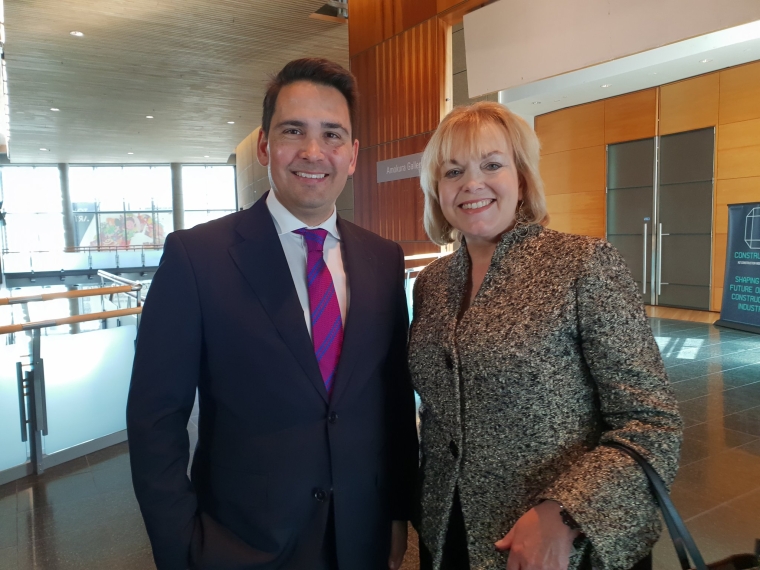 Opposition Leader Simon Bridges says National is in the early process of constructing new RMA legislation, which will be ready some time next year.
He has also admitted that National should have done more to pass RMA legislation in its first term in Government between 2008 and 2011.
Speaking at the New Zealand New Zealand Constructive Industry forum in Wellington on Thursday, Bridges said that RMA Reform Spokeswoman Judith Collins is "working away on an RMA bill for you to look at next year."
"We are really clear that if you want to deal with land supply, you need to have significant RMA reform."
Collins says National is still in the early stages of drafting the legislation but has promised the bill will "return the concept of property rights to owners of the land."
She did hint that under National's bill, RMA legislation won't fall under the responsibility of the Minister of the Environment. But she stressed that the bill would protect the environmental parts of the RMA.
"It's time for us to have a real re-think about the whole issue," she told the conference.
"If we don't have a rethink, we won't get rid of some of the poor decisions that have come in that have gone further than the RMA was ever meant to go."
The bill, she says, would need to be pro-housing and urban development and would look at some of the planning rules that are being imposed.
Speaking to media after the speech, Collins said she would like to have a bill that other parties could sign up for and if not, National would take it into the next election.
But, Bridges says if Housing Minister Phil Twyford comes out with "good RMA reforms," National will support those.
"We won't do to them what they did to us for nine years," he told the conference.
He says National "would love to see a bipartisan approach to this issue."
But Twyford says it's not the Government's plan to make any amendments to the RMA.
"We don't believe changing the RMA legislation is what needs to happen."
He says the real problem is the planning systems and the way councils make their planning and consenting decisions.
That, he says, can be changed through national direction under the current RMA process.
"We think that 90% of the gains that we want to see in the urban development space, to allow our cities to grow and bring down the ridiculously high cost of urban land, can be achieved by fixing infrastructure financing and freeing up the planning rules at a local level through national direction under the RMA," Twyford says.
We got in wrong in our first term, Bridges says
Bridges also used part of his speech to call out the previous National Government for not passing RMA reforms when it had the chance.
"Some of you may say 'why didn't you do this when you were in Government? The reality is we should have in our first term.'
"That was the only term, 2008-2011 where we had the numbers in Parliament. Past that, we never had the numbers."
In its second and third term, National was relying on support partners, such as the Maori Party, Act and United Future.
Act Leader David Seymour says National rejected RMA reform in 2014 confidence and supply negotiations with ACT.
"After the 2014 election, National, with ACT's support, had the numbers to pass RMA reform, but Nick Smith dragged the chain until Winston Peters won the seat of Northland in 2015. 
"In 2016, Nick Smith rejected an ACT/United Future proposal, instead rushing into the Maori Party's arms and accepting the pernicious iwi participation arrangements."