Transport Minister touts boost for regions in Transport Agency's 3-yearly investment plan; Trucking lobby complains funding's being diverted to 'pet political projects of dubious economic merit'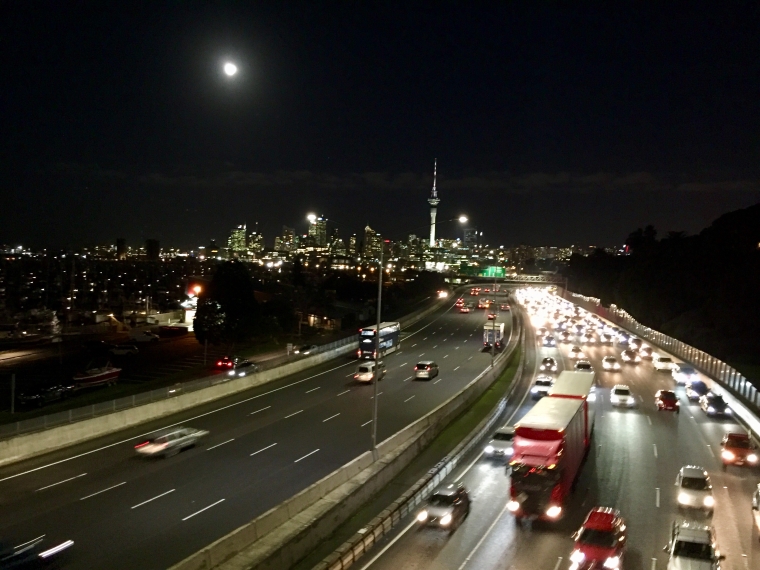 The Government is investing a record $16.9 billion in the land transport system over the next three years.
Most of the funding will go to the regions rather than the big cities - a reversal from the previous three years.
Regional roads will receive $5.8 billion of funding - a $600 million increase from the prior period, while $5 billion will be invested in roads in metro areas.
The planned investment, detailed in the Transport Agency's 2018-21 National Land Transport Programme, marks an 18% increase from the 2015-18 Programme and a 44% increase from 2012-15.
Of the total amount allocated, $12.9 billion will come from the National Land Transport Fund, which collects revenue from fuel excise duties, road user charges, vehicle and driver registrations and licensing, state highway property disposal and leasing, and road tolling. 
Auckland's Regional Fuel Tax and the rates collected by local government will account for another $3.4 billion, while only $557 million will come directly from the Crown.
Coming back to the regional focus, Transport Minister Phil Twyford says, "A further $300 million will be invested in the regions in non-roading projects."
As for the cities, nearly $4 billion will be invested in public transport, rapid transit, and rail, with a further $390 million for walking and cycling.
"This will fund projects like the AMETI busway, renewal work on Wellington's rail tracks, the Skypath and Seapath walk/cycleways, and investigation of a new commuter ferry service in Queenstown," Twyord explains.
"State highways continue to receive the largest share of funding with a total of $5.7 billion.
"We will invest $3.5 billion in new state highway projects like Puhoi to Warkworth, the Waikato Expressway, the Mt Messenger bypass, the Manawatu Gorge replacement, Transmission Gully, and the Christchurch Southern Motorway. A further $2.2 billion will be invested in state highway maintenance."
Safety is another priority, with $4.3 billion going towards revamping intersections to stop collisions, installing median barriers in high-risk areas, and increasing road policing.
Roads receiving safety upgrades include Dome Valley, Drury to Paerata, Waihi to Tauranga, and the Hawke's Bay Expressway.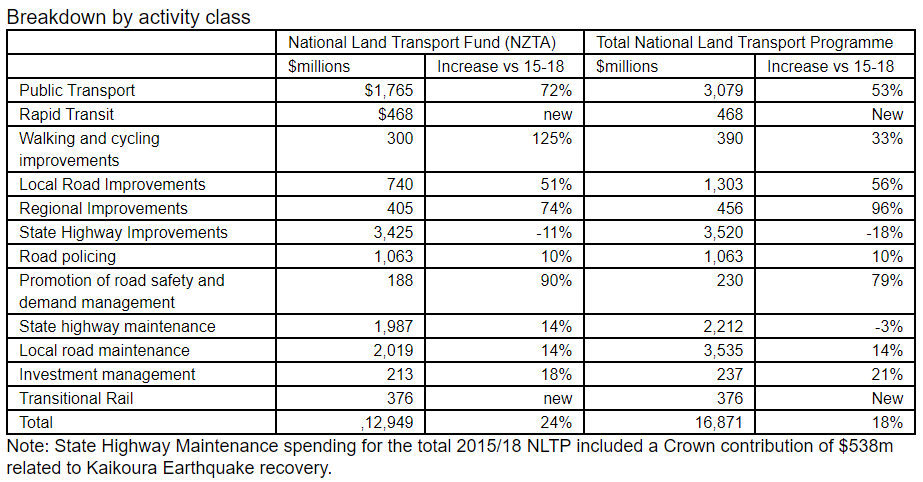 'A missed opportunity'
Trucking lobby, the Road Transport Forum, says the programme is a missed opportunity.
Its CEO, Ken Shirley, says funding's being diverted to "pet political projects of dubious economic merit, while crucial roading projects are postponed indefinitely".
"This kind of cross-subsidisation will lead to economic distortions across the transport market," he says.
"The road transport industry is concerned that major highway projects such as an East-West Link alternative, Tauranga to Katikati and Otaki to Levin are not going ahead. These projects are important for the free flow of freight around the country and would significantly improve the safety of key routes.
"On the bright side, it is good to see projects such as the Mt Messenger Bypass and the Manawatu Gorge replacement route receive the necessary funding."
Shirley also welcomes the Government's increased focus on road safety, but says ultimately, highways designed specifically to separate traffic and provide safe connectivity between communities are key to ensuring safety.
"It is particularly disappointing that the Tauranga to Katikati motorway has not progressed. The road is experiencing ever-increasing traffic volumes and is extremely dangerous. While the Government has earmarked some safety improvements the only real solution is a four-lane motorway with appropriately controlled access points and separation of opposing traffic," he says.