War of words between Bridges and Ross escalates as Ross releases secret phone recording; Bridges forced to detail dealings with Chinese donor; Ross' 'corruption' claims remain unsubstantiated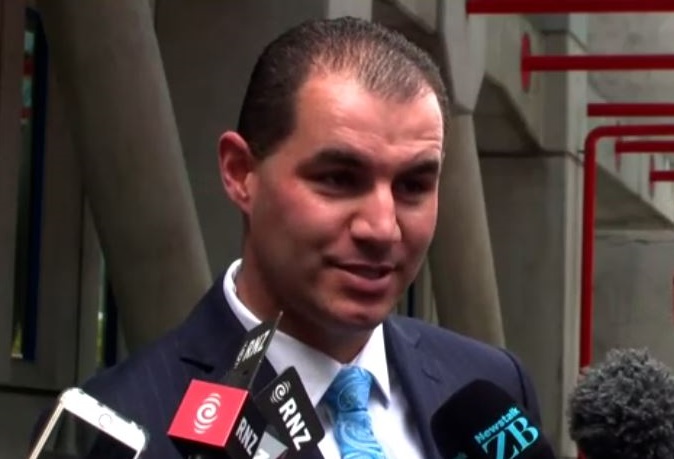 National Leader Simon Bridges has responded to expelled MP Jami-Lee Ross releasing a recording of a phone conversation between the pair, saying Ross is a "terrible person" who "did his worst" today (Wednesday).
Bridges is adamant the June 25 recording doesn't support Ross' claim that his handling of a supposed $100,000 donation from Chinese businessman, Yikun Zhang, was "corrupt". 
Ross claims Bridges breached the Electoral Act by instructing him to mask Zhang's identity by splitting the donation up into smaller amounts. 
While Bridges on Tuesday refused to say whether he or the National Party received a donation from Zhang, he now acknowledges they did.
He says he attended a dinner with Zhang on May 14, because Ross "knew him very well" and was "incredibly keen" for the pair to meet. 
He then attended a fundraiser on May 21 for Epsom MP Paul Goldsmith. Zhang was there and told him he and his supporters wanted to donate around $100,000.
Bridges says he thanked Zhang and clarified this was something Ross should "deal with" because of the "friendship" Ross had with Zhang and because of his party fundraising expertise. 
Bridges says he withheld these details from the media on Tuesday because being a "cautious" lawyer, he wanted to make sure he'd talked to his party and done all his due diligence first.
Nonetheless, Bridges isn't concerned about Ross laying a complaint with police. Nor is he worried about the level of support he has as Leader from his party.
Rather, he accuses Ross of trying to set him up, blackmail him and defame him.
He also suspects he secretly recorded a number of conversations over "many many many months".
So what's in the recording? 
The jury is out over whether the content of the recording provides any substance to Ross' accusations. 
What it does however reveal is Bridges' calling National list MP Maureen Pugh, "f***ing useless".
In the recording, Ross tells Bridges the donation from Zhang has been received and is sitting in the Botany electorate account. He asks Bridges, "What would you like done with it?"
Bridges says, "Gee that's good," and notes as an aside that he needs to follow through on his promise to have the donor over to his house for dinner. He says Ross should join.
He then says: "I just think we want it for these advertisements and the like. We want it for the things we're going to do over the next year or sort of outside of the – not outside of the party – but you know, say we want to do some more attack ads, say we want to do another regional fuel one… We just want to be doing those things right…"
Bridges says he needs to raise the issue of the donation with the party's president, Peter Goodfellow.
Ross then alludes to the donation being broken up into smaller portions. He says: "Donations can only be raised in two ways – party donation or candidate donation – and party donation has a different disclosure, which is fine.
"And the way they've done it meets… the requirements where it's under the particular disclosure level because they're a big association and there's multiple people and multiple people make donations. So that's all fine.
"But if it was a candidate donation, it's different. So making the party donations is the way to do it. Legally though, if they're party donations, they're kind of under Greg's name as the party secretary."
Bridges responds: "I'm going to tell him [Goodfellow]. I think he'll accept it. I just need to explain to him what it is I want it for…
"Good work though man, it's a lot of money."
Ross goes on to say he discussed "candidacy" with the donor.
Bridges responds: "It's like all these things, it's bloody hard. There's only so much space. It depends where we're polling. Two Chinese would be nice, but then would it be one Chinese and one Filipino? What do we do?"
The discussion then turns to getting rid of old list MPs to make way for new ones, Bridges saying, "I reckon it's all three of our MPs who... not thinking of obvious ones like [Chris] Finlayson or [David] Carter, but actually we just want them to go. Like Maureen Pugh's f***ing useless."
Ross adds National MP Nicky Wagner's name to the list, and Bridges says he doesn't want them all to go "this year".
Where to from here?
Bridges has apologised to Pugh and characterised the tenor of his conversation with Ross as "blunt". He's also referred to himself as a "rough diamond". 
Ross remains on a mission to take Bridges down. 
He says he has other secret recordings, including one that reveals Bridges allegedly trying to push him out of the party by saying four women had accused him of harassment. Ross says Bridges told him if he kept asking for "natural justice, that it would not be just four women. It would be 15 women".
Ross' accusations that Bridges tried to disguise donations from the 'Cathedral Club' and an Exclusive Brethren-related company, Cubro Ltd, remain. 
He is believed to be getting advice from right-wing "professional campaigner" Simon Lusk, speaking to him as recently as Wednesday morning. Lusk is one of the key figures in Nicky Hager's Dirty Politics.
Ross will remain in the headlines, as he runs in the Botany by-election as an independent.