Chris Rands explains why a faltering Australian housing market changes economic signals to the RBA, and is likely to result in lower official interest rates there sometime this year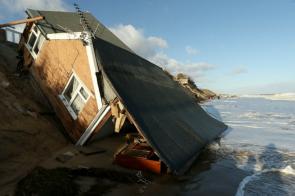 By Chris Rands*

Six months ago, we discussed internally the idea that the impact housing was going to have on the economy would see the Reserve Bank of Australia (RBA) cutting rates in 2019. Fast forward to today and we're seeing more and more evidence supporting this theory.
Here, we explore how we see house prices flowing into economic conditions, and share why we are on the bearish side of rates.
All good things must come to an end
We are starting to see signs that the house price situation is starting to leak into the economy.
In recent weeks we saw a relatively large decline in building approvals (-9% month-on-month), with the year-on-year figure now sitting at -20% (blue line below). There has been a large decline in apartments (green line below), which is pointing to the end of the residential construction boom.
Chart 1 Australian building approvals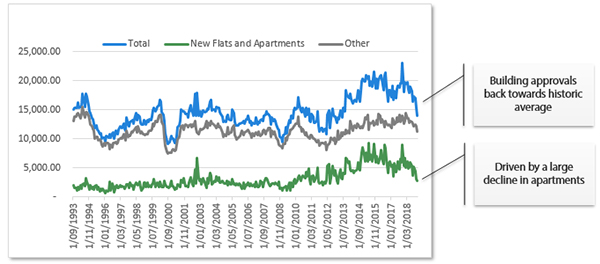 Source: Bloomberg
Digging deeper to identify the problem states, NSW and Victoria experienced a huge increase both in prices and overall building approvals, and are now subject to the downside. These two states have experienced the largest house price declines (Sydney down 9% and Melbourne down 8%), so the risk of further price declines exacerbates this problem.
Chart 2 Building approvals — by state
Source:  Australian Bureau of Statistics
A TLDR lesson on house prices
So, what was driving our bearish thinking six months ago? It's the fact that building approvals typically follow house prices with a lag. (If you would like to read about how house prices can affect the economy, this research from the Bank of International Settlements is a good place to start: Residential investment and economic activity: evidence from the past five decades.)
If you'd prefer the TLDR version (too long, didn't read), here are three key takeaways from the research. As you would expect, higher house prices lead to higher residential investment.
"First, we show that the main determinants of residential investment in advanced economies are real house prices, nominal interest rates, demographic factors, and the state of housing supply."
 
"Higher real house prices are positively correlated with residential investment. A 1% increase in real house prices is associated with a 0.35% rise in residential investment."
 
"Third, drops in residential investment consistently lead economic downturns in the 99 recessions identified in our sample… Prior to an economic downturn, house prices, construction activity and construction employment all decline."
Point three in particular highlights why the RBA needs to be careful in terms of how they approach the housing outlook. Falling house prices and construction activity lead recessions and the RBA is now looking at two out of three of these occurring.
Searching for signs
Can we see signs of house prices in the building approval data? The simple answer is "yes". The housing construction story has just been following prices. This aligns with common sense — when prices rise, developers build more apartments – or as the BIS puts it "house prices seem to play a prominent role by affecting the incentives to invest in housing construction"
Chart 3 Building approvals and house prices
Source:  Bloomberg
We can more broadly see what has been driving this when looking at house prices. The reason that house prices are declining is due to the fact that mortgage lending has been contracting (which you can see in Chart 4). This decline is due to tighter lending conditions, which caused investor finance to fall 20% through 2018, and has subsequently lead house prices lower with a six-month lag.
Chart 4 House prices and housing finance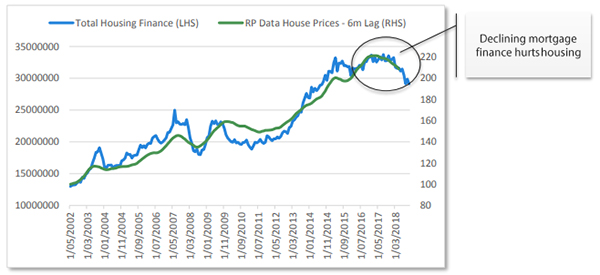 Source:  Bloomberg
Chart 5 Australian housing finance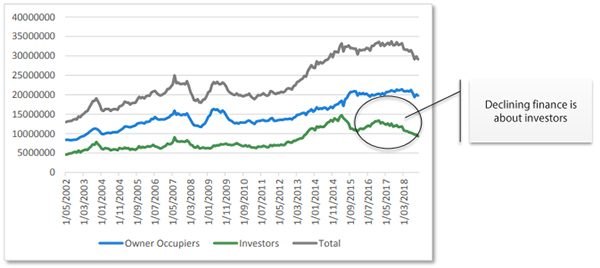 Source:  Bloomberg
If we focus specifically on investor finance vs apartment approvals, it is easy to see what is going on. When investor finance dries up, nine months later building approvals for apartments follow.
Chart 5 Australian mortgage approvals
Source:  Bloomberg
The above points challenge the narrative that the bond market has been relying on: "As long as house prices don't flow into the real economy, we will be ok." In today's market, it seems the more appropriate statement might be: "If house prices stop falling, we should be fine." This implies we need bank lending to come back in order to stabilise house prices and help the real economy, supporting the argument for a rate cut.
Our view is that eventually housing is going to hit the economy. The above shows this is already occurring in construction and if you read the tea leaves in the NAB Business Survey, you get a similar message in retail. "The retail sector has recorded deteriorating conditions for the past three months in trend terms. Of the retail sub-sectors, car retailing and personal & household goods retailing are most negative." NAB Monthly Business Survey, December 2018.
Chart 6 NAB business conditions
Source:  Bloomberg
The fact that its cars & household goods leading the retail decline makes it sound like a finance/housing problem. Again, pointing to the housing situation leaking into the real economy.
Given inflation recently printed at 1.8%, and has been below the RBA's 2 – 3% band for 4+ years, the RBA has now re-accessed their messaging, stating that the interest rate decision is now balanced.
Chart 7 Australian inflation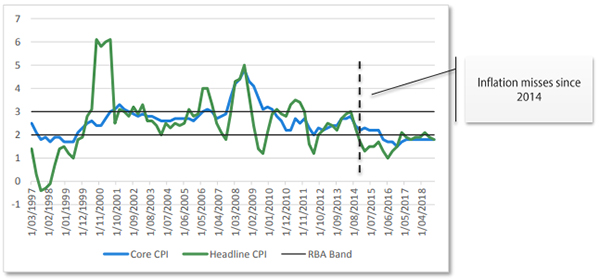 Source:  Bloomberg
Conclusion
The data is not playing out for a rate hike anytime soon and is starting to say that house prices could use some support. Not surprising, last week RBA Governor Lowe made the following comment:
"Looking forward, there are scenarios where the next move in the cash rate is up and other scenarios where it is down. Over the past year, the next-move-is-up scenarios were more likely than the next-move-is-down scenarios. Today, the probabilities appear to be more evenly balanced."
So, the RBA has gone from saying that "the next move is likely a hike" to "the probabilities are evenly balanced". This has caused the market to start forecasting rate cuts and will probably embolden other economists to start calling for cuts.
---
Chris Rands is a porfolio manager, Fixed Income at Nikko Asset Management based in Sydney. This article was a briefing posted on Nikko AM's global website, and is here with permission.