Lobby group NZ Transport 2050 Inc debate with Transport Minister Phil Twyford over whether light rail or a new rail link is the best option to Auckland Airport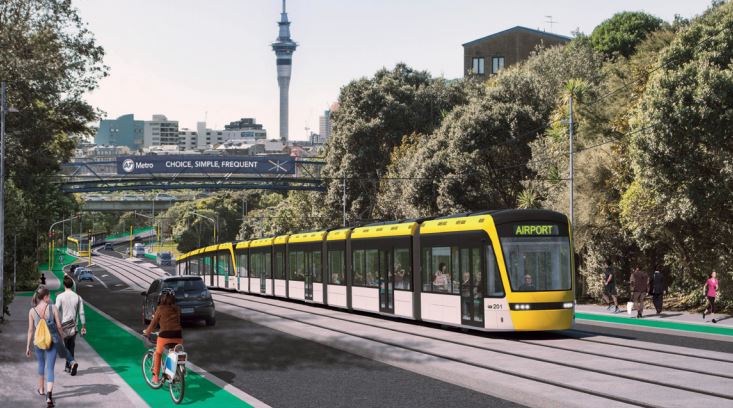 Transport Minister Phil Twyford says NZ Transport 2050's call for a new rail line running from Papatoetoe's Puhinui Road to the airport instead of the proposed Auckland light rail project doesn't stack up.
And despite set backs and delays Twyford says he remains committed to seeing a modern tram system built in the City of Sails.
NZ Transport 2050 Inc. was formed last year and has since mounted a public campaign alongside the Public Transport User's Association to stop the light rail project. This has included everything from newspaper ads and social media and public meetings. 
Chairman Paul Miller says building a new rail line could be done for a fraction of the cost of a building a light rail line from the CBD to the airport and would also involve less disruption to Aucklanders.
He says the lines already run through Papatoetoe and building a rail spur linking the existing network to the airport from Puhinui Rd would pass mainly through farmland. Miller claims it could be done for $600 million to $700 million.
He says while the rail lines would have to be upgraded at Papatoetoe to cater for the increased traffic, it would be covered by existing upgrades that are already in the works.
"It would be nice to have light rail to west Auckland," Miller says. "But having it all the way to airport just doesn't make sense. Let's cancel the light rail project and look at extending the rail network."
Miller says NZ Transport 2050 is funded through donations from its members and it doesn't receive financial support from any outside agencies or organisations. But he says some of the organisation's recent advertising material was partially funded by the Rail and Maritime Transport Union. 
Transport Minister Phil Twyford says NZ Transport 2050's claims are way off the mark.
"Our Government knows Aucklanders need better transport, including between Puhinui and the airport. That's why one of the first tasks I asked NZTA [New Zealand Transport Agency] to take on when we came into government was rapid public transport from Puhinui station to the airport. It will be a bus service to begin with. In the future, it will become part of a rapid transit route connecting to Manukau and Botany with a dedicated busway or possibly light rail.
"But a heavy rail spur from the airport connecting to the existing network at Puhinui would be surprisingly expensive, potentially costing billions, and it wouldn't increase the overall transport network capacity."
He says it would mean trying to send more trains into the CBD on the southern line which is already near capacity.
"On top of that, heavy rail would need a rail tunnel through to the airport that would be as long as the City Rail Link and that's a costly and time consuming project in its own right," Twyford says. "I would encourage Mr Miller to release any business case he has commissioned into the Puhinui rail spur."
He says a modern tram system remains the best option.
"Light rail can be built on existing corridors, making it faster and more cost effective to build and that means people will start enjoying the benefits sooner," Twyford says.
And he remains committed to the Auckland light rail project, despite the fact there have been delays in coming up with a final business case.
"Light rail will be a magnet for private investment in urban renewal and it will be able to carry 11,000 commuters per hour. The cost for light rail from city centre to Māngere has not been finalised and because it's such a significant project, it's important that we take the time to get it right."
NZTA is leading the development of the Auckland light rail programme with the support of partners, Auckland Council, Auckland Transport (AT) and HLC, a wholly owned development subsidiary of Housing NZ. 
Last month NZTA head of light rail Carl Devlin said it couldn't finalise its business case for the project until Twyford and the Government finished their deliberations on the NZ Super Fund proposal.
The NZ Super Fund presented a proposal to the Government last year to fund, design, build and operate the Auckland light rail project in conjunction with Canadian partner CDPQ Infra.
Under the project proposal first outlined by Twyford in 2017 two light rail lines would be established in Auckland. One leading from downtown Auckland out to the airport at Mangere, while a second line would run from the central city along State Highway 16 to Kumeu/Huapai. Twyford has estimated that the Auckland that project would cost about $6 billion, making it the biggest transport project in New Zealand history.