Greens propose introducing universal payment of at least $325/week for those who don't work full-time, a wealth tax, two new top income tax brackets and ACC reform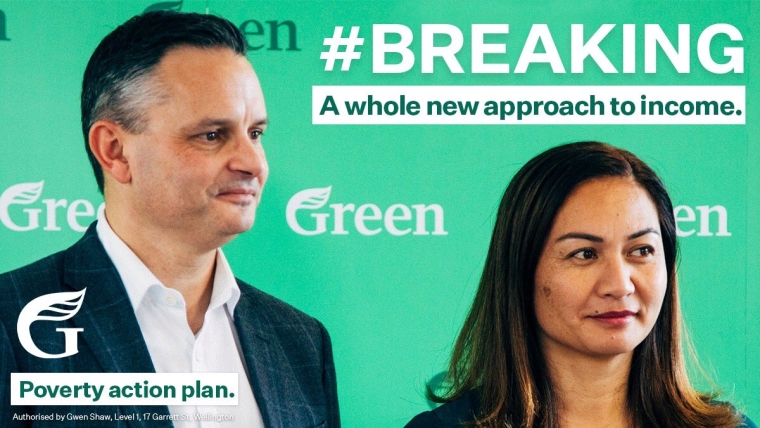 The Green Party has revealed its first policy it will take to the September 19 election.
It is proposing those not in paid full-time work, including students and part-timers, receive a 'Guaranteed Minimum Income' payment of at least $325 a week after tax. People with kids or disabilities would receive more.
To put this payment in context, single people on Jobseeker Support currently receive $251 a week.
The payment, which looks a bit like a universal basic income, would be paid for by extra revenue generated by the introduction of a wealth tax and two new income tax brackets.
Wealth tax, higher income tax brackets
People would pay 37% tax on income they earn over $100,000 and 42% on income over $150,000. These two tiers would sit on top of the existing tiers - the highest of which requires a tax payment of 33% on income above $70,000.
The Green Party is ditching its call for a capital gains tax, following Prime Minister Jacinda Ardern ruling this out under her leadership; instead calling for a wealth tax. This would be set at 1% on net wealth over $1 million and 2% on net wealth over $2 million.
It would be calculated on an individual level, so couples with jointly-owned assets would only start paying if they had combined net wealth of over $2 million.
A person with a $2 million house and a $600,000 mortgage, has a net worth of $1.4 million. So they'd pay 1% on $400,000, which is $4000.
The tax would cover the likes of property, shares, bonds, business assets, valuable art, and normal household items and vehicles worth more than $50,000. Assets held in trusts and those held offshore would also be covered. 
Asset rich, income poor retirees would be able to defer payment until they sell their assets.
The tax is expected to apply to the top 6% of wealthiest people in New Zealand and raise $7.9 billion in its first year.
Having two new top income tax brackets is expected to raise $1.3 billion a year and affect 341,000 people - about 7% of the population. 
Speaking to interest.co.nz earlier this month, Green Party co-leader James Shaw made the point that the quantitative easing being done by the Reserve Bank has heightened the need for tax reform to redistribute wealth. He was concerned the $60 billion-plus being pumped into the economy via the banking system would flow through to asset owners, not the real economy. Shaw noted that following QE being done in other parts of the world in response to the 2008 Global Financial Crisis, asset prices have increased more than CPI inflation. 
$100/week per child for all families 
Coming back to the Guaranteed Minimum Income, this would replace the student allowance and put money in students' pockets regardless of what their parents earn.
Single parents would receive a top-up payment of $110 a week after tax, and people living alone would receive a $30 top-up.
The Green Party also wants to give families a $100 a week universal payment for each child under three years of age.
Looking at the welfare system more broadly, it would change abatement and relationship rules so people and their partners can earn more from paid work before their income support entitlements are reduced.
These changes are expected to cost $6.7 billion - $2.5 billion less than the additional tax revenue generated from the wealth tax and new income tax brackets.
Separately, the Green Party wants to legislate to require annual minimum wage increases in line with the median wage.
ACC reform
The Green Party is proposing to level the playing field between the support people receive when they can't work due to an injury, versus due to an illness.
Under the current system, ACC provides higher payments (in the form of compensation for lost earnings) for people who were employed at the time of an accidental injury.
In what would be a major $5.9 billion overhaul, the Green Party wants to turn ACC into an 'Agency for Comprehensive Care' so that it covers income support and work-accessibility support for everyone with a health condition or disability regardless of the cause.
It would also change ACC's minimum payment approach so everyone gets at least 80% of the fulltime minimum wage regardless of what their income was when their condition emerged.
This would effectively create publicly-funded sick leave for people who need an extended period off work, for example to recover from surgery or chemotherapy.
The Green Party is proposing to phase in some reforms in 2021, and the rest in 2023. 
Here are its costings: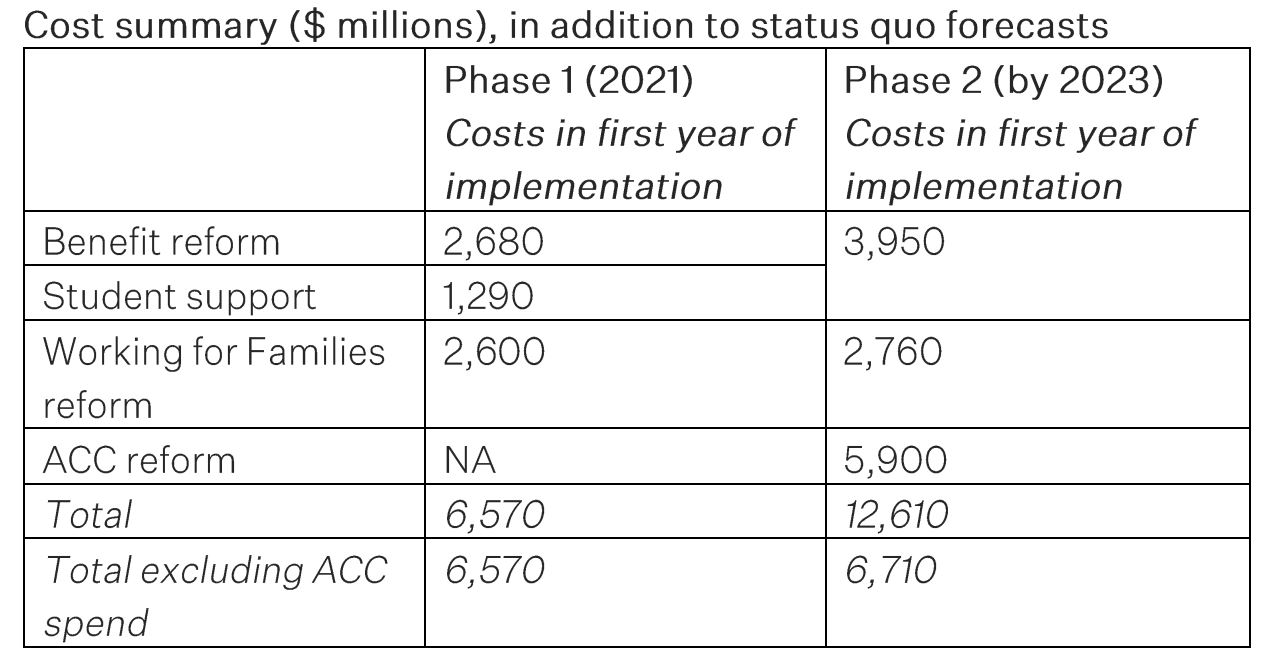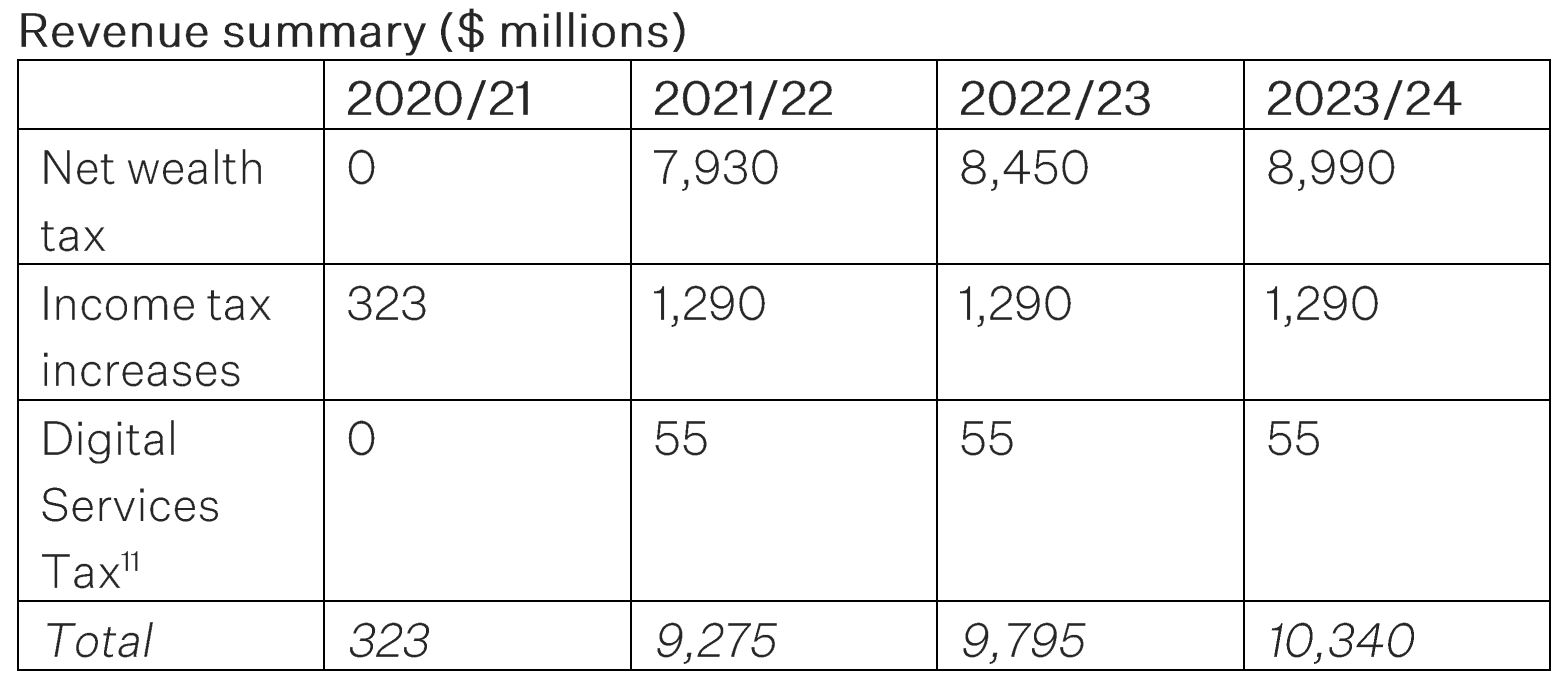 See this document for the Party's new policy in full.