David Hargreaves wonders if the push-back, particularly by the Big Four Aussie banks, against the RBNZ's capital proposals may ultimately prove to be counter-productive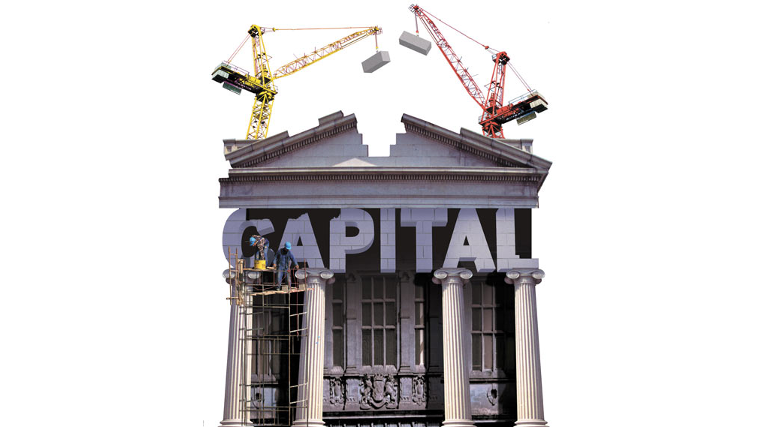 By David Hargreaves
Regardless of how the Reserve Bank's review of bank capital ends up when the final announcement is released in November, the whole process may ultimately be seen as something of a watershed for NZ banking.
For those who have followed the Reserve Bank decision making process over the years there's a well- choreographed order of events when  it comes to proposals that affect the banks. It goes like this: The Reserve Bank puts out what it wants (or at least says it wants), the banks, particularly the Big Aussie Four, then all stick the size 12 boot into the proposals behind the scenes, the Reserve Bank comes back with watered down proposals, these are implemented and on we go.
This time, with the capital review, it has felt a bit different.
I earlier used the term 'says it wants' in describing RBNZ proposals because I've always presumed the RBNZ, like any skilled retail barterer, starts out publicly seeking more than it wants in the certain knowledge that it's going to get 'knocked down' by those it's seeking to 'sell' its proposals to.
It's probably fair to assume therefore that there was some element of that in the RBNZ's, I will call it opening gambit, calling for a close-to doubling of the high quality capital held by banks over a five-year period. I guess the variable in this is that the current Governor of the RBNZ Adrian Orr is a pretty hard-edged operator in comparison with predecessors, so, with him I feel it is a little harder to discern what might be a certain amount of 'the usual' posturing or is simply someone used to calling a spade a shovel, and er, digging in to seek something they really want.
That the banks, particularly the Big Aussie Four, would push back on the proposals was as inevitable as daybreak. But the hysterical, not-budge-an-inch, stance particularly the Big Aussies have taken in this instance has potential, I think, to inflict real long-term damage on them.
All this of course is happening in what has become for NZ's largest bank ANZ an, ahem, accident-prone year. And while the travails of the ANZ are not exactly 'proving the point' for the RBNZ they are certainly not helping the 'we are responsible people who know our business and don't need reining in' kind of narrative the big banks are trying to push. One wonders what the other Big Three Aussies have been thinking and saying about ANZ at a time when there is this collective big-bank push-back against the RBNZ. You can't imagine they've been thrilled.
More is good
For the record, my position on this is that I'm not sure the banks need as much capital as the RBNZ is suggesting – but more will definitely be good.
I suspect the RBNZ will have always been open minded about somewhat diluting its proposals – but with Governor Orr showing clear irritation at the tone of some of the banking submissions, the risk for the banks now is that the RBNZ will dig in and the banks might actually face more rigid proposals than the RBNZ possibly would have accepted at the start of the process.
That's pure conjecture on my part, but the risk with pushing any point too far is that the guy you are pushing against will push back harder.
Which is where I come to the whole counterproductive side of the big banks' submissions and arguments.
The big banks have got some good traction through the very unquestioning mainstream media with such glib arguments that customers' interest rates on borrowing will go up X percent. Well, sorry, how on earth can you say that?
Look, it's fair enough to say that if the cost to you of something goes up X percent then in order to make the same return as you've been making you would need to charge the customer X percent more. Yeah, fine. You can say that in a kind of demonstrative way.
The market will decide
But of course the market will decide what exactly you can charge. For banks to say that mortgages will go up X percent, to actually name figures, is spectacular nonsense.
Okay, if all the banks decided to charge the same rates, then maybe prices could be pushed up by a definitive amount. In such an instance you would think that the likes of the Commerce Commission would get fairly interested fairly quickly.
Underpinning a lot of the 'logic' and rationale coming out of the banks appears to have been an underlying line in the sand that shareholders can't and won't accept lower returns.
The returns have been pretty good.
There's this idea in business that dividends must keep getting bigger and bigger.
I do believe there is something to the thinking that says if a business is not growing then by definition it will start contracting and then maybe that's a slippery slope.
But growth and constantly squeezing the golden goose shouldn't be conflated as meaning the same thing.
Sometimes in order to properly achieve growth then a business should retain capital and that's sensible and it's pragmatic.
When shareholders go feral
Look, I've been to enough shareholders' meetings to know that the mood can get pretty ugly when the dividend's cut, but sometimes you have to, and the banks need to be big enough to actually accept that they've been getting uproarious returns and paying fat dividends in recent years. They don't have a divine right for that always to be the case.
The banks have, I think, conveniently bypassed the fact that the RBNZ's asking them to raise their capital levels across a five year period. That means, yes, pay some lower dividends and hold on to some cash.
In all this I've sensed that the banks on many levels 'don't get it'. Do they actually believe the adverts they peddle that shows them being all about the customer? I haven't taken a straw poll on it, but I suspect the customers don't believe the ads.
I think the banks might be genuinely shocked – although they shouldn't be – with what people do think of them.
In life, you have to understand yourself and how others view you. And I'm not sure banks do. People tolerate banks because everybody has always needed one.
Change, change, change
Will people need a bank in future? Well, you see that's the big question isn't it? I really think the day is not far away when people will no longer need banks.
It's comparing apples with oranges, but I can relate some thoughts of my own industry, journalism. Back in the mid 2000s I was working for a metropolitan newspaper and it was going like a rocket. Such was the roaring state of the housing market that the paper was actually having to print extra sections on a Saturday to accommodate all the adverts. Licence. To. Print. Money.
But I was vaguely aware of this thing called the internet. And I remember thinking, back in about 2005: "You know, this is the last great age of newspapers. It's all downhill from here." And lest I'm seen as trying to make myself sound too clever by half, I should say that my pick for the decline of newspapers was for it to happen in about a 30 year period. Well, boy, I was wrong there. The paper I worked for now has a circulation of less than half what it was at that time.
When banks may no longer be necessary
Okay, different industry sure, but it's indicative of the massive structural change that technology can force. And there's no reason to believe that we are not on the cusp of something pretty big happening to banking and how we handle our finances. Cash is likely to disappear pretty soon. Crypto? Well, if Facebook's got anything to do with it that could be just around the corner in a widespread-usage sense.
Which is all why the banks by being unbelievably churlish now and appearing unwilling to give any ground might be self-harming themselves.
The public don't love banks, they've just needed them. If it comes to a point they don't need them then they will remember how the banks have acted and reacted at times like this.
I would suggest the banks might want to bear that in mind when they decide how they will respond to whatever the RBNZ does finally decide on in November.