Martien Lubberink sees new APRA rules causing the Australian banks to retreat, shrink, or divest their New Zealand subsidiaries. And what follows then may be riskier for us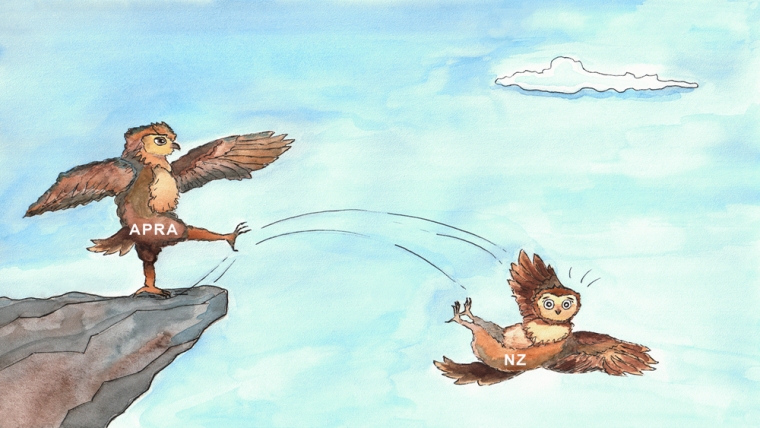 Here is a fun fact: Europe hosts half of the number of systemically important banks.
The Financial Stability Board once in a while publishes a list of banks that are Global Systemically Important. These G-SIBs, 29 in total, are too big to fail and because of that designation they need to hold more capital than smaller banks. 
European banks dominate the list of G-SIBS. Only seven European countries host these mega banks: France, the UK, Switzerland, Germany, Spain, Italy, and the Netherlands. There are thirteen European G-SIBs and I am sure you know some of them: BNP Paribas, Barclays, UBS, Deutsche Bank, Santander, Unicredit, etc. The US hosts only eight G-SIBS. JP Morgan Chase is the largest G-SIB and well-known. But I wonder if you know some of the other US-based systemically important banks: State Street? Bank of New York Mellon? 
Another fun fact
Why is it that Europe hosts a large number of very large banks? Well, here is a second fun fact. The European G-SIBS owe their size largely to a single, obscure article of the European bank rules. Article 49 of the European Capital Requirements Regulation allows banks to expand: Expand into the insurance business and expand into other countries. 
An infinite chain of banks
I hear you thinking, "What is wrong with banks expanding into other lines of business and into other countries? If British Petroleum and Unilever can sell oil, grease, and fat in various liquid and solid forms and operate on a global level, then why wouldn't banks be able to sell a variety of financial products to an international clientele?" The answer is that banks that expand are risky. Banks are highly indebted and if they set up shop in a different country they do so with borrowed money: deposit money, your money. Now, if a bank like Santander can start a bank in Chile, there is nothing that prevents the Chilean subsidiary to expand into Peru. The Peruvian Santander subsidiary can expand into Bolivia and the Bolivian subsidiary could expand into … New Zealand. And so on. 
Such an ever-expanding bank group, of course, is very risky. If all the Santander subsidiaries are wholly owned by their parent banks, then the owners of the ultimate parent holding bank, in Spain, bear all the risks of all these subsidiaries. That is a significant risk for sure.
Europe's soft penalty for owning other banks 
Luckily, bank regulations limit the risk of ever-expanding bank groups. The limits, however, vary across countries. The European limits in Article 49, for example, are very soft. So soft that it led to major controversy at the Basel Committee when it discussed the Basel III post-crisis banking rules. In the battle against too-big-to-fail banks, the US insisted on imposing strict limits on bank expansion. But France threw a major tantrum. Eventually, it got its way, thanks to, among others, Danièle Nouy. The resulting European 'penalty' for owning a bank subsidiary is a 250% risk weight. This is low. For example, New Zealand banks face a risk weight of 300% for shares they hold in listed companies. 
By now you should understand that a simple rule can have profound effects on the global banking landscape. European banks dominate the G-SIB list because they benefit from a rule that allows them to expand. The US bank rules are stricter, which results in a diminished global presence. 
Why APRA's recent rule change matters
On 15 October, the Australian Prudential Regulation Authority (APRA) proposed a change in the rules on bank holdings. This rule may affect the Big-4 bank subsidiaries that operate in our country. Among the rule changes proposed by APRA, this one is important:
APRA wants to impose penalties on banks that own other banks. Instead of applying risk weights, APRA wants to impose a much stricter regime on bank holdings. It wants Australian parent banks to fully deduct (from their own equity) the amounts they hold in subsidiaries. Without getting too technical, a deduction is about the same as a risk weight of 1,250%. Bank supervisors use deductions (or risk weights of 1,250%) to stop them from investing in assets that are deemed risky.
The consequence of the recently proposed APRA rule change is serious: a parent bank in Australia will hardly benefit from the growth of their bank subsidiaries: an additional dollar held in the form of equity in a subsidiary will no longer contribute to bank capital of the parent. Owning a New Zealand bank becomes almost … pointless.
Tall poppy syndrome 
The tall poppy syndrome thus ensues: the proposed APRA rule discourages the growth of New Zealand subsidiaries, in particular when these subsidiaries are large relative to the parent bank. This is the case for ANZ. 
In the short run, the New Zealand subsidiaries respond to the rule change by paying any excess cash to their parents. This is because the parent does not have to hold any capital against cash holdings (a zero risk weight means zero penalty), whereas a dollar held in an equity holding is fully deducted (and fully penalised). I am not sure if the Reserve Bank likes it when the New Zealand Big-4 banks repatriate cash to their Ozzie parents. Likewise, the New Zealand subsidiaries may move some of their business to the Australian-owned branches that operate in New Zealand. Again I wonder if the RBNZ thought about our banks surrendering control of assets to Australian banks. 
A bad deal for the New Zealand financial system
The APRA rule change could also make the New Zealand bank market less competitive: ANZ clients may want to choose to do business with locally owned banks - which may not be ready to properly serve their growing customer base. Just look at UK contender banks, according to the Financial Times these are all suffering. Size matters in banking.
The result of the collaboration between the RBNZ and APRA on the proposed rule change is that the New Zealand Big-4 have been given a bad deal. Except for the US maybe, many other countries are more accepting of allowing banks to grow internationally. The New Zealand Big-4 banks now face limits to growth. This is perhaps sensible in the battle against too-big-to-fail. But a recent Basel Committee study shows that victories in the battle against large banks come at a price: their profits suffer, which constitutes a risk for financial stability. 
Ultimately, the Australian parent banks may start to retreat, shrink, or divest their subsidiaries. The question then is: which banks will grow into the New Zealand market?
Selling out to European banks?
European banks are in a good position to benefit from the proposed APRA rule changes. Facing virtually no penalties for holding foreign subsidiaries, the likes of HSBC, Barclays, and Unicredit may want to expand into New Zealand. That could make the market more competitive. Maybe.
However, the idea of European banks entering into the New Zealand banking market worries me. European banks are hardly profitable. They may want to use the New Zealand market to prop up their loss-making European operations. I wonder if that is a sensible idea. To put it more bluntly: do we fancy Deutsche Bank operating on our turf, so that the people of New Zealand can support Deutsche's floundering operations in der Heimat? I doubt it. 
Some pundits think that Chinese banks may start to expand into our financial system. Perhaps, but such expansion hardly offers peace of mind. The latest IMF Global Financial Stability Report just documents how vulnerable Chinese banks are.
In all, it is likely that the proposed APRA rule change will alter the New Zealand banking landscape for good. It will become safer for sure, but the question is if the enhanced resilience of our banks will render the market more competitive. That is not obvious to me. Business may move to local banks that lack the capacity and expertise to deal with the needs of new customers, or business moves to banks that need profits to survive, which is a questionable proposition for sure. 
Anyone out there who can explain what's wrong by being owned by unquestionably strong banks at just four hours flying distance from Aotearoa?
---
*Martien Lubberink is an Associate Professor at the School of Accounting and Commercial Law at Victoria University. He previously worked for the central bank of the Netherlands where he contributed to the development of new regulatory capital standards and regulatory capital disclosure standards for banks worldwide including Europe (Basel III and CRD IV respectively).
">