Gareth Vaughan on retrospective insurance to save businesses, a good time to tackle tax evasion, stranded in paradise, drugs & vaccines, inside the NHS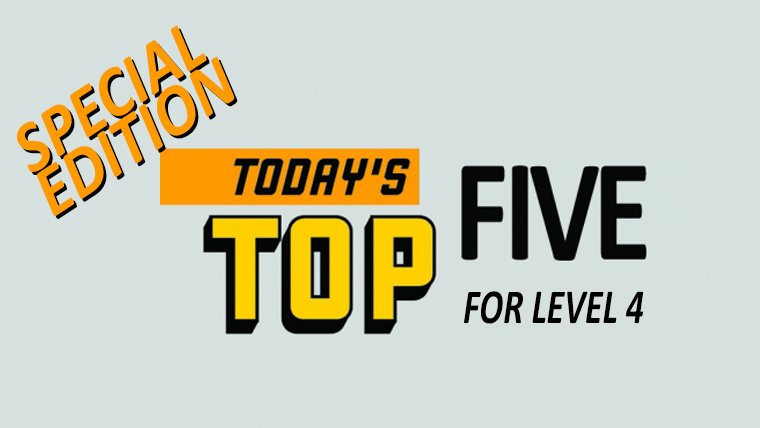 This week's Top 5 comes from interest.co.nz's own Gareth Vaughan.
As always, we welcome your additions in the comments below or via email to david.chaston@interest.co.nz. And if you're interested in contributing the occasional Top 5 yourself, contact gareth.vaughan@interest.co.nz.
1) A COVID-19 economic policy tool: retrospective insurance. 
In my interview with economist Arthur Grimes this week he mentioned Alistair Milne, Professor of Financial Economics at Loughborough University, and his idea of retrospective insurance to protect businesses from bankruptcy as the world battles COVID-19.
Milne says retrospective insurance would be "surprisingly inexpensive" at a net additional cost of 2% of GDP, and could guide the allocation of public resources to "ensure no business goes under as a result of the pandemic and all who merit protection get support."
His key point is that, in order to limit the long term economic impact of the pandemic, viable businesses need to be protected from bankruptcy. Milne proposes setting a guaranteed level of support based on loss of revenue for businesses, non-profit organisations and the self-employed. Milne sees a need to correct a market failure being the absence of widespread business interruption pandemic insurance.
It is the absence of such pandemic protection that is leading to the transmission from households to firms illustrated in Figure 3 and which threatens to cause substantial and long lasting systemic structural damage, from layoffs and from the failure of healthy companies. Therefore, the overall role of government in response to this crisis is to step in and provide this insurance which has not been provided by the market.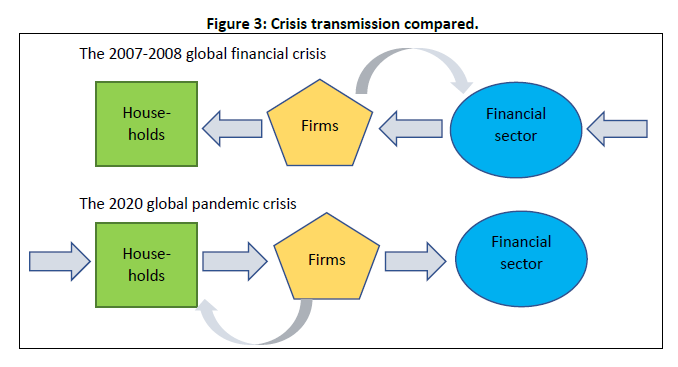 This means that, government should now be basing their promise of support by asking the following "what if?" question. Suppose business had taken out appropriate business interruption insurance, what compensation would they require in order to ensure to avoid financial distress or being forced out of business altogether, until the impact of the disaster has receded? Similarly, suppose an individual loses income as a result of business interruption, what compensation would they require in order to maintain themselves without the threat of losing their home or their credit standing and be able to resume their livelihood once the impact of the disaster has receded?

This 'retrospective insurance' is a complement to, and not a substitute for, the measures of support for individuals and businesses already taken so far. All these measures are appropriate and welcome. The point of announcing retrospective insurance is to provide a framework of compensation that includes all these measures and to build confidence by setting a clear and forward looking basis for assessing the totality of public financial support so that, as the pandemic unfolds, businesses and individuals will receive.This will give them as much certainty as possible about the support they will be given. Where the payments they have already obtained fall short of that offered retrospective insurance then they can expect to get more. Where the payments exceed, then they are lucky it will not be clawed back.
Milne argues the concept of retrospective insurance shares costs appropriately between the public purse and the affected businesses. Generous compensation is provided whenever revenue decline exceeds a minimum trigger level, which is assumed to be a 10% annual revenue decline, which a well-run business should be able to absorb in the course of normal business operations without financial distress, he says.
The payout can then be based on the ratio of wages, rent and profit to revenue as recorded in the most recent annual financial statements for each firm or self-employed worker. The payout assumed is 100% of rent, 80% of wage payments and 50% of profits.
In table 2 below Milne presents an illustrative calculation of retrospective insurance for the airline group IAG.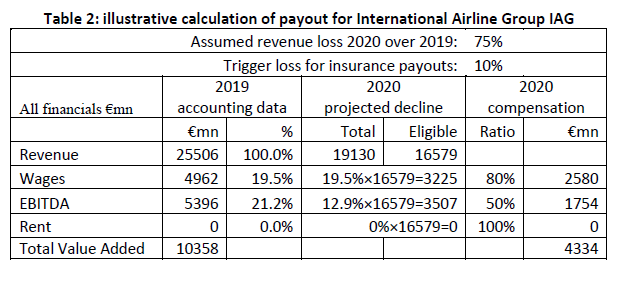 The required data is that in the first two columns of numbers, the figures for revenue, wages, EBUITDA (profit before interest, taxes and dividends) and rent, all taken from the IAG annual report. The annual report does not distinguish rent payments from other property costs so these are assumed to be zero.

The first two rows are the assumptions about revenue loss for 2020 (assumed to be 75%, since even if they commence flying again after six months passenger numbers will remain low) and for the deductible before any retrospective insurance is payable.

The middle two columns show the calculations of eligible projected decline in wages, EBITDA and rent, under the assumption that these fall direct proportion to the decline in revenues. The total decline in revenues is 75%×25506=19130. The excess, over and above the 10% revenue loss trigger is 65%×25506=16579. The projected eligible decline in wages is then 19.5%×16579=3225 and in EBITDA 12.9%×16579=3507.

The final two columns show the calculated retrospective insurance payout. This is simply the appropriate ratio (80% for wages, 50% for profits, 100% for rent) applied to the projected eligible decline in the components of value added. The total compensation of €4334mn compared to a 2019 value added of 10358
2) Coronavirus crisis a good time to tackle tax evasion properly.
With governments around the world borrowing huge sums of money to tackle the pandemic and its economic fallout, Scilla Alecci of the International Consortium of Investigative Journalists has highlighted how useful taxes governments could be getting from multinationals and big corporates, but aren't, would be in bolstering their coffers. Instead, billions of potential revenue is being funnelled to tax havens. Perhaps now is finally the time when some serious and effective global co-ordination to tackle these tax dodgers will occur?
Gabriel Zucman, an economist at the University of California, Berkeley, said if there was one lesson we could take from the current economic crisis, it was:  "Shoring up our public services starts with fighting tax avoidance and tax evasion more aggressively."

When countries like Luxembourg offer "tailored tax deals to multinational companies, when the British Virgin Islands enables money launderers to create anonymous companies for a penny, and Switzerland keeps the wealth of corrupt elites out of sight in its coffers," Zucman said, "they all steal the revenue of foreign nations."

Developing countries are particularly vulnerable to such a system, with yearly tax losses estimated at around $200 billion, a figure roughly equivalent to the amount the United Nations predicts they will lose due to the coronavirus pandemic.
But it's not just so-called developing countries that could benefit.
Take for example, Italy, which has the world's highest number of COVID-19-related deaths [since overtaken by the US] and recently announced a $28 billion plan to rescue the virus-hit economy. The country has a 30% evasion rate and, in 2016, it lost $118.5 billion to tax dodging and underreporting, according to the latest government estimates.

"The taxes that are evaded have to be compensated for by higher taxes on the law-abiding," Zucman told ICIJ via email "or else they translate into less public goods and services for the rest of us — such as less access to health care."
3) Stranded in paradise, an eternal honeymoon in the Maldives.
David Zweig of The New York Times has this tale of a honeymooning South African couple getting trapped in the Maldives as their homeland shut its airports and the Maldives also enforced a lockdown. Thus the honeymoon turned out to be much longer than the six days planned by Olivia and Raul De Freitas, a teacher and a butcher.
By Sunday, they were the only guests at their resort, the Cinnamon Velifushi Maldives, which normally is at capacity this time of year, catering to some 180 guests. ("Room rates start at $750 a night," its website still says.) The resort comprises the entirety of its speck of an island. There is nowhere to go. The couple reign like benign yet captive sovereigns over their islet. The days are long and lazy. They sleep in, snorkel, lounge by the pool, repeat.

The resort's full staff are at hand, because of the presence of the two guests. Government regulations won't allow any Maldivians to leave resorts until after they undergo a quarantine that follows their last guests' departure. Accustomed to the flow of a bustling workday, and the engagement with a full house of guests, most of the staff, having grown listless and lonely, dote on the couple ceaselessly. Their "room boy" checks on them five times a day. The dining crew made them an elaborate candlelit dinner on the beach. Every night performers still put on a show for them in the resort's restaurant: Two lone audience members in a grand dining hall.

At breakfast, nine waiters loiter by their table. Hostesses, bussers and assorted chefs circulate conspicuously, like commoners near a celebrity. The couple has a designated server, but others still come by to chat during meals, topping off water glasses after each sip, offering drinks even though brimming cocktail glasses stand in full view, perspiring. The diving instructor pleads with them to go snorkeling whenever they pass him by.
The downside of the much longer than expected stay at a five-star resort was they still had to pay.
Though the couple has been paying a generously discounted rate, the bill grows ever larger. Each day that ticks by is a chip taken out of their savings that had been set aside for a house down payment.
Olivia and Raul have now made it back to South Africa, to a government quarantine facility, after 21 days in the Maldives, Insider reports.
"We came back with a private charter that was self-funded by the 40-plus South African and Mauritian tourists that were stranded in the Maldives," they said.

That private charter cost $104,000, which was divided among the passengers.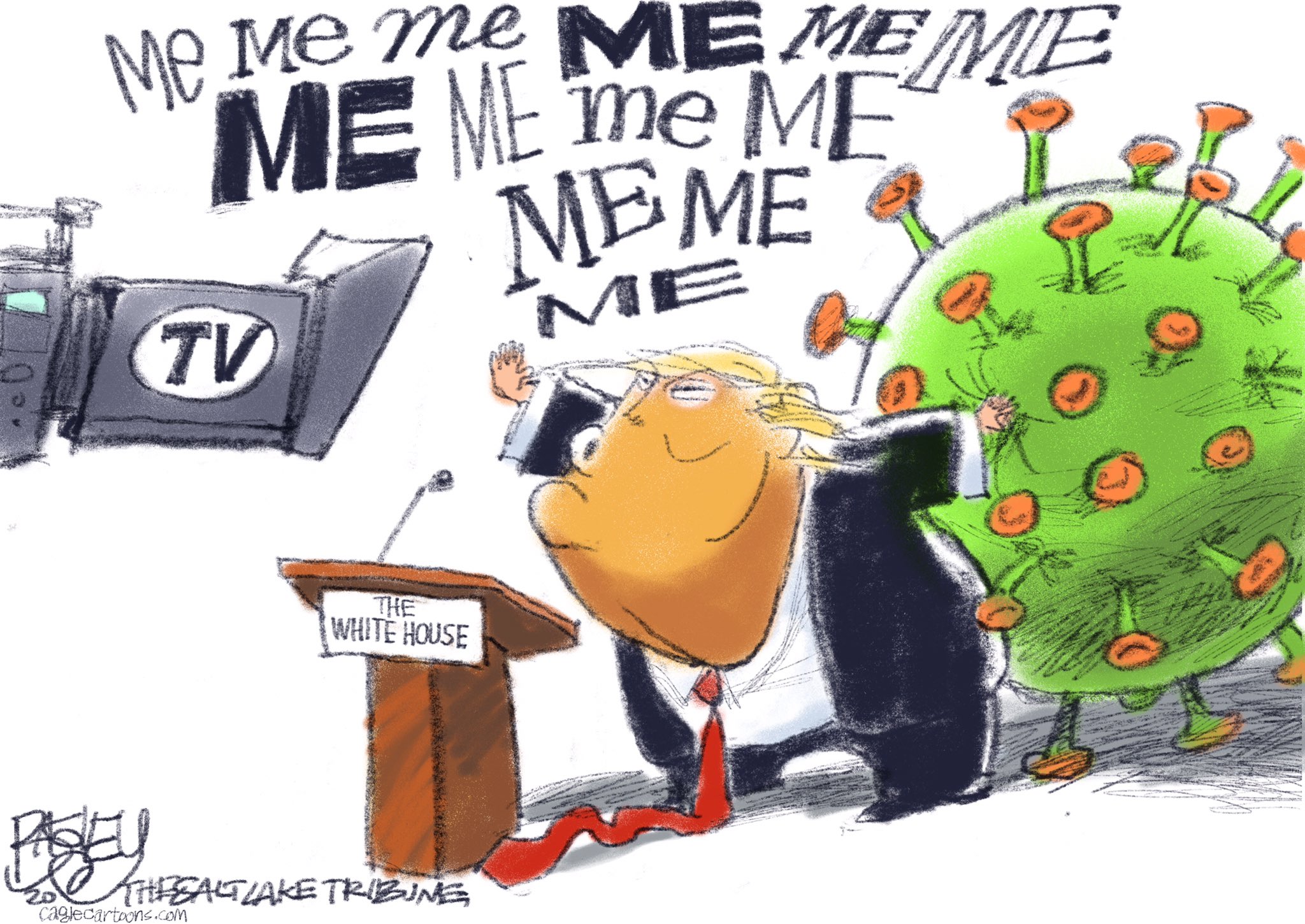 Cartoon by Pat Bagley of The Salt Lake Tribune.
4) The drugs and vaccines that might end the coronavirus pandemic.
Bloomberg reports that more than 200 different programmes have been launched to develop vaccines and therapeutics to combat COVID-19, and those behind them are in a global race to find and test the products. Bloomberg details antivirals, vaccines and indirect therapies being worked on. Bloomberg's tracker will add new ones as they start or advance in trials, gain significant backing or show promise.
Almost all of these programs are in the early stages, meaning that the gold standard of data ― clinical trials with "blinded" placebo and therapy groups ― is still hard to come by. With loosened rules and a desire to get a treatment to market quickly, it's important to cast a skeptical eye on too-good-to-be-true data.
Britain is one of the country's hardest hit by COVID-19 so far. Even their prime minister and the heir to the throne have caught it, with PM Boris Johnson ending up in intensive care. This harrowing account in The Guardian from junior doctor Rosie Hughes of her battles to save patients and catching the virus herself, is a stark reminder that we have been lucky in New Zealand so far. Let's hope that continues.
I have cared for patients from admission until death and I have held their hands when they have been too breathless to speak. I have fought hard for a patient to be considered for ventilation despite knowing that they didn't meet the criteria. I stayed with them after my shift had ended, gowned and gloved, and watched them take their last breaths, knowing that a few months ago they might have stood a chance. I ring families to tell them that their loved one who came into hospital for something totally unrelated now has coronavirus and will not survive.

I then apologise and tell them that they won't be able to visit because of the infection control risk. On one occasion I failed to hold back my tears while I was on the phone and hoped that my voice didn't tremble enough for them to hear.

This week we have received constant emails from our trust about our lack of personal protective equipment (PPE) and so we have little choice but to care for the patients at our own risk using just surgical masks and plastic aprons because we have now run out of gowns too.
Hughes, 25, says she has been working in the National Health Service at a major metropolitan hospital for just over eight months. She is certainly experiencing a baptism of fire.
Testing positive for the same virus that has killed so many of my patients is obviously a daunting prospect but it felt inevitable given the lack of safe PPE. In a way, I was relieved that the wait was over and it had finally hit.

It's not surprising that I am finding it difficult to relax at home in the knowledge that I am infected with the same virus that I have written down countless times as the "primary cause of death" on the death certificates of my patients. Many of them were young, many of them did not have underlying health conditions.

Did they give it to me? Or did I give it to them? I'll never know, but I stay up at night wondering.
VIDEO: New Yorkers sing Frank Sinatra's "New York, New York", as an ode to the city's essential workers amid the coronavirus pandemic pic.twitter.com/J60k8vwQoM

— AFP news agency (@AFP) April 17, 2020