Why Todd Muller needs to release part 1 of National's economic recovery plan ASAP to avoid being branded the MAGA hat guy leading a divided white party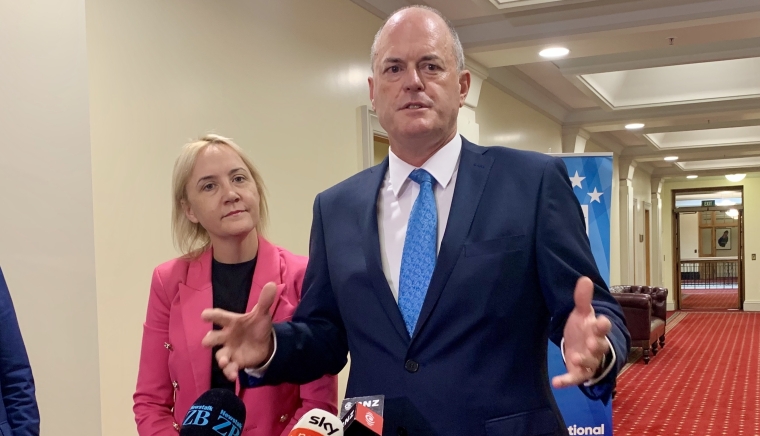 By ​Jenée Tibshraeny
The new-look National Party this week has to start telling New Zealanders exactly how it would lead the country's economic recovery.
It urgently needs to come out with something - one economic policy - to avoid discrediting its entire campaign, centred on rebuilding "the economy you live in… not the economy the bureaucracy talks about".
Press gallery journalists are feasting on the fresh meat that is Todd Muller. His straight-shooting approach is what makes him the guy you want at your BBQ, but it's also what makes him susceptible to being baited by journalists fishing for news.
Five days, two unwanted controversies
Since becoming leader, he has made more headlines for having a "Make America Great Again" hat displayed in his office, alongside a Hilary Clinton badge, than he has for anything economically-related.
Just as the white supremacy hat saga subsided, Muller found himself in hot water for the lack of ethnic diversity on his front bench.
Grilled by journalists on Tuesday morning for only having two Maori MPs in his shadow cabinet (Shane Reti and Paula Bennett), National's new deputy Nikki Kaye made matters worse by adding Paul Goldsmith to the list, saying he has Ngati Porou connections. Muller ran with this.
While the duo was talking to one cluster of journalists, Goldsmith told another, "I have Maori connections, but I'm not Maori myself".
Minutes later, journalists asked Bennett how she felt about the new leadership holding up Goldsmith as a Maori representative. She laughed and snapped, "Paul?! Ok, right. They're running the show now, so they can answer to it."
This is golden TV montage material.
Bennett's decision to not only make no attempt to salvage her colleagues, but emphasise their blunder, means the other narrative behind the story is that divisions in the party are raw and ugly.
Some will look at these situations and think, 'The desperate media is creating a storm in a teacup'. Others will see them as speaking to Muller's principles and character.
Either way, the focus is far from where National wants it.
Personality politics not an option
The new-look party knows it needs to avoid turning the election campaign into a 'Todd vs. Jacinda show'. It's aware it'll lose a battle fought on personality politics.
Muller has repeatedly referred to National as being a "team of 55", pitting it against Labour, which has "three heavy lifters and 17 empty chairs".
He will draw on the experienced strong performers in his party - Kaye, Amy Adams and Judith Collins - as well as his ambitious supporters, now holding key portfolios - Nicola Willis and Chris Bishop.
Labour on the other hand, will continue keeping the spotlight on Ardern and Grant Robertson.
In emphasising the strength of National's "team", supposedly unified by a leader with a track record of finding common ground among people, National's focus will have to be on policy.  
Indeed, Muller in his first speech as leader, had a go at Simon Bridges, saying: "I'm not interested in opposition for opposition's sake. We're all tired of that kind of politics. I'm about ideas that get results."
He said his "absolute focus" was New Zealand's economic recovery, pledging to be the right person to lead this with a corporate background at Fonterra, Zespri and Apata.
"I've run businesses. I can read a balance sheet and a profit and loss account. I can tell a good one from a bad one," he said.
Show me the money
However, in extended interviews with both RNZ's Kathryn Ryan and Q + A's Jack Tame, Muller was grilled for bringing nothing to the table that resembled an economic plan.
Like Robertson, he said he didn't want to see "austerity" and wouldn't commit to tax changes. He couldn't say how much debt was appropriate, but emphasised the need for quality spend - all stuff we've heard before.
Pushed by interest.co.nz on Tuesday on his performance, and asked when he would release the first iteration of his economic recovery plan, Muller said: "This is day five… I won't be standing here in four weeks with you still asking the same question. So be very assured, it is an absolute priority for us. And yes, we will phase our responses as you would expect us to."
During his first question time in parliament as leader, Muller quizzed Ardern on why she hadn't given businesses affected by COVID-19 cash payments, arguing the wage subsidy was essentially a payment to workers.
Muller has not however come out with a policy saying which businesses National would give cash to, how this would work, how much it would cost, etc.
It three weeks ago released a policy suggesting the Government gives small businesses cash refunds of up to $100,000 based on the GST paid in the six months to January 2020. It proposed that if a business paid more than $100,000 over that period, they could claim up to an additional $250,000 as a repayable loan over five years.
Little room to manoeuvre in the battle for the centre
One can appreciate Muller is only just getting his feet under the table and needs to consult his caucus before coming out with policy.
There is also so much uncertainty around the extent of the COVID-19 fallout that it's impossible to plan too far ahead. A policy that might seem logical today, could be inappropriate in six months' time.
And with Robertson being relatively conservative and constrained by NZ First, there isn't a whole lot of scope for National to differentiate itself when it comes to policy. What's more, both National and Labour are yet again fighting for centrist votes, preventing them from campaigning on anything too radical.
But if you're Muller, and you want to take the prime ministership off one of the most popular leaders in the world, who's led an effort to nearly stamp out COVID-19, you need some serious ammunition.
Hoping that come September 19, the reality of job losses will be biting and people will be looking to the party that got the country through the 2008 Global Financial Crisis and 2011/12 Canterbury earthquakes for change, won't be enough.
National needs an exceptional economic recovery plan. 
No one is expecting it to come out with a full plan this week. But in the absence of phase one, all National has in the eyes of the public is a seemingly smart and decent leader of a divided party, who's getting smashed for his lack of political nous.
Muller needs to give himself something substantive to talk about, as he introduces himself to the country and tries to build a brand. First impressions count.