Fear of another real estate price crash and memories of the extreme hardship it caused in 2008 haunt housing markets in Arizona, writes Henry Thomson. In conjunction with the pandemic, it's a deep-seated fear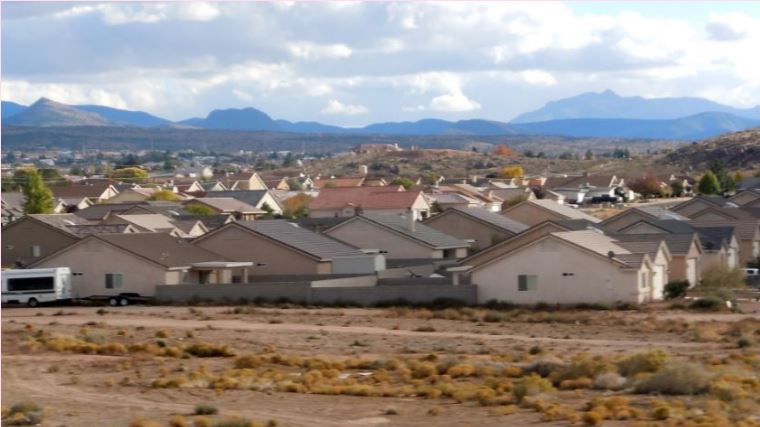 The Covid-19 pandemic has pushed pause on the red-hot real estate market in the greater Phoenix area, causing many to wonder whether we are going to see a replay of the Great Recession when housing markets in some southwestern states crashed in spectacular fashion.
It is rare to meet a native-born Arizonan. Almost everybody seems to have moved here from somewhere else. My neighbors are from Ohio, Texas, Alaska, Canada, Ireland – I could keep listing ever-farther-flung places, but you get the idea.
Even people that we think of as quintessentially Arizonan, like Senator John McCain, are not from here. McCain was born on a US army base in Panama and went to high school in Virginia. He moved to Arizona in 1981 when he married his second wife, daughter of a beer-distribution mogul in Phoenix.
There are some famous, true natives of the Grand Canyon State. Barry Goldwater, the New Deal critic who won the Republican nomination for President in 1964, was born in Phoenix, Arizona Territory, in 1909 (statehood came only in 1912). He is still famous for the beautiful black-and-white photographs he took as a young man, particularly of the Grand Canyon and the Hopi native people in the north of the state. Jeff Flake, former Republican Senator and now prominent critic of President Trump, is from the small town of Snowflake, which got the second half of its name from his great-great-grandfather.
Arizona is changing fast as its population swells with new arrivals. The Fear of another real estate price crash – something like the country's demographic balancing point – has been moving west since the first US census in 1790, and more recently southwest. Over the last 100 years, it has shifted around 400 miles from Owen County, in central Indiana, to near the town of Plato, in central Missouri.
This important and fascinating movement has resulted from a range of factors too lengthy to list here, but includes federal investment in infrastructure like the Hoover Dam or Arizona's Salt River Project; the expansion of the mining and fossil fuel industries in the Southwest; and the decline of manufacturing industries in the Midwest.
An ever-increasing number of Americans living in states like Texas, California and Arizona are tilting the country's demographic balance in our direction. Maricopa County, which encompasses Phoenix and its suburbs, was the fourth largest by population in the US in 2018 and the fastest growing, followed closely by Nevada's Clark County, which includes the city of Las Vegas.
All those people need somewhere to live, and until very recently demand for housing was driving double-digit annual real estate price growth in Phoenix. Median home prices in the metro area continued to set new records: $290,000 in January and $302,000 in March, according to the Arizona Republic. Although the national housing market had begun to cool, Phoenix defied the trend as the number of home sales continued to climb alongside prices.
In New Zealand, strong appreciation in real estate values has been normal for a long time, and although home ownership is becoming something of a generational divide (does "OK boomer" really just equal "OK landlord"?) rising home values are an important driver of consumer spending and not generally seen as something to worry about.
In the US, on the other hand, and particularly in the Southwest, soaring real estate prices immediately evoke memories of the bubble that burst in 2008 and plunged states like Arizona into a deep crisis. In Phoenix, home values rocketed by 50% in a single year in 2005, only to plummet 53% by 2011. A wave of foreclosures flooded a real estate market that took years to recover. Only Las Vegas, Nevada and Orlando, Florida were hit harder by the housing crash.
Because the Phoenix-area economy was so dependent on real estate and construction, unemployment spiked from 6% to 16% in the hardest-hit areas of the city, and median household incomes declined by up to 19%. The state government, which is forbidden by law from running deficits, was faced with plunging tax revenue and had to slash spending across the board, including on schools and the university system. In 2018, the city was still counting the cost, as many areas had only just struggled back to their pre-crisis income levels.
Today, the economy is more diversified than in 2006 and the state's finances are healthier, but Arizonans nonetheless view the housing market with a wary eye.
Home sales slowed by 12% in April compared to 2019, and although construction has continued through the Covid-19 lockdown as an essential business it is expected that around 17,000 houses will be built in 2020 instead of the predicted 27,000 – still less than half the 60,000 built in 2005-06. Local realtors report that the few homes that are selling are going for close to-pre-pandemic prices. However, federal support is still flowing to businesses and the newly-unemployed, and many home buyers and sellers are waiting on the sidelines. Although most local experts are cautiously optimistic, it is too early to discern the effects of the pandemic on the real estate market here.
Arizona's economy is historically based on the "Four Cs": copper, cattle, citrus and cotton. More recently, tourists, migrants and retirees escaping the midwestern winter have added two more "Cs": climate and construction. Like New Zealand, Arizona depends on people visiting or moving here to drive our economy. As long as the pandemic keeps outsiders away and locals out of work, the local real estate market will be at risk of depreciation. Economists hope that long-run population growth in the Southwest will cushion Covid-19's blow to home prices in the short run.
---
Henry Thomson is originally from Amberley, North Canterbury and is now an Assistant Professor of Political Economy at Arizona State University. His research focuses on the political economy of authoritarian rule and transitions to democracy. You can read more about his research here and follow him on Twitter @HenryRThomson. His earlier letters are here.