Henry Thomson reports on how Arizona tried to have both work and social interactions during its official pandemic response only to find the virus took advantage of them quickly. The State is now the "hardest-hit" in the world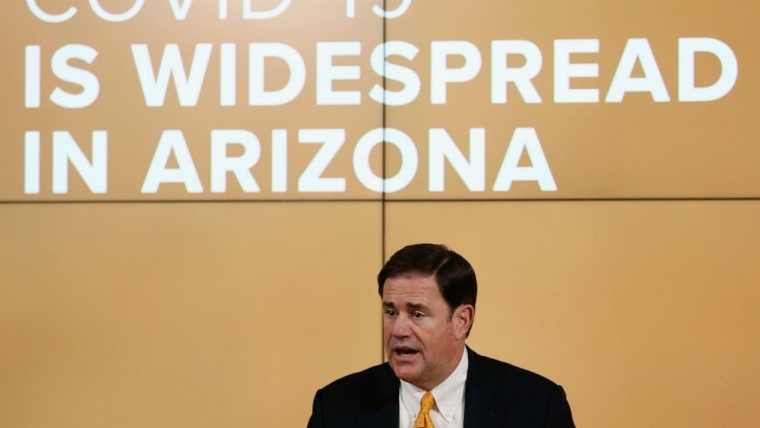 I concluded my column two weeks ago by speculating that this week I would return to the topic of the Covid-19 crisis, and that speculation was correct. As many readers will have noted, the virus is asserting itself across areas of the southern and western US that were previously relatively sheltered. Arizona ranks among them, and last week was even singled out as one of the hardest-hit regions in the world by a Harvard epidemiologist.
So, what is going on?
There is no question that Covid-19 is currently running rampant across the Grand Canyon State. The number of confirmed cases reported daily increased exponentially from less than 550 in May to 1,400 on June 5; 2,200 on June 12; and 3,300 on June 19. The numbers start to become murkier as they are more recent, but it seems that reported cases have remained around these high levels, and they might be starting to decline as I write (I retain a tenuous optimism).
As more people are reporting Covid-19 symptoms, being tested positive for the virus and requiring treatment, our hospital bed and ventilator capacities are coming under pressure, the former reaching 88% in use in the last few days.
Less dire, thankfully, are the figures for deaths caused by Covid-19. These have increased from around 20 per day in May to around 30 in mid-June; a notable rise, to be sure, but nothing like the 600% growth in case numbers.
The surge in the spread of the virus is undoubtedly the result of the lifting of the state stay-at-home order on May 15, the reopening of bars and restaurants, and the resumption of work and social gatherings across Arizona.
This is evident, on the one hand, in the timing of the case increases, which began around two weeks after the order was lifted.
On the other hand, case increases are highly concentrated among people aged 20-44, suggesting that they are attributable to a change in this group's behavior rather than outbreaks in aged care facilities or among the Navajo population, as we saw here early in the Covid-19 crisis.
Numerous restaurants have closed after employees reported infections, and nightclubs were shut down for not enforcing social distancing regulations. The shift in the age distribution of cases also helps solve the puzzle of stable death figures despite the virus's rapid spread: Younger people are much less likely to be hospitalized or die of Covid-19.
Governor Doug Ducey is coming under heavy criticism, notably but far from exclusively from Democratic Senator Kirsten Sinema who generated the memorable soundbite, "I don't think that it makes sense to design your policy based on whether or not there are enough hospital beds for people to die in."
In response, the Governor allowed cities and counties to mandate masks in public areas – which they have almost universally done – as well as making gestures to bolster contact tracing and generally encouraging people to stay home. These measures, combined with reinforced wariness of the virus among the public, might be behind the downward inflection in the infection curve in recent days.
However, Arizona's recent experience with Covid-19 starkly illustrates the insidious nature of the virus and the difficulties inherent to containing its spread while allowing the operation of a modern economy. When lifting the stay-at-home order, Ducey stated he was turning up the economy's dimmer switch, but it seems he also opened the floodgates for Covid-19.
Arizona had the fourth-lowest unemployment rate in the US in May, at 8.9% versus a national rate of 13.3%. This has surprised commentators and is probably partly a function of Ducey's "later timing and lighter touch" lockdown. Of course, keeping people in work or returning them to work is a laudable goal. But without mandatory masks and with only lax enforcement of social distancing rules, the end of the stay-at-home order has been greeted with an exponential rise in Covid-19 cases.
We are hardly alone with our difficulties. Even in Germany, where virus containment has been widely regarded as a success, a large outbreak of Covid-19 in a meat works has caused two counties in North Rhine-Westphalia to be plunged back into total lockdown. Today, Texas and Florida have closed bars to patrons to try and control the virus.
These are trying times. Governments around the world are struggling to balance the competing imperatives of virus containment and economic activity, all the while buffeted by a shifting landscape of infections and outbreaks of sick individuals. Some, like Arizona, have been lucky enough to buy time to prepare by increasing hospital surge capacity and developing contact tracing while others, like Italy or New York, were struck without warning.
This process will continue, and citizens need to be prepared to change their behavior in response. We hope that by wearing masks and taking other measures while in public, we can find the setting on the economy's dimmer switch that minimizes infections while allowing people to work and the rest of us to maintain some social interactions.
---
Henry Thomson is originally from Amberley, North Canterbury and is now an Assistant Professor of Political Economy at Arizona State University. His research focuses on the political economy of authoritarian rule and transitions to democracy. You can read more about his research here and follow him on Twitter @HenryRThomson. His earlier letters are here.