Weakness in National's third line of defence has spread to the front line - will it be able to regain credibility to critique the Government's Covid-19 response?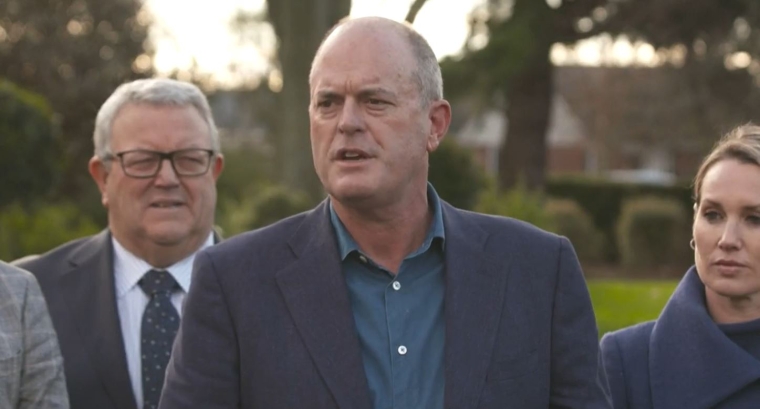 By Jenée Tibshraeny
National is continuing to disarm itself in the face of what was always going to be tough election battle.
The party lost some of its ammunition on Tuesday, when it came to light Hamish Walker leaked the personal details of Covid-19 patients to media.
The revelation silenced National for most the week, removing its ability to attack the Government after a man, later found out to have Covid-19, abscond from managed isolation for 70 minutes.
But it's ok, Leader Todd Muller told us, the incident represented terrible judgement from a somewhat junior MP from the cursed, safe seat of Clutha-Southland. What's more, the information came from former National President, Michelle Boag, who Muller said he had little to do with.
Never mind the fact she was heavily involved in Nikki Kaye's campaign for Auckland Central. Let's move right along…
Come Friday, the problem in the party's third line of defence spread to the front line.
National's health spokesperson Michael Woodhouse admitted to receiving four unsolicited emails from Boag with Covid-19 patients' details. Rather than notify the Ministry of Health, he throughout the week attacked the Government for its lax management of sensitive information.
To make matters worse, it came out on Friday that Woodhouse on Tuesday told Muller he'd received the information from Boag. Muller kept his mouth shut, denying during the week that Woodhouse had the information too.
Muller's narrative that the poor judgement was contained to Walker and Boag, no longer stacks up.
He cannot tell us he's better placed than Jacinda Ardern to lead the country through a global pandemic when he hasn't been forthcoming with the truth, nor fought to protect patients' privacy by reporting the leak to the Ministry of Health.
National didn't on Friday put out any PR on the news a man escaped from managed isolation in Hamilton to buy alcohol. Nor did it have a go at the Government for the $16 billion deficit reported in the Crown accounts for the 11 months to May.
The party has disarmed itself.
It can rightly criticise the Coalition Government for failing to deliver cornerstone projects like KiwiBuild and light rail, and question whether it can pull off the infrastructure projects planned to give people jobs. But Covid-19 has diluted the salience of these attacks. The world has changed and the challenges are new.
Boag and Yang going don't put end to 'dirty politics' label
The leaks have also opened National up to being criticised for championing dirty politics - a label that quite frankly doesn't suit "Brand Muller". Part of his likability, which doesn't get captured on TV, is that he isn't a stereotypical slick politician. He comes across as genuine, sometimes to the extent he says the wrong thing or seems boring.
But Boag relinquishing her National Party membership doesn't change any cultural issues the party may have, nor get rid of the toxic label.
What's more, Boag is only going because she was outed. Had things stayed under wraps, she'd still be there.
One also has to question whether National list MP, Jian Yang, would be retiring from politics at the election, had he not come under renewed scrutiny for refusing to talk to New Zealand media - particularly about his ties to the Chinese Communist Party.
Even if the party pushed him, on the basis he was seen to be damaged goods, it hasn't rid itself of the image that it's beholden to Chinese donors.
Indeed, despite having keyhole surgery on Thursday, NZ First Leader Winston Peters was on Friday well enough to challenge National to publicly commit to not taking any more donations facilitated by individuals with links to the Chinese Communist Party.
Muller can be grateful it's a Friday afternoon in the midst of a two-week political recess. Had today's events unfolded when the House was sitting, his disarmament would've been more obvious.
In an age where a day feels like a week, Muller will be hoping that by July 20, when the politicians return to Wellington, enough drama would have unfolded for him to have regained credibility to critique holes in the Government's Covid-19 response.
But ultimately, getting some solid policy on the table to back up his claim that National would do a better job than the Government, is what's needed.
Afterall, when Muller became leader, he did say he wasn't interested in "opposition for opposition's sake".