Gareth Vaughan on US anti-mask madness, a government job guarantee, the leveraging of American corporates, why COVID-19 might not change our cities as much as we expect & COVID-19 trumps Olympics in Japan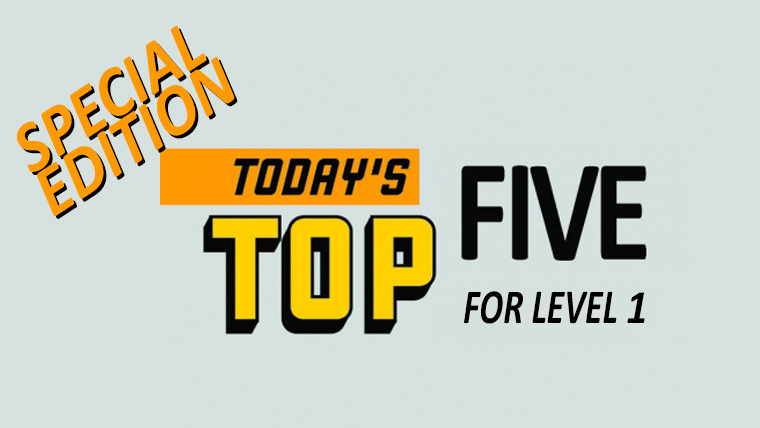 This Top 5 COVID-19 Alert Level 1 special comes from interest.co.nz's Gareth Vaughan.
As always, we welcome your additions in the comments below or via email to david.chaston@interest.co.nz. And if you're interested in contributing the occasional Top 5 yourself, contact gareth.vaughan@interest.co.nz.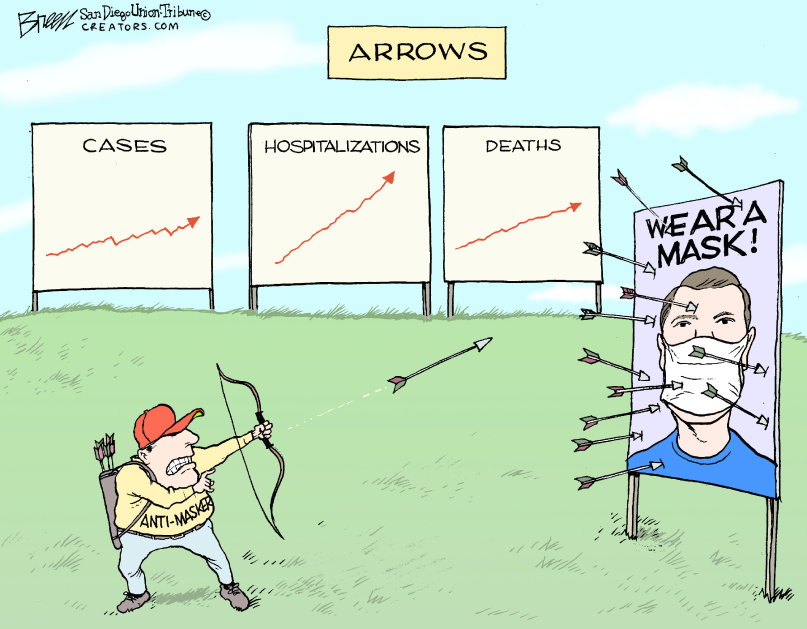 Cartoon:Steve Breen. 
1) US anti-mask protesters' new weapon: wearing masks that offer no COVID-19 protection.
During a holiday last week I had a Zoom call with a friend in New Jersey. He is very downbeat about the struggles with COVID-19 in the US, including the economic fallout. He reckons they won't hit their nadir until next winter, - our coming summer. One of the reasons for this is the attitude towards the virus among some Americans. He subsequently sent me this article to emphasise his point. 
As more communities and businesses adopt mandatory mask orders, supporters of an "anti-mask" movement are looking to make a statement. They are wearing masks that cover their nose and mouth but provide no ability to slow the spread of disease.

"I wore a mask that is designed for protecting your face in a paintball battle. You can easily breathe through it. I walked all around the store, talked to employees, and other shoppers, and every one of them could see my mouth," said a Florida man who posted a video showing him wearing a mesh mask to a Tampa Walmart. "It was almost like not wearing a mask at all. Nobody cared. That's because it's not about safety. It's all about compliance."

Other social media posts show anti-mask advocates wearing mesh masks intended to comply with the letter – but not the spirit – of municipal and corporate rules mandating face coverings.

And masks made of mesh, crochet (yarn) or lace are now popular items being offered by internet retailers. Most include warnings stating the items "are NOT intended for protection or COVID use." But protection is not what anti-mask protesters are looking for.

"Make your own Anti Mask!" said the seller of a pattern to create your own anti-mask. The description of the product states: "Stylish, breathable and don't protect you from a darn thing! Masks required? No problem! Breath free while making a statement."
2) The leveraging of American corporates.
The Financial Times (non-paywalled) puts a spotlight on American corporate debt. There's lots of it. According to the FT, US companies now owe a record US$10 trillion, equivalent to 49% of economic output. When other forms of business debt such as loans to partnerships and small businesses are added, this increases to an eyewatering US$17 trillion.
Even before the pandemic, the level of corporate leverage was beginning to cause alarm. At the end of last year, the IMF issued a striking warning: as much as $19tn of business debt in eight countries led by the US — or 40 per cent of the total — could be vulnerable if there were a "material slowdown" in the economy, a scenario that, if anything, now seems tame.
The FT argues the COVID-19 crisis has highlighted the fragility of an economy built on corporate debt.
This addiction to debt has developed over five decades. Encouraged by the tax system, and perhaps with an eye on their own pay, corporate leaders were quick to embrace the trend. Pension funds and insurance companies bought the debt in bulk, while private equity firms — including Clayton, Dubilier & Rice, which acquired Hertz in 2005 — put together leveraged buyouts as if they were running an assembly line.

The result has been a dramatic change in how the US economy channels savings into the financial capital that fuels growth. Arguably, it made America more competitive, as public companies have slimmed down or gained focus, while private equity firms perfected the art of eliminating fat from company payrolls — as well as equity from their balance sheets. Yet critics believe that the huge focus on financial engineering in recent decades also contributed to the weak productivity of the US economy.

The pandemic has underscored the fragility of an economy built on corporate debt in a time of crisis. Many companies now risk digging themselves a deeper hole: new loans might help them through the worst period of lockdowns, but it means they will be entering a potentially weaker phase of economic growth with even higher debts.
3) A government job guarantee.
The COVID-19 crisis has caused a spike in unemployment in many parts of the world. In their regular podcast series Bloomberg's Joe Weisenthal and Tracy Alloway talk to Bard College economist Pavlina R. Tcherneva, who is the author of a book called The Case for a Job Guarantee. Tcherneva points out there are already all sorts of government guarantees out there, but not one for jobs.
What are the jobs? This is a question of administration and management. In my conception these are public service jobs because it is really a public service  programme. You don't want the public sector to compete with the private sector. We're not going to be building electric cars and doing things for commercial return. If it is a public objective to provide an employment safety net it should create something  of social value and we have lots of neglected areas.

So I think the obvious place to go is really green work, community rehabilitation, environmental projects, dealing with things like flood control, fire prevention, the damage from hurricanes and other natural disasters.  In other words we can borrow from FDR's playbook and we can use some of that experience but really adjust it for the modern day.

A lot of environmentalists talk about trees as the lungs of urban spaces. It seems like a pretty easy, straight forward thing to do but it has huge effects on our living environment. So that would be where I would go to create employment opportunities.

But broadly I talk about care work. We have shortages in care for the elderly, for at risk youth. So anything and everything from after school activities, to classes and training, to recycling initiatives, urban campuses, to community gardens...to dealing with the fires in California.
4) Why COVID-19 might not change our cities as much as we expect.
Writing for The Conversation, Christian Nygaard, Iris Levin and Sharon Parkinson of the Swinburne University of Technology, argue COVID-19 might not change our cities as much as some of us think they might. They use examples of major turbulence and tragedy from the past to support their argument.
Right now, COVID-19 impacts are front of mind. In thinking ahead, we might therefore overemphasise what a crisis will do to how we live in cities. To put it simply, history shows us that the ways we organise our cities are often resistant to abrupt change – even in response to catastrophic events.

In Japan, changes to population distribution as a result of the bombing of Hiroshima and Nagasaki in 1945 had disappeared by the early 1960s.

Almost 40% of Europe's population died during the Black Death (1347-1352). Much of Europe's urban hierarchy nevertheless returned to its pre-plague distribution over time.

Even the collapse of the urbanised Roman civilisation had little lasting effect on the urban hierarchy in France. It did lead, though, to a resetting of the urban network in England.

The reason for this urban inertia is that momentary change often does little to change the fundamentals of our cities. It doesn't greatly change locational advantages, built environment legacy, property rights and land ownership.

London, for instance, has experienced slum clearance, Spanish flu, wartime bombing and the introduction of greenbelts and planning over the past 100 years. However, the location of the city's rich and poor continues to be shaped by infrastructure investments in the Victorian era. And the Roman-period road layout has strongly influenced the street layout of central London today.
5) Japanese not enthusiastic about holding the Olympics even next year.
COVID-19 caused the Tokyo Olympics, scheduled for this year, to be delayed until 2021. Now a survey in Japan suggests less than a quarter of the population is enthusiastic about holding them, even in a year's time. As Kyodo News reports, people are more focused on tackling COVID-19 than on sport.
As the world has been engulfed by the pandemic for months, 36.4 percent of respondents to the nationwide opinion poll think that the Summer Games should be postponed again, while 33.7 percent said they should be canceled.

With about one year until the scheduled opening of the Olympics, 75.3 percent of those backing either a further delay in the games or their cancelation believe the virus cannot be contained anytime soon.

That main reason was followed by 12.7 percent who said the government should put priority on its fight against the spread of the virus in Japan and 5.9 percent citing additional costs to host the sporting extravaganza.

The Tokyo Games' organizers and the International Olympic Committee have agreed to simplify the rescheduled event, now due to kick off July 23 next year, to ensure safety from the virus.
How to cognitive pic.twitter.com/YM51OJ58qA

— Sarah Cooper (@sarahcpr) July 10, 2020