Arthur Grimes wants to see clear accountabilities in place for achieving clearly defined wellbeing targets whoever leads the government after October's election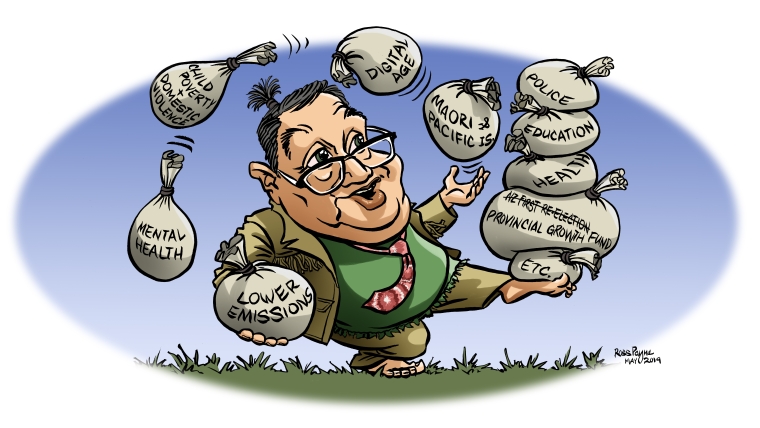 By Arthur Grimes*
(This article is part of Interest.co.nz's Election Series).
Current state of play
The Labour-led government has made a feature of its wellbeing approach to public policy, grounded in the Treasury's Living Standards Framework (LSF). The LSF is a slightly modified version of the OECD's Better Life Index and of the Ministry of Social Development's wellbeing framework that underpinned successive Social Reports dating from 2001.  
Like the OECD, the Treasury's framework has four so-called 'capitals' that support future wellbeing. These include: human capital (e.g. skills), social capital (relationships between people), natural capital (environmental properties), and financial/physical capital. Within this framework, the four capitals underpin 12 separate domains of wellbeing. These domains include the 11 domains that the OECD includes in its approach – outcomes such as health, skills, housing and incomes – plus one extra domain, cultural wellbeing.
While the LSF represents little in the way of conceptual advance on prior approaches, it could have contributed to some further advances. First, it could have set targets (in conjunction with government) for each of the domains. Second it could have assigned accountabilities for meeting those targets. Third, it could have incorporated mechanisms to help prioritise policies targeted at different domains of wellbeing. But no such targets, accountabilities or prioritisation mechanisms were adopted alongside the LSF.
So how has the LSF been used for making policy? The 2019 Budget paid lip service to the LSF and to the wellbeing approach. However, to an external observer, there was no explicit use made of the LSF's 12 domains or 4 capitals in the design of policy.
The 2020 Budget and accompanying policies, released amidst the covid pandemic, made no apparent use of the LSF. One can characterize the response to covid as giving a weighting of 1 to health and 0 to all other wellbeing domains. I happen to agree with the government's short-term approach to the covid pandemic, so I am not disputing the nature of the policy responses; but the LSF has been of little use in designing those responses.
Future directions
So what is the likely future path for a wellbeing approach to policy based on the LSF? If a National-led government were to be elected, the explicit wellbeing approach to policy would almost certainly be dropped along with the LSF. When I addressed a Select Committee of Parliament enquiring into the wellbeing approach last year, the body language and questions of the current leader of the National Party showed that she had little time for the current wellbeing approach.
Instead, I expect a National government would reinstate something along the lines of the last National government's Better Public Services (BPS) targets. In today's lexicon, the BPS targets comprised a wellbeing approach with clear targets and accountabilities attached. For instance, they included explicit targets to reduce criminal offending, to increase educational attainment and to reduce rheumatic fever. These targets were all abolished by the incoming Labour government even though they had demonstrable wellbeing benefits. Labour did institute targets for child poverty but that was a small nod to setting wellbeing targets compared with National's much more explicit approach to announcing targets for various aspects of wellbeing.
If a Labour government were to be returned, I expect a continuation of the current wellbeing approach to policy if only for continuity reasons. The question is what use will be made of Treasury's Living Standards Framework? It can either be retained in its current ineffectual form or be re-engineered.
If the LSF is to be revamped, it could be re-engineered to make it more useful for prioritisation in three directions. First, weights (representing priorities) can be placed on the different domains. These weights would signify where the greatest deficiencies currently lie in relation to the other domains. For instance, it could be that the greatest emphasis needs to be placed on safety or on community development. This approach can be thought of as a macro prioritisation tool that helps government decide where major expenditures need to go in order to lift our wellbeing performance. It can also be used to decide where expenditures can be reduced.
A second re-engineering could be to adopt weights relating to outcomes for different demographic groups. For instance, existing Treasury analysis shows that the over-65s are advantaged across most domains relative to younger people, so assistance could be reduced for this particularly advantaged group.
Thirdly, the LSF can be re-engineered to put greater emphasis on holistic wellbeing as reflected in people's rating of their own life. This rating is often known as subjective wellbeing or, simply, life satisfaction. Currently, subjective wellbeing is one of the 12 domains within the LSF but it has no greater importance than the other domains. Modern wellbeing analyses suggest that the other 11 domains contribute to overall subjective wellbeing so this latter domain should be placed at the head of a hierarchy with the other domains contributing to overall life satisfaction.
Treasury's cost benefit analysis tool, CBAx, can be extended to encompass an approach termed cost wellbeing analysis (CWA). This approach to policy looks at how the costs of individual programmes relate to the benefits that they achieve, but the benefits are not measured in traditional dollar terms. Instead, they are measured in terms of the boost that they give to people's overall wellbeing. This type of analysis is already conducted in a number of other countries and represents an advance compared with current cost benefit analysis techniques. Analysis using CWA could lead to a more disciplined application of a wellbeing approach to public policy that is in keeping with the broad aims of the current government. It would represent a major advance in using wellbeing to help prioritise public policy choices.
Which of these directions is ultimately undertaken – the Better Public Services targeting type of approach or a cost wellbeing analysis approach – is not as important as ensuring that clear accountabilities are in place for achieving clearly defined wellbeing targets. Making these targets explicit – and making the accountabilities explicit – would represent a major advance for wellbeing policy whoever is in power.
---
*Arthur Grimes is Professor of Wellbeing and Public Policy in the School of Government at Victoria University of Wellington, and Senior Fellow at Motu Research.