Girol Karacaoglu says the 2021 Budget presents a historic opportunity to start implementing a fresh public policy programme, different from what NZ has pursued for the past 40 years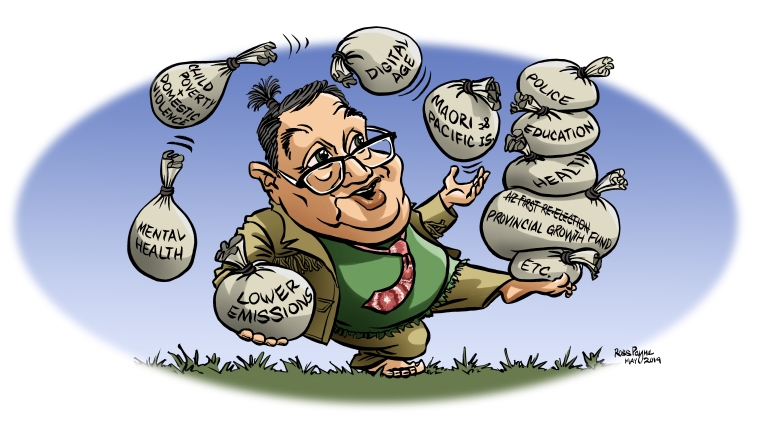 By Girol Karacaoglu*
The 2021 Budget presents an historic opportunity to start implementing a fresh public policy programme, different from what we have pursued over the past 40 years.
This programme would move us forward towards implementing a genuine wellbeing policy, reflecting a social contract grounded in our own history, cultures, and values.
The imperative for this radical change is the fact, clearly documented in the Wellbeing Budget of 2019, that the environmental, social, and economic policies of the last 40 years have failed us abysmally.   
At the heart of this new approach must be a commitment to providing individuals and communities with the opportunities and capabilities to live the lives they value – without passing judgement on the variety of lives that people (including future generations) may choose to pursue.
Imagine the policy maker as a gardener, looking after a 'wellbeing garden' on behalf of current and future generations. There are five key posts in that garden: the first four represent the environmental, economic, social, and political or legal outcomes that underpin wellbeing. The fifth represents equity and fairness achieved by universal access to these outcomes. 
Preliminary evidence suggests the most intense stresses on New Zealand at present are centred on the posts representing equity and environmental quality. If these are not addressed, they will spill over to stresses on social cohesion, political stability, and potential economic growth.
Modelling work, which I published (with ex-colleagues at Victoria University of Wellington and the New Zealand Treasury) on Intergenerational Wellbeing and Public Policy, suggests the way to stop and reverse these stresses would be to combine a 'leave no one behind' strategy with one that aims to switch both production and consumption to cleaner (greener) products.
A 'leave no one behind' strategy has welfare and wellbeing elements. Welfare policies focus on giving or redistributing what has been produced. Wellbeing policies focus on enabling by making sure all citizens have the opportunities and capabilities (that is, substantial freedoms) to pursue the lives they value. 
The strongest welfare policies are those based on the principles of Universal Basic Services. This involves providing everyone with an opportunity to fully participate in our communities and society as whole, consistent with values of justice and compassion. By giving everyone access to education, healthcare, and housing. By making sure everyone can access an adequate income whether they are working or not, whether they are studying or caring for children or other members of their whānau. By making sure everyone has a voice in matters that affect them.
Claims pointing to detrimental effects on employment of providing higher incomes through cash payments to those not able to work, or increases in minimum wages for those who are at work, have been strongly challenged on both theoretical and empirical grounds. 
A complementary win-win wellbeing policy aligned with supporting environmental quality would be centred on giving everyone who is capable an employment opportunity – supported by a combination of upskilling and employment creation – in environmentally friendly industries. Both businesses and employees would win, with high wages resulting from upskilling, leading to higher productivity and profitability.
We need good governance arrangements as well as sound policy. 
Parliament should develop and effectively communicate a narrative around these policies. The core message should be that leaving no one behind and clean environment strategies are good for sustainable wellbeing for ourselves and future generations.
Process matters too. If 'the team of five million' is to be more than a marketing slogan, it would be embodied in inclusive decision-making that brings together the wisdom, expertise and experience of all stakeholders – especially the communities in which individuals and families live.  
A specific area that could benefit from better processes is the design of training programmes. Training works best when it's closely connected to a real job or occupation, and when firms and industries collaborate. Employers and workers are both sources of information about the skills that will be needed. 
Emergent ideas in New Zealand, aligned with this strategy, include the film studios planned for Lower Hutt, supported by purpose-built technical schools. Another is the community-based delivery of health services in the Waikato region, again supported by local medical schools.
This is not the time for tactical political manoeuvres targeted at appeasing the median voter with an eye on the next general election. We know that a growing majority of New Zealanders support investments in wellbeing, with seven out of 10 New Zealanders backing increases in income support. A government that does not grab this opportunity to do the right thing for current and future generations may be seriously misreading the changing mood of this nation. 
---
*Professor Girol Karacaoglu is the Head of the School of Government. He came to Te Herenga Waka - Victoria University of Wellington from the New Zealand Treasury, where he was Chief Economist. Before then, he was the Chief Executive of the Co-operative Bank of New Zealand for nine years. His previous roles included General Manager at Westpac NZ, Chief Economist at the National Bank of NZ, and lecturer in Economics at Victoria University of Wellington. His current research interest is in public policy - an integrated approach to economic, environmental and social policies towards improving intergenerational wellbeing.
This article is based on: Love you: public policy for intergenerational wellbeing by Girol Karacaoglu (Tuwhiri, 2021).