An insight into how the Parliamentary Press Gallery works, and assessment of what that means for the public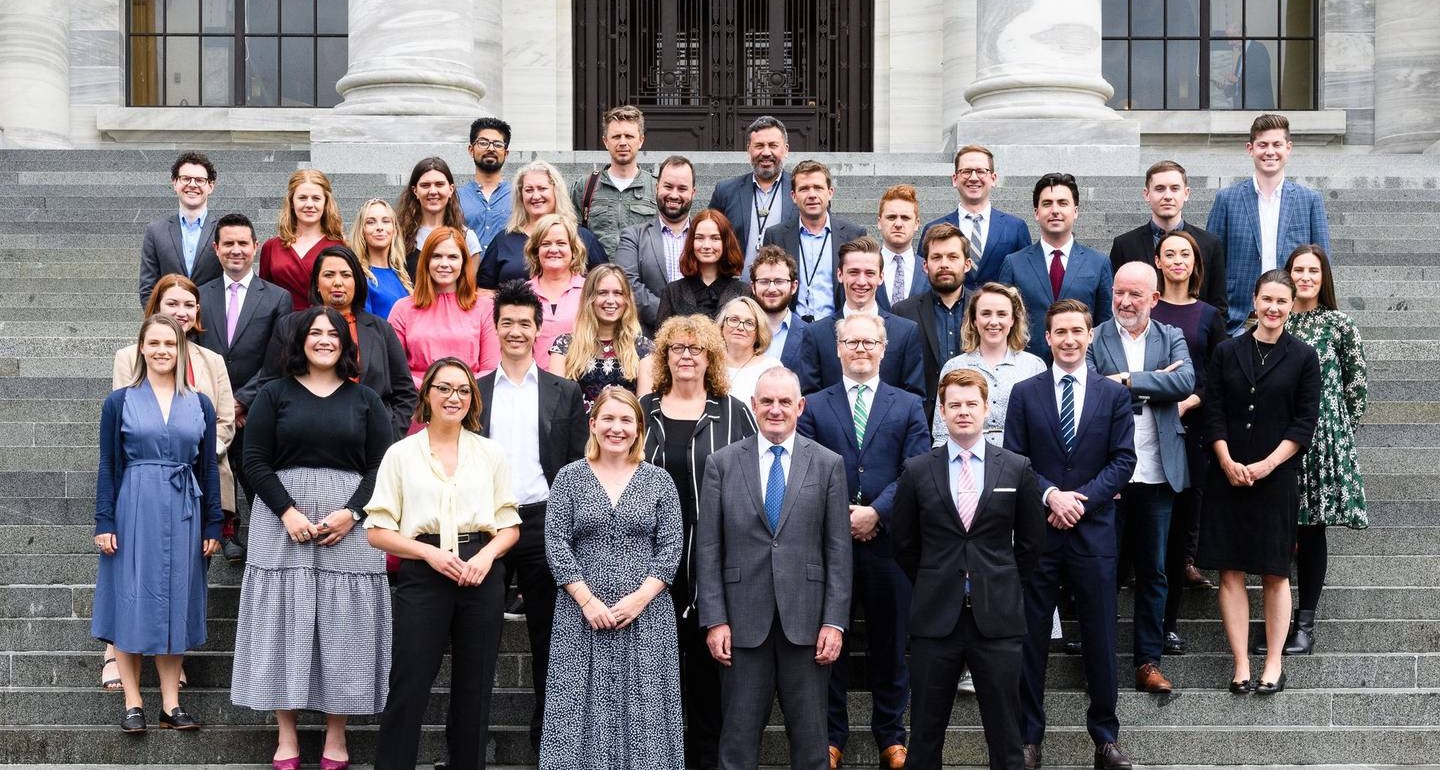 By Jenée Tibshraeny
Political journalists, past and present, celebrated the 150th anniversary of the Parliamentary Press Gallery at a black-tie event at Te Papa on Friday.
The function, held a year late due to COVID-19, was attended by Prime Minister Jacinda Ardern and five former prime ministers (other than Jenny Shipley), among politicians, press secretaries and business leaders. It was a celebration of the role journalism plays in our democracy, and a bit of a knees-up - a strength of the gallery!
But, all the live-streamed press conferences of the past year have put the spotlight on some of the gallery's weaknesses.
So, I'll give politicians and policymakers a momentary break from the criticism and provide a bit of a self-assessment (as a press gallery member).
The aim isn't to navel-gaze. Rather it's to provide an insight into the job, to hopefully enable people to consume media through a more perceptive lens.  
To begin with, the press gallery is a gaggle of journalists, accredited by the Speaker of the House. Organisations have their own offices (in most cases) in the parliament building.
While much is often made of live-streamed press conferences, they make up a fraction of our jobs. I spend more time sourcing written information, reading reports, analysing data, talking to contacts and doing phone interviews.
Nonetheless, routine events dictate what is reported and when - to some extent. The prime minister, for example, does a press conference most Mondays after Cabinet meetings.
During sitting weeks, journalists can ask politicians questions on their way to caucus meetings. Typically, the media only does "caucus runs" for Labour and National.
We again lob questions at politicians as they walk across what's known as "the tiles" on their way to and from the House when it sits on Tuesdays, Wednesdays and Thursdays.
Question time can be a source of news, as can select committee meetings, which are dotted in between.
Politicians will call additional press conferences or stand-ups around other events and announcements.
While journalists have ample opportunity to ask politicians quick questions, the format of these encounters limits their usefulness.
Because there are usually a number of journalists with questions, politicians can avoid a grilling by switching journalists they take questions from.
However, the gallery can operate in a pack, and pile on if avoidance tactics become tiresome.
The problem of course arises when you're chasing something the pack isn't.
I will never forget being told I "derailed" a press conference at the height of COVID-19 to ask questions about monetary policy - an important topic, only a few of us in the gallery were interested in - until of course the housing market exploded.
That's why doing one-on-one interviews is vital.  
What's more, the routine set-ups can favour broadcasters who need to record audio and vison.
While their questions may sound dumb, they're usually cleverly constructed to solicit a certain answer to tell a story. A TV journalist will want their subjects' voices, not theirs, to tell the story. Meanwhile, print journalists use press conference and stand-ups almost solely to get new information.  
There's a sort of symbiotic relationship between the media and politicians. We need them to keep us in the loop and give us information, and they need us to get their messages out.
Politicians will fish exclusive stories out to journalists they believe will give them the outcome they want. This may be a large audience, a specific type of audience, or favourable coverage.
The Government will occasionally exclusively give an organisation part of a big announcement. The organisation will run it to get the scoop, even though the less favourable part of the announcement is only later released.
Another tactic politicians use is sending journalists a press release under embargo, but not the supporting documentation. So journalists' first take of a story - often the only one people read - won't be as robust as an updated version, or a follow-up done later.  
While journalists will endeavour to be objective, complete objectivity is impossible. The very act of deciding what is news requires a value judgement, let alone the way the news is told. 
This is of course why diversity in the gallery is essential. While most of the offices are now led by women, age and racial diversity are lacking.
Ever wondered why we don't hear more in the news about education? Hardly anyone in the gallery has school-aged children. The pace, hours, pay, and in some cases, travel required for the job aren't particularly family-friendly.
Another issue with the gallery is that politics often gazumps policy. Reporting on the politics of a situation is important insofar as it relates to an outcome that will affect the public.
For example, it's in the public's interest to know whether the conservatives or the progressives in National are wielding more power, as this might affect where the party lands on an issue like climate change.
But the gallery can get carried away with inconsequential petty politics at the expense of policy.
We need to spend more time out of the beltway to ensure we are in fact writing for the people we serve.
More resourcing across media outlets would help.
Journalists who work for mainstream print organisations will often be required to pump out four (sometimes more) stories a day to keep up with the 24-hour news cycle.
The passion, quick-thinking, resilience and perceptiveness are there. But we could do with having more hands on deck, particularly as we're up against government organisations with increasingly large and skilled public relations teams, made up of former journalists.
Looking ahead, I believe we will see media organisations continue to carve out niches for themselves to maintain high-quality coverage. Already our major news outlets have differentiated themselves from each other, while smaller outlets are growing and attracting good talent.
People who make the most of the range of media offerings, instead relying on one source to give them all their news, will be best served.