Chris Trotter probes worrying signs that New Zealand's long democratic history has produced a sense of complacency among its citizens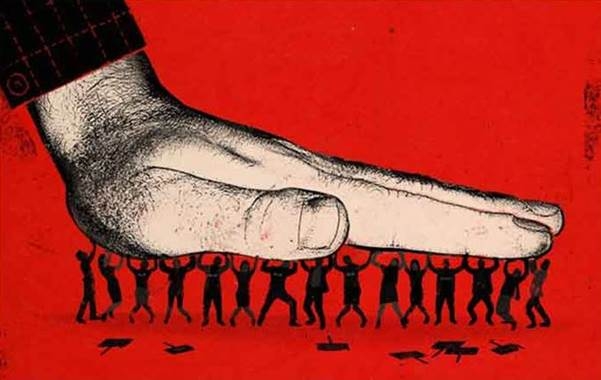 By Chris Trotter*
Democracy - who needs it? Fewer and fewer people, both at home and abroad, seem as willing as previous generations to "defend democracy". The term itself: once generally understood as a system of government dedicated to personal liberty, the inviolability of private property, equality before the law, and majority rule; has acquired a bewildering complexity. What you were born, and where, now pose a serious challenge to democracy's universalist claims. To be a human-being is no longer enough.
There is an irony here. The rise of democracy – to the point of becoming the ultimate constitutional goal and the accepted measure of civilised government – has for the past three centuries been driven by the steady expansion of what it means to be a human-being. If a human-being may be defined, politically, as a person whose expressed opinion is accorded a determinative influence, then their numbers have indeed been growing steadily.
Males in possession of land and/or demonstrable martial prowess were the original political humans, to whose numbers were soon added males conspicuously successful in trade and commerce. For centuries, these barons and burghers had the game pretty much to themselves. It required an epochal shift: from feudalism to capitalism; to open the ranks of political humanity to middle-class males.
Democracy was the lever by which these middle-class males gained entry to the places where decisions are made. The problem with the core principles of liberty, equality and solidarity, however, is that they are dangerously extendable. The same arguments that secured political rights for the middle classes could be mounted on behalf of the working classes. Even more worryingly, they could be extended from males to females; from the old to the young; from persons of your colour, to persons of all colours.
When Abraham Lincoln so magisterially distilled the essence of democracy to: "government of the people, by the people, for the people"; the "people" he had in mind were white (and just possibly black) American males. Not included were American women of any colour, Native Americans or "Orientals". For the next 160 years, American history would be driven by the efforts of those excluded from the definition of "the people" to be recognised fully as human beings.
It is worth pausing for a moment to consider the moral transgression required to drive people out of the human definition once it has been claimed and/or bestowed. The terrifying history of the Jim Crow South not only bears testimony to the level of harm that must be inflicted to enforce exclusion from the political community, but also to the disfiguring spiritual violence those responsible for such exclusion are required to inflict upon themselves. The "strange fruit" of the South describes not just the dangling bodies of lynched African Americans, but the dead eyes of the White killers who watched them die.
Recall, too, the extraordinary violence inflicted upon the Suffragettes by the Liberal Government of Herbert Asquith in the years immediately preceding World War I. The forced feeding of female hunger-strikers was widely condemned as a form of politically-inspired torture. And all because an insufficient number of British parliamentarians were willing to include women within the definition of the politically human.
No such blots appear on New Zealand's democratic escutcheon. Indeed, this country boasts one of the longest continuously operating democratic political systems on earth. Since 1867 New Zealand's parliament has reserved seats for the country's indigenous population, and in 1879 granted full "manhood suffrage". In 1893 the franchise was extended to include women. In 1969, the "voting age" was lowered from 21 to 20 years-of-age. Eighteen-year-olds were enfranchised in 1974. There is even a reasonable chance that at some point in the next decade the voting age will be lowered to 16 years. New Zealand is the only self-governing country that can boast an uninterrupted period of democratic government, based on universal suffrage, lasting 128 years. Certainly, none of our "Five Eyes Partners" can say as much!
With this history, one could be forgiven for assuming that faith in democracy would be stronger in New Zealand than anywhere else in the world. There are, however, worrying signs that New Zealand's long democratic history has produced a sense of complacency among its citizens.
For decades, New Zealanders were famed for turning out to vote in record numbers. In the 1984 snap general election, for example, a record-breaking 93.7% of those registered to vote cast a ballot. In the intervening three decades, however, turnout has declined, falling to just 74.2% in 2011. Interestingly, the extraordinary "Covid Election" of 2020 registered a sharp improvement in turnout. At 82.5%, it was the highest since 1999.
Unsurprisingly, perhaps, Maori New Zealanders evince considerably less faith in democracy than their Pakeha compatriots. Certainly it is understandable why an indigenous people comprising only 15% of the total population might find reasons for looking at the principle of majority rule through narrowed eyes. The so-called "tyranny of the majority" has long been cited as one of the downsides of the democratic system of government. For an indigenous culture locked into permanent minority status, the dangers of uncompromising majoritarianism loom large.
Joining these Maori sceptics of democracy are those who are simply unwilling to accept formal political equality as the be-all and end-all of human rights. These are the people who enjoy quoting the Nineteenth Century French writer, Anatole France, who famously declared that: "The law, in its majestic equality, forbids the rich as well as the poor to sleep under bridges, to beg in the streets, and to steal bread." Or, as George Orwell slyly puts it in his political fable, Animal Farm: "All animals are equal, but some animals are more equal than others."
To be white, male, heterosexual, well-educated, and – of course – wealthy, is to enjoy a level of "privilege" in a culture where these distinctions are generally esteemed. Formal democratic equality, it is asserted, actually serves to mask this privilege and, by doing so, permits the disproportionate power conferred upon its possessors' to be wielded with, if not impunity, then without serious challenge.
In its essence, this argument denies that in a country like New Zealand all human-beings possess equal determinative influence. In effect, the possessors of privilege are said to enjoy super-human status. In short, they have the power to put their thumb on the scales of social justice, and secure for themselves an unfair share of society's goods and services.
Democracy, as it is generally understood, is dismissed as a sham. Only when the privileges of these "supermen" are stripped from them can those who suffer from the deficiencies such inequity imposes: women, Maori, LGBTQI, the disabled; hope to enjoy the equal determinative influence they are entitled to as fully human beings.
By this reckoning, simply being human is no longer enough. True democracy cannot exist where privilege goes unchallenged and unchecked. It can only flourish where no one has to sleep under a bridge, beg in the streets, or steal bread. Where rape is unthinkable, and racism no more than an evil memory from a bitter past.
---
*Chris Trotter has been writing and commenting professionally about New Zealand politics for more than 30 years. He writes a weekly column for interest.co.nz. His work may also be found at http://bowalleyroad.blogspot.com.