If mortgage rates start moving up, perhaps you should think about locking in some of the current low rates for longer than your current contract. We review the issues you need to think about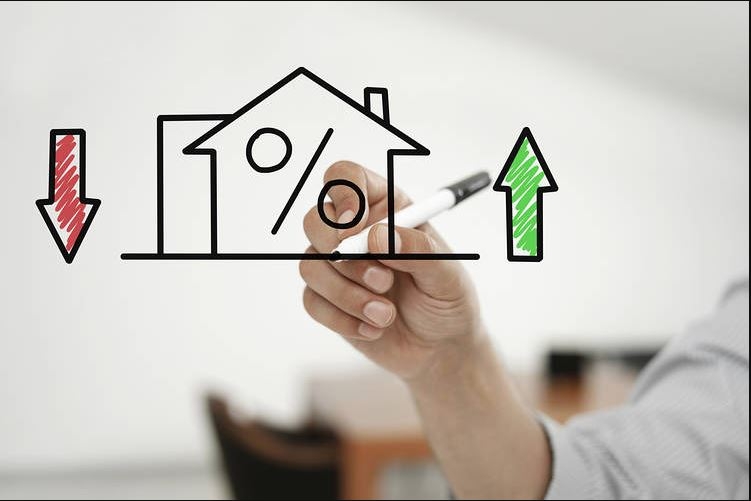 Readers of our swap rate charts will have noticed some sharp changes over the past week, especially since the surprisingly strong Q1-2021 GDP result was published.
This week, one year swap rates rose by +8 bps to their highest since April 2020.
This week, two year swap rates rose by +16 bps to their highest since March 2020.
Given that the rising longer term swap/bond rates have already started to drive rises in longer term fixed mortgage rate offers here already, it seems fair to wonder whether these new rises in short term swap rates will do the same for 1 and 2 year home loan rates.
This is important for many people because 34% of all fixed mortgage rates will come up for rollover within the next six months plus another 37% from six to twelve months hence.
(Much has been made in reports on other news services of higher proportions, but it won't be as high as those because the 'floating rate' portion is unlikely to be in play. Borrowers using revolving credit are far less susceptible to interest rate levels or changes because they are disciplined borrowers using that tool in a clever way and understand the benefits. Other SME or micro borrowers using a floating mortgage to fund the working capital of a business need the same flexibility. And homeowners who have assigned a small portion of their obligations to a floating rate so they can retain the option to make opportunistic paydowns are also unlikely to stray from that benefit. So the floating rate portion is already at its likely minimum level.)
The RBNZ has also projected a 2% OCR within 4 years (see Fig 2.17) and to get there they would need to start raising the 0.25% current level progressively probably starting in early 2022. Bank economists vary in their estimates of when this will start but from Q1-2022 seems likely.
If you have the view mortgage rates will rise from here, is now a good time to think about fixing longer and locking in today's lowish rates?
Certainly in a rising rates market, the issue of break fees isn't on the table. Banks can't really charge much more than an administrative fee if you break a low rate contract to switch into a longer higher rate one. Individual circumstances will affect this perhaps, but that will generally be the case.
A reason you may do this is to lock in longer term rates now (3, 4 or 5 years fixed) on the judgement that shorter term rates may jump quite a lot over the next twelve months before your existing fixed rate contract comes up for renewal. The situation may be that you face higher rates then, if you wait to act.
Presently a two year fixed rate can be had at 2.55% to 2.59% at the major banks. A five year fixed rate can be had at about 3.69%, about +110 bps more.
What are the chances that when you come to roll over your existing loan, either a 2.55% two year rate will still be around, or a 3.69% five rate will still be around?
Swap rates will need to rise by about +100 bps (+1%) to just be 'even'. If you think they will rise by more, you should probably be thinking about a switch.
Current rates are unusually low. Regulators are looking for opportunities to 'normalise' (even if the drug of QE makes that harder). Since the GFC, 'normal' might be more like 5% for a two year rate, more like 6.5% for a five year rate. However, you could easily retort that we aren't going back to the 'old normals', and you might be right. Someone else might point out that markets (and regulators) tend to overshoot, so the risks of future changes are to the upside. In the end it's your call - no one actually knows.,
However, if you are uncomfortable about what lies ahead, you can choose a certainty (for up to five years) at a relatively low rate. Decisions like this tend to be less about the math calculations, more about your tolerance for risk and uncertainty. When you run your personal mortgage though a calculator like this, the additional repayment load might have you choose 'certainty', over risking you will always have a 2.55% rate offer to choose from.
Although it is a few years away, a 2% OCR will likely add at least 1.75% to short term rates (perhaps taking a 2.19% one year rate to close to 4%, others over that and close to 5%). Rates for longer terms are influenced not only by the RBNZ policy settings, but international influencers as well, making them even harder to project.
It is probably a good time to dust off your existing fixed rate mortgage contract and run some numbers. Here is our full-function mortgage calculator that allows you to compare two scenarios. Here is our break fee calculator.
The opportunity of the existing very low mortgage rates may not be around for much longer if markets push short term wholesale rates higher in a concerted way. (And, it still is an 'if', even if it does seem more likely at present.)
Uncertainties on the way down don't really come with potential penalties that can hurt. Uncertainties on the way up do. The one thing going for dealing with them is that break fees will be minor if you decide to make a change.
There is a lot more to a decision like this than the arithmetic, or just reading the economic tea leaves. Best you seek some professional advice from a qualified and registered independent source, who can help you make a proper judgement from your own financial situation.. (This column is not it.)