Ross Stitt points out that New Zealand can look to Australia to see what happens to a country's trade when politicians criticise China for behaviours they think need calling out. It can be devastating for some exporters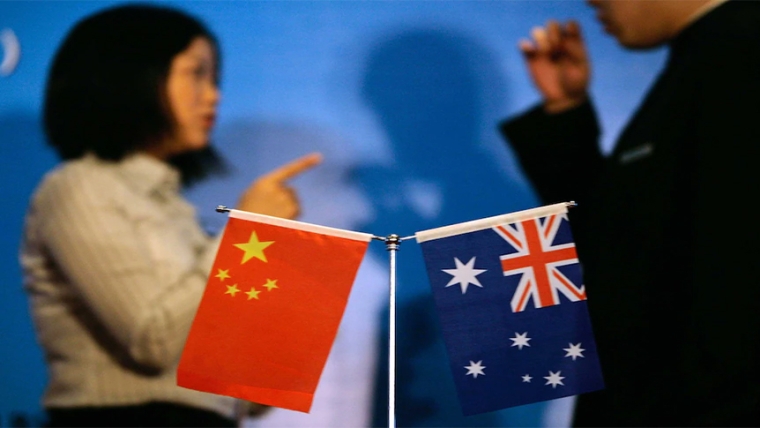 Geopolitics is a tricky business.
In early May, the Global Times, the Chinese Communist Party's English-language mouthpiece, spoke of "warming ties" between New Zealand and China. It said that New Zealand was "charting a very positive and clear path" with China "which could result in major gains for New Zealand products and services in the Chinese market". The health, dairy, meat, and horticulture sectors were specifically identified as potential winners.
Kiwi exporters must have been excited at the prospect.
However, before the month was over New Zealand went down a different path when it issued a joint statement with Australia expressing "grave concerns" about human rights in Xin Jiang and Hong Kong. Beijing responded that these were "irresponsible remarks" that "grossly interfered in China's internal affairs and seriously violated the international law and basic norms governing international relations". 
There was more trouble last week when New Zealand government officials were summoned to the Chinese embassy in Wellington for a dressing down. New Zealand, along with many of its allies, had accused China of carrying out "malicious cyber activity".  
Some exporters will have watched the latest developments with a growing sense of dread.
As NZ China Council chairman Sir Don McKinnon put it "Once you reach a stage where you feel you have to criticize China publicly … well that escalates it to a new level and you've got to be prepared for the consequences of that".
In case there was any doubt about those consequences, McKinnon pointed out that "trade with China means money in people's pockets in New Zealand from one end of the country to the other".   
A lot of money. China is New Zealand's largest export market - $19.4 billion in the year to 30 June 2020. It is also the second largest foreign investor in New Zealand.  
The obvious fear is that China will use its trading and investment power to punish New Zealand for causing offence. Is that fear justified?   
Well of course we have seen this movie before. In fact, it is playing right now across the Tasman. Australia, more than any other Western country, is currently on the receiving end of China's wrath. The Middle Kingdom seems determined to make an example of the land down under.
Tensions between the two countries have soured over several years. The Australian actions that have riled China include banning the Chinese company Huawei participating in Australia's 5G market, raiding Chinese journalists, blocking Chinese investments, and criticising China for its treatment of the Uighurs and the people of Hong Kong and for its military expansion in the South China Sea. Added to that is what China sees as Australia's constant toadying to the US.  
The relationship went from bad to worse last year when the Australian Prime Minister, Scott Morrison, led the world in calling for an international investigation of the source of Covid-19.
China's response was swift. Within a matter of weeks, it imposed an 80% tariff on imports of Australian barley. Various restrictions quickly followed on a wide range of Australian exports to China including wine, beef, lobster, cotton, coal, copper, sugar, and timber.
Initially Beijing justified some of its actions on the grounds that Australia was engaging in dumping or that the relevant products were substandard. More recently the true motivation, namely to punish Australia for its perceived anti-China behaviour, has become unmistakable.
In July a spokesman for China's Ministry of Foreign Affairs was asked about the drop in Australia's share of Chinese agricultural imports. His reply could not have been clearer -  
"We will not allow any country to reap benefits from doing business with China while groundlessly accusing and smearing China and undermining China's core interests based on ideology".  
The result has been devastating for some Australian exporters. For example, wine exports in the March quarter collapsed from $325 million in 2020 to just $12 million in 2021. Exports of beef in the year to 31 March 2021 were down by 36% on the previous year.   
The Lowy Institute, an Australian think tank, has done an analysis of the Chinese sanctions. It calculates that the goods targeted by China generated approximately $25 billion for Australian exporters in 2019. In the three months to January 2021 exports of those same goods were running at an annual equivalent of just $5 billion.
However, it's not all bad news. The Lowy Institute estimates that trade diversion has seen most of the losses from the China trade recovered in other markets.    
Even with the sanctions in place, Australian exports of other goods to China are robust as illustrated in the following graph of monthly exports in 2021.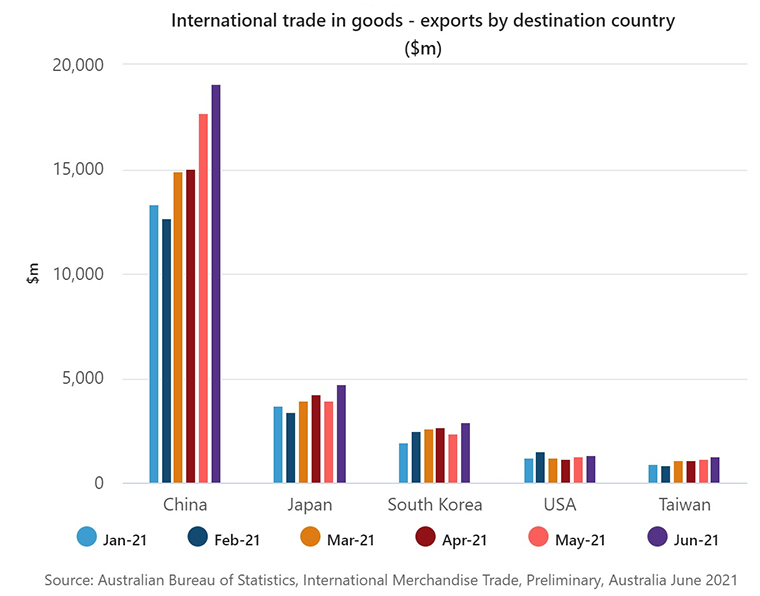 This is primarily a story of iron ore, the one Australian product China can't afford to boycott. China currently accounts for 75% of the world's iron ore imports and Australia supplies more than half the world's iron ore exports. China is trying to develop new sources of iron ore in Cameroon and the Republic of Congo. Until it either does that or reduces its demand for iron ore, it has no choice but to deal with Australia.
The lucky country is lucky that, for the moment at least, China's economic needs trump its foreign policy objectives.
One unknown factor at this point is the future of Australia's substantial service exports to China. The Covid-19 pandemic makes it impossible to assess the impact of Australia's 'China problem' on its tourism and education sectors.   
What about Chinese investment into Australia? A recent report from KPMG and the University of Sydney reveals that annual direct investment has been in decline since 2016. In 2020 it was at its lowest level since 2007.  
Australia is still a preferred investment destination compared to many other countries. However, a majority of Chinese investors surveyed for the report indicated that "the political environment in 2020 has made Chinese companies more cautious to invest in Australia", "the Chinese government was less supportive of investment in Australia than previously", and "the Australian Federal Government was less supportive of Chinese investment in Australia than previously".
This does not augur well for Chinese investment in Australia. However, that does not appear to be a major concern in Canberra. In fact, the Australian government has expressed concerns about the strategic risks of Chinese investors buying certain Australian assets.
In any event, Chinese investment in Australia is dwarfed by that of other countries.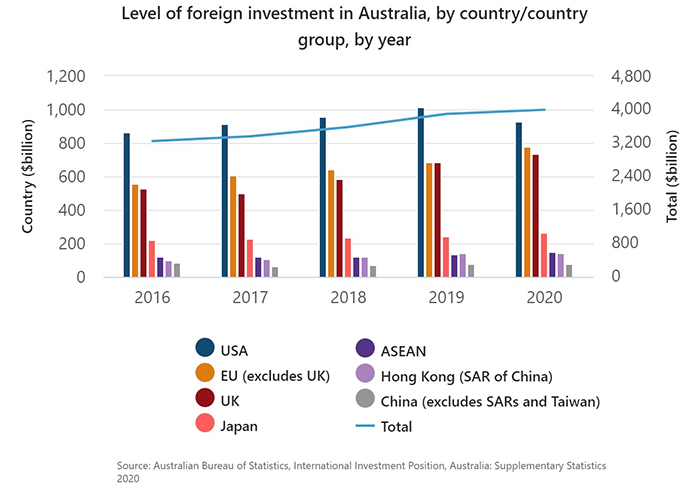 What can New Zealand take from Australia's experience?
While Beijing is very sensitive to criticism, it takes quite a catalogue of offences to trigger the kind of retribution meted out to Australia. New Zealand is probably still a long way from achieving Australia's pariah status in Chinese eyes. And even the wolf warriors of Beijing would probably be reluctant to be seen to be bullying the internationally fêted Jacinda Ardern.
The position might change if New Zealand abandoned the 'Belt and Road' initiative.    
In the event that New Zealand did have a major falling out with China and attracted economic retribution, the consequences would likely be more serious than those suffered by Australia. New Zealand has no export equivalent to iron ore. Dairy, meat, and timber are much less strategically significant to China's economy.  
New Zealand is also more reliant on Chinese investment than Australia.
The lessons are clear. China is crucial to New Zealand's economic prosperity. The challenge for Wellington is balancing that reliance against New Zealand's values and its relationships with its key allies. The only certainty is that meeting that challenge is going to become a lot more difficult.
---
Ross Stitt is a freelance writer and tax lawyer with a PhD in political science. He is a New Zealander based in Sydney. His articles are part of a new 'Understanding Australia' series.