This chart in the RBNZ's MPS explains how NZers are saving and why house prices are falling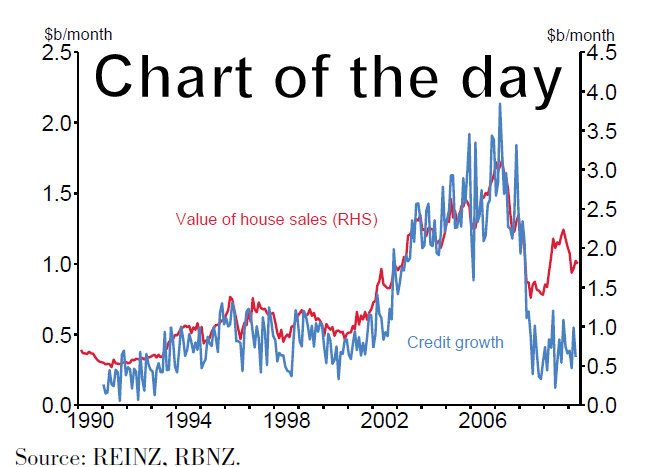 I thought it might be useful to pick out this one chart published in the Reserve Bank's June Quarter Monetary Policy Statement released earlier today because it explains perfectly what is happening in the New Zealand economy. 
It also explains why the Reserve Bank won't need to put up the Official Cash Rate as high as it has in previous tightenings and it explains why house prices have started falling again despite an apparent economic recovery.
This chart essentially shows that New Zealand home owners are choosing to repay debt rather than add on further debt when buying and selling their houses.
It shows that from 1990 to 2007 there was a very close relationship between the value of houses sold in any one month and the amount of new housing loans advanced in that month.
Essentially, we were borrowing to buy each others' houses and increasing our debt each month to do it.
But then something changed at the end of 2007.
Whenever we bought and sold our houses, we started using a lot more of our equity or choosing to repay debt with the proceeds of house sales.
Collectively, there has also been a fair amount of mortgage repayments.
Here's how the Reserve Bank explains it.
Such conservatism is evident in recent household sector behaviour, with spending weak and household credit growing only modestly.

Activity in the housing market also reflects this conservatism. Not only has housing turnover continued to be soft, but also housing credit growth remains well below that consistent with this weak rate of housing turnover.

It appears householders are taking advantage of current low floating mortgage interest rates, or perhaps even downsizing their homes, to make unusually large principal repayments on their mortgages.
The implications are profound. It says the credit-fuelled increase in house prices from 2002 to 2007 is over. It helps explains why house prices are now falling, according to QV.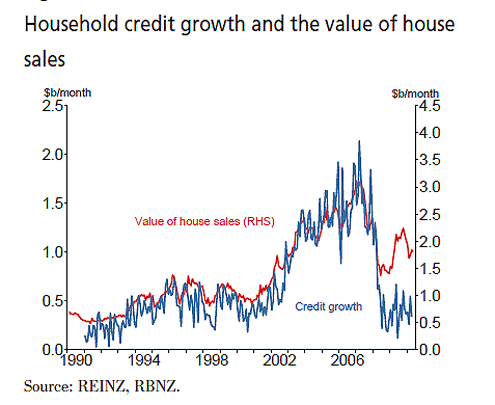 Your view? I welcome your comments below.