Risk sensitive NZ$ slides on new global growth fears as Irish and Greek sovereign debt worries return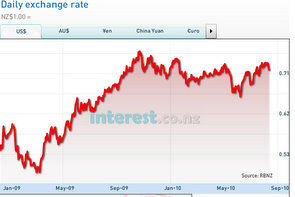 By Mike Jones*
A sapping of global risk appetite undermined "growth-sensitive" currencies like the NZD last night.
Against a broadly stronger USD, NZD/USD retreated from 0.7240 to almost 0.7150.
Yesterday morning's downbeat statement from the Federal Reserve did nothing to soothe investor worries momentum is draining from the global economy. And yesterday's batch of marginally softer Chinese data simply added fuel to the fire.
Our own view is that the Chinese economy appears to be moderating to a more sustainable pace of growth. Markets beg to differ. Global equity markets went into freefall overnight; the 2.8% plunge in the S&P500 effectively wiped out all of the past two week's gains. Our risk appetite index (which has a scale of 0-100%) plunged from around 57% to 51% overnight, the largest daily fall since mid-May. Against a backdrop of surging risk aversion and equity market weakness, investors cut positions in "growth-sensitive" currencies like the NZD in favour of "safe-haven" currencies like the USD and JPY.
A forced paring of NZD long positions by momentum and short-term speculative accounts exacerbated the NZD's losses. NZD/JPY tumbled from 61.80 to nearly 61.00 and NZD/USD was dragged below 0.7200.
Still, EUR/USD was the most obvious weak spot in currency markets overnight. The single currency dived almost 3 cents amid whispers about sovereign debt difficulties in Ireland and reports the Slovak Government refused to extend bilateral loans to Greece.
As a result, NZD/EUR arrested its recent decline, climbing above 0.5560 for the first time in a week. For today, direction for the NZD/USD is expected to come from the AUD, with market attention focused on this afternoon's Australian employment data for July. A 20,000 jobs gain is expected. In the absence of a big surprise, we suspect NZD/USD rallies will be limited to 0.7220 given headwinds from deteriorating global risk appetite.
Majors
Rising global risk aversion saw "safe-haven" currencies like the USD and JPY outperform overnight.
Fears the global economic recovery has hit a stumbling block have seen investors pull back from 'risky' assets over the past 24 hours. Not only did the Federal Reserve issue a much more downbeat assessment of the US economy yesterday, but a slew of Chinese data failed to inspire confidence in already nervous investors. This was despite Chinese industrial production, retail sales and CPI all coming in fairly close to analyst expectations. Global equity markets are a sea of red.
The FTSE and DAX slid 2.4% and 2.1% respectively, while the S&P 500 is currently down around 2.8%. The VIX index (a proxy for global risk aversion) jumped from below 22.50% to nearly 25.50%.Commodity prices have also been dragged lower by investors more pessimistic outlook. The CRB index (a broad index of global commodity prices) fell 1.2%, led by a 2.3% slide in oil prices (to US$78.50/barrel).
With global growth fears sapping risk appetite, investors flocked back to the "safe-haven" of the USD and JPY, at the expense of GBP, EUR, AUD, and NZD. EUR led the declines amongst the majors, amid market chatter about sovereign debt difficulties in Ireland and reports Turkey has postponed necessary fiscal reforms. CDS spreads (a proxy for default probability) in many of the troubled European sovereigns widened by 5-15bps overnight. EUR/USD plunged from 1.3150 to nearly 1.2850.
GBP/USD fared little better, shedding around 2 cents to 1.5650. Sentiment towards GBP was knocked by a surprisingly dovish Bank of England inflation report. The report noted the UK faced a "choppy" recovery and forecasts for growth and inflation were slashed, leaving the door open for the possibility of further monetary easing. The JPY was the night's strongest performing currency, benefiting from the twin tailwinds of spiking risk aversion and narrowing US-JP yield spreads. US-JP 2-year government bond spreads struck an 18-month low of 36bps overnight, eventually dragging USD/JPY to a fresh 15-year low below 84.80.
We suspect further substantial declines in USD/JPY will be harder fought, with Japanese government officials indicating increasing discomfort with the strengthening JPY. Indeed, USD/JPY managed to climb off its lows (to 85.30) amid reports the Japanese trade ministry is conducting an 'emergency' survey of how the strong yen has affected 200 Japanese companies.
* Mike Jones is part of the BNZ research team. 
All its research is available here.