The pressure goes on - why property investments will rise in value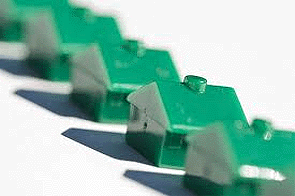 By Olly Newland
It's October, and the property market has not fallen 30% as was predicted by some - nor even by the 15% as those doom merchants, in a vain attempt to remain credible, hastily corrected themselves.
Instead the median price bobs up and down within the margin of error and the market remains essentially flat - as was predicted by me long ago as February last year.
The economy, along with the housing market also remains flat under the weight of increased GST and costs, and the hopelessly ill-timed move by the Reserve Bank to increase interest rates some months ago.
Interest rates will remain low and possibly go even lower in the time ahead because we are not out of the woods just yet.
Massive problems in the USA and Europe, combined with bubble economies in China and Australia could rock the world's economies in the next 12-18 months and this, to my mind, will be the forerunner of a tidal wave of hyper-inflation as countries print their way out of recession.
Indeed investors should be putting a little aside into other hard assets such as gold (as I predicted in "The Day the Bubble, Bursts"), silver, platinum, copper, antiques and art, or if you like whiskey, perfumes and jewellery.
 
When inflation hits it will already too late. Why hyperinflation is coming to America and how to prepare now
Check the Gold chart:
 
What happens in Aussie happens here.
Australia is suffering heartburn already from an overheated property market and, as I have seen many times before with the mad Aussies, there will be tears as their property market suffers an acute attack of indigestion. "Housing stress test spooks market"
In Sydney, anything within 10 kilometres of the city centre is now $1million plus for the most miserable shack -- Melbourne and other main centres aren't far behind.
I have seen all this before. I will bet dollars to doughnuts that soon we will be flooded with Aussie investors looking here for cheaper property in which to invest.
Already Asians are trying to buy up huge tracts of farm land in NZ, and some are now throwing themselves at investment property - spending up large from the money they have made from flooding the West with cheap exports. Consider their impact on these recent sales:
Commercial property
Many of the commercial properties sold recently in Auckland were hotly contested by Asian buyers and as a result yields dropped dramatically (i.e. prices rose).
Two Broadway Rialto retail units -- sold at yields of 5.2% & 5.3%. The next was stolen at 6.1%, and the cheapest of the units was sold on a 7.6% yield.
The Rialto shops sold for a total $10.15 million at an average yield of 6.2%. The Cue yield was higher than the rest, at 7.6%, because it will be vacated in February. A market rental has been assessed at $160,000. At that rent, the yield on the $2.4 million sale price would be 6.6%.
Next door on Broadway, the National Bank building sold for $13.5 million at a 7.8% yield.
At Westgate the Kiwibank & NZ Post shop sold prior to auction at a 6.35% yield and two more units sold recently at 6.7%, and another at 7.3% and a third that went unconditional at 7% yield.
In Parnell, 155A Parnell Rd, a retail shop leased to Movenpick on a 6x6-year lease for $54,700 p.a. sold for $922,500 at a 5.9% yield.
The most spectacular sale was in Ponsonby where a retail outlet housing Resene Paints sold for a jaw-dropping $1,110,500 representing a return of 2.7% on the income of $30,000 p.a. (the CV was only $800,000).
So much for a declining market and a shortage of cash.
This sales evidence indicates commercial property is coming under pressure and will likely increase in value by 20% to 30% as overseas and local buyers vie with each other to pay more and more to secure a steady income stream at better than current bank deposit rates.
Earthquake in Christchurch
This was a significant event of that there is no doubt and will, I believe, turn out to be the "recession buster" that the property market so sorely needs.
Current estimates put the cost at $4 billion and it wouldn't surprise me if that figure doubles in the end. Anyone who knows about renovation and repairs knows that these are far more costly than a straight new-build.
An estimated 50,000 homes will be need to be repaired or rebuilt. That, together with the infrastructure of roading, drainage and power to be made good, means this work alone will keep tradesmen employed for years. 50,000 properties may need quake repairs
I expect a mini recession in the region at first as business stalls, but by the middle of next year it will be all full steam ahead (providing the aftershocks trail away). On top of this, we will see house prices and rents rise throughout Canterbury under the pressure of this event plus the pressure from the new rate of 15% GST on every new blade of grass, nail, and door handle.
In a previous article I warned that rents were sure to rise and if there was any doubt, this event plus the GST effect will only accelerate those rises.
As if to hammer home the fact, Barfoots, the biggest real estate agents in Auckland, said in their latest press release: "The average weekly rental recorded by Barfoot and Thompson in September was NZ$407, up NZ$1/week on that for August and NZ$23 a week more than in September last year."
It is also interesting to note that house prices rose yet again according to Barfoots same article: "The average sales price of NZ$523,861 was up 2.5% from NZ$510,879 in August, but was up 1.7% from September a year earlier".
If these figures are the much touted 'crash' then I can't wait for the boom.
On a more amusing note I saw a TV item where some dopey real estate agent was asked if rents would rise in Christchurch because of the earthquake. The answer given was that that firm of real estate agents would not deal with landlords who took advantage of the situation by raising rents.
Well, hello! Just remind me not to deal with that agency should the need arise.
Landlords and investors have been mercilessly screwed down over the past few years with static rents and steadily rising prices and now, at long last, it's time for an adjustment in their favour.
Investors should get every dollar they can get and keep in mind that 'Profit' is the name of the game.
Think about it. If you were a Christchurch landlord and two people of equal quality wanted to rent your property, one offering $300 per week and one offering $400 per week which one would you choose?
The lesser? Yeah right.
In the same vein, I noted that a large number of Christchurch residents complained that they did not get all the help that they should have got and I must say I agree with them.
There was much gawking and sightseeing and a few students who did heroic work but after that, bugger all. Just TV crews. It has always struck me as ridiculous that 500 people will rush to some god-forsaken beach somewhere to save a bunch of moronic pilot whales who threw themselves on the sand, but those same 500 people will hardly stifle a yawn when asked to help their fellow countrymen who really could do with some help when the need arises.
Housing drought to get worse
If there wasn't enough pressure building up already there is better to come (from the investor's point of view).
New housing consents (or as the American say 'housing starts') are at an all-time-low - which is excellent news indeed for investors and existing landlords. Housing consents slump 12 percent
Anyone with enough brains to put a spoon in their mouth knows that shortage = price rises ... and that's exactly what this slowdown in building means.
With NZ's population growing by around 1% pa we need at least 20,000 houses to be built every year just to stand still - let alone replace the houses that are lost each year from fire, floods, demolition and natural events.
The day is not far-off when the next 'housing crisis' will erupt as rising rents collide with a shortage of supply. The inevitable 'shock-horror' stories will emerge of overcrowding, bad conditions and rack-renting. (If you're curious to know where some say the expression "rack-renting" came from, read the fascinating story of Peter Rachman.)
From a public relations point of view, property investors can NEVER win as members of the whining, whinging mob always get the headlines.
The baying for blood was encouraged and strengthened by the Minister of Finance Bill English, who in his last budget positively squeaked with pleasure as he removed legitimate tax deductions from investors through the removal of depreciation deductions.
When the **&&##@@ hits the fan, remember the part he played in the housing crisis that will come as sure as night follows day.
Buffett Rules
It is rare indeed when I take any notice of the self-proclaimed 'experts' who grow like mushrooms and then disappear just as quickly when their prognostications prove to be as useless as a pair of nail scissors to cut the lawn.
However I must say I watched an documentary on TV the other day about Warren Buffett and I have never heard more sense from anyone else in many a long year.
Those of you who have respect for your elders should read some of Warren Buffet's rules for successful investing:
1: Be frugal
Avoid waste, excessive pay or perks. Frugal people don't need fast returns to support extravagant lifestyles.
2: Wait for the 'fat pitch'
Resist constantly buying or selling. "Lethargy bordering on sloth remains the cornerstone of our investment style," (Buffett in his 1990 annual report to Berkshire Hathaway shareholders.) Wait a long time until market turbulence brings the "fat pitch", i.e. really cheap valuations.
3: Be a contrarian
Go against the crowd. "We simply attempt to be fearful when others are greedy and to be greedy only when others are fearful," (Buffett in a 1986 letter to shareholders.) Be skeptical of the conventional wisdom, not because the crowd is always wrong but because the crowd's wisdom is probably already reflected in market prices.
4: Stick with what you know
If you don't understand a product or how it makes money, avoid it. "Stay within your circle of confidence."
5: Hold for life
Buffett's favourite holding period is "forever."
I recommend these rules to you. Write them on your bedpost to remind you daily of the truth of them.
An Investor's Story
A somewhat strange story came across my desk the other day. In this case I was on the side of the investor who was the target of a diabolical plot.
My client, a retired engineer had saved up over a lifetime well over $1.5 million and was dead keen to buy a commercial property to fund his retirement. Without taking advice (I only learnt of his story when it was too late) he was introduced to a commercial property which appeared to suit his needs by a firm of well-known real agents.
This particular property was relatively new, in a good industrial area, and was offered at a price of $1.5 million returning a yield of 9% per annum (i.e. $135,000 net) with a new 6 x 6 year lease in place. The tenant was a IT firm who had owned the building initially and then had written a lease to themselves before putting the property up for sale with them as tenants -- what's known as a 'lease-back'.
My client, relying on his hopelessly incompetent lawyer, purchased the property for cash with no borrowings only to find that within a month of settlement, the tenants closed down their business and vacated the property.
The rent stopped the same day leaving a gaping hole in my clients bank account. Horror-struck, he came to me for help.
On investigation, I soon found that the lease had no personal guarantees from the directors, and the tenant was a $100 shelf company with no assets, having been stripped out by the shareholders immediately the proceeds of sale had been lodged. Worse was to follow.
On re-valuing the property, the maximum fair market rent it could achieve on a good day with a following breeze, was $70,000 per annum -- virtually half the supposed lease amount - and no more.
It was an old story.
The vendor/tenants/ had hydraulicked the rents to a level that even a one-eyed, biased, friendly valuer could not justify and my client had simply divided the rent by 9% and paid the asking price. The property was revalued at $700,000 maximum so my client lost more than half his life savings at one fell swoop.
I recommended he sue (a) his incompetent lawyer (b) the shareholders and (c) the real estates agents - jointly or severally for misrepresentation etc. But faced with lengthy litigation and monumental costs with no guarantee of success, he chose to do nothing. With thoughts of murder, he accepted his massive loss as a gross injustice and plain dumb bad luck. Encouragement, ranting and raving on my part could not change his mind, so I left him to get on with his life - distraught, poorer ... and much wiser.
So the lesson for you, dear reader, is to always get independent advice before committing yourself to a major purchase or take the consequences.
Buy in haste - then regret at leisure.
 
Olly Newland
October 2010
www.ollynewland.co.nz
© 2010 Olly Newland. Used with permission.