Opinion: House prices - not quite sober yet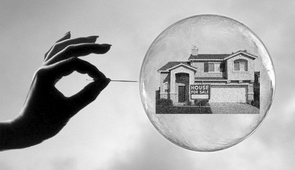 By Gareth Morgan
In 2007 I said publicly that houses in New Zealand were 30% over-valued.
That comment met with much derision from the real estate industry (funny that) whose state of denial at that time was at its most fervent.
The industry is a little smaller today, but who knows what level of fantasy it's currently convinced of when it comes to property predictions?
The important issue is how far through the inevitable correction in that market arewe now?
A couple of approaches can give us a feel for where we're positioned. See first chart below.
At peak, June 2007 (point A on the graph), real house prices were 45% above trend (60 year).
Those 2007 prices would have to fall 31% to be back in line with that indicator.
Since 2007 real house prices have fallen 15.5% (to point B on the graph) comprising a 5% fall in nominal prices while general consumer prices have risen 12.6%.
Meanwhile the long term trend value for housing has risen by 7.8% over the 4 years. This suggests real house prices would need to fall a further 12% to be back on track the long-term trend.
Of course an overnight drop in real prices (to point D on the graph) is just one scenario and most unlikely. The banks' heroics in avoiding mortgagee sales may prevent a domino tumble in prices.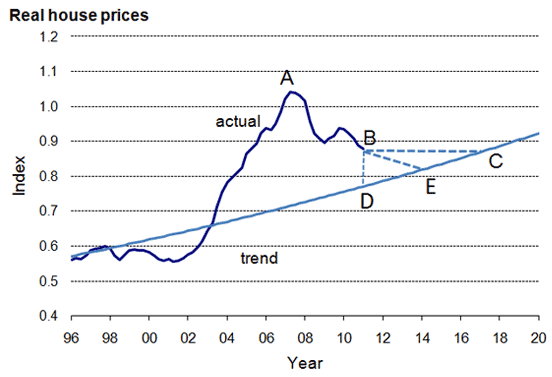 So let's look at a couple of other possibilities.
If house prices just kept pace with inflation from here on, how long would it take for them to be back in equilibrium (point C on the graph)?
The answer is another 6 years. I doubt the market will have that sort of patience.
A more reasonable scenario would be that house prices stay flat, and inflation erodes their real values, and we'd be back to normal (point E on the graph) in about 3 years.
But a word of caution; it is unusual for house prices to just approach their long term equilibrium value quietly and predictably.
It's actually more common for them to undershoot before they settle – and given the huge size of the overvaluation we have just experienced, you could just as credibly argue for that scenario.
Don't be surprised then if the picture we're painting here ends up being pretty conservative – i.e. things could get considerably worse in the housing market before the markets stabilise.
The ramifications of that for an economy that has been founded for two decades on bloated property values would be very serious.
The reason I'm not backing an overshoot at this time is that immigration is holding up reasonably. Any analysis done simplistically on population demographics and building activity would suggest house prices should have already fired up.
At some stage those factors will come into play, but not until New Zealanders reorganise their finances in a way that reduces their dependence on property speculation.
Now the above is just one type of indicator or analyses many you could deploy.
Here's another.
Looking at our history, the ratio of average house prices to average household income has varied a bit over the years but averaged about 3.3 – at least up until the orgy of property speculation that began in 2002.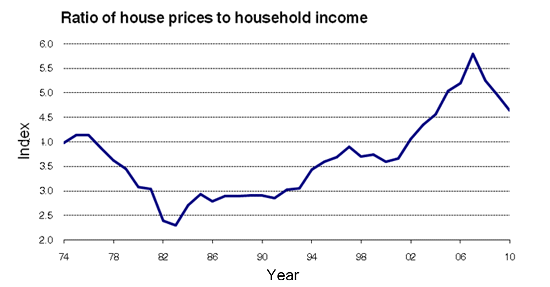 That ratio peaked at around 5.7 times the average income in 2007, but it's now back to about 4.5, so it looks to be about halfway back to 'normal'.
This is a slightly more pessimistic message than you get from the real house price trend analysis.
I could go on and talk about the role the ageing babyboomers have played in the speculative orgy, loading themselves with mortgages and multiple homes in their late life quest for riches. Now they have to back out of a weak market and fund their early years of retirement. That will put a further dampener on the sector.
But hey, there's good news here.
Here we go:
• Houses will become more affordable yet for the younger folk, so keep your powder dry, be patient and work hard to get deals from need-to-sell vendors.
• Agents are too expensive and you don't need them now with online listings, so don't accept you have to use one.
• The younger baby boomers – those around 50 years of age – still have time to rebalance their assets, get real, dump a couple of their houses and get a balanced distribution of their wealth.
• The funds freed up from the housing frenzy can be put to investment in New Zealand and increasing our ability to generate genuine income, jobs and wealth – so long as government's tax and welfare policies and the RBNZ's directives to the banks on what they should lend on – aren't dumb enough to thwart that.
Anyway all the messages are the same – the property orgy is correcting, but it's not over yet.
We're well into it – and that is very good for New Zealand. Enjoy!
-------------
Dr. Gareth Morgan is a director of Gareth Morgan Investments, where this article originally appeared. It is published here with permission.