Opinion: National election document has long term plan for sustainable 5% growth, says NZers must live within their means, wages & productivity fell under Labour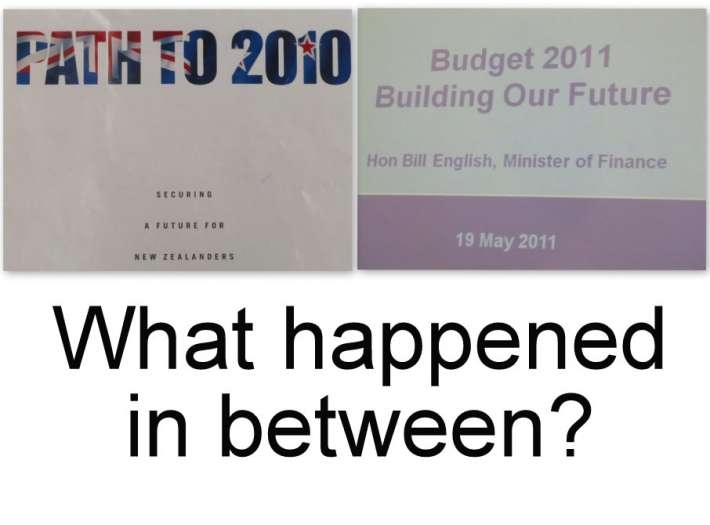 By Alex Tarrant
Take yourself back to 1993 and another National Government talking about the budget and the economy.
You might have read a bold document titled 'Path to 2010' issued near the end of the National Party's third year of its first term back in office. It was a grand vision for a New Zealand over the next 20 years with 'strong and sustainable growth' and one that 'lived within its means'.
In the document's introduction, a smiling Prime Minister tells New Zealanders the government makes no apologies for taking a longer term view that must look through three-year election cycles.
The National Party, if you vote them in for a second term (and probably third, seeing as this is a long term plan), was setting the groundwork for sustainable annual GDP growth of 3.5% to 5% by the end of the decade.
Under the previous Labour administration, productivity fell, New Zealand's terms of trade declined and wage growth in other countries outstripped wage growth in New Zealand.
This new National government had made labour laws more flexible, it had reformed the welfare system, it was investing in infrastructure. It had reformed the energy sector and dealt to the public sector. The rise of 'value-added' exports meant new markets, especially in Asia, were opening up. New Zealanders would learn to live within their means and make sure the country did not end up controlled by our creditors.
Changes will lead to strong growth
The changes made in the government's first term in office, leading to that strong growth, would enable New Zealand to "prevent a cycle of dependency and under-achievement striking the generation of at-risk young New Zealanders..."
The changes would mean New Zealand would "meet the demands that an ageing population will place on our economy..."
'Can't live beyond our means'
"New Zealand today is flexible and dynamic. We are well placed to cope with whatever the world deals us," it says in the document.
"The freedom to make our own choices about our future, to decide how we should develop our resources and ultimately how we manage our country depends on paying our way in the world," it says.
"Living beyond our means steadily erodes our sovereign independence. It we don't pay our way our creditors become our managers. No New Zealander wants that to happen.
"We must retain the right to decide our own priorities whilst integrating our country with the global economy. The strategy must therefore give priority to investing in the future rather than consuming today."
'We must overcome barriers'
In order to achieve that strong growth, there were limitations New Zealand had to overcome:
Expectations, as New Zealanders, of higher living standards than we have, in the past, been able to afford;
heavy levels of public indebtedness;
an understandable attitude of cynisism and negativism after a decade of upheaval made necessary by years of not facing hard issues;
a limited skills base by international standards with some of our most skilled people being lost to competing countries;
limitations to market access for traditional products;
a still largely production-driven, agricultural economy with long lead times and vulnerability to pests, diseases and climatic changes.
The words above, and the concerns accompanying them, were in a 1993 election campaign document released by Jim Bolger's Fourth National Government, titled: Path to 2010.
Reading through it, I could not help but think: same s**t, different decade.
What happened in between?