Opinion: David Chaston shows the unintended consequences of removing the youth minimum wage: 30,000 fewer young people have jobs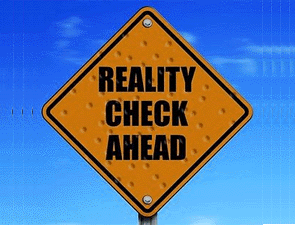 By David Chaston
On April 1, 2008, the government abandoned the youth minimum wage, bringing all 15-19 year olds under the general minimum wage.
This raised minimum wage rates for young people by one third over-night, from $9.00 per hour at that time, to $12.00 per hour.
Subsequent increases have raised the minimum wage to $13.00 per hour.
In fact, Phil Goff announced recently that a Labour government would quickly move to raise it to $15.00 per hour if it was elected in November.
But some readers may have noticed recently that youth unemployment has risen markedly. This is at a time overall unemployment has been high.
The question is; has the dropping of the youth minimum wage hurt employment opportunity for people under 20?
This is an issue debated aggressively by economists and labour unions.
But it does seem clear that more than 30,000 jobs for people 15-19 have just disappeared since 2008.
Perhaps they haven't disappeared overall, but the policy change has meant those jobs no longer go to young people, they have gone to groups that have pushed for the policy change – older workers.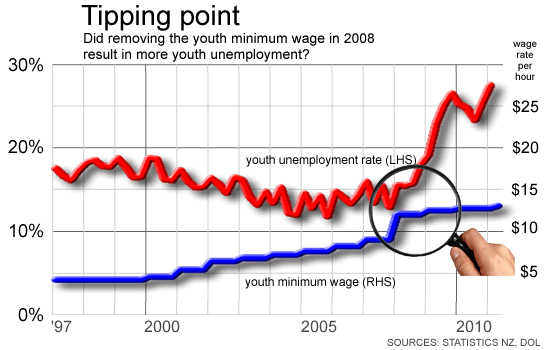 The data at Statistics NZ from the HLFS is the basis of this analysis. That record goes back to 1986, and so covers a number of recession periods where we can inspect the impact of the 2008 policy change compared with prior economic stress periods.
Since the end of the youth minimum wage, participation rates for 15-19 year olds has sunk to their lowest levels on record.
Since the end of the youth minimum wage, the share of the jobs held by 15-19 year olds has sunk to their lowest levels on record.
The share of the employment market that 15-19 year olds had was pretty stable for 15 years or so at about 6.5% - but since the policy change, it has sunk to just under 5%.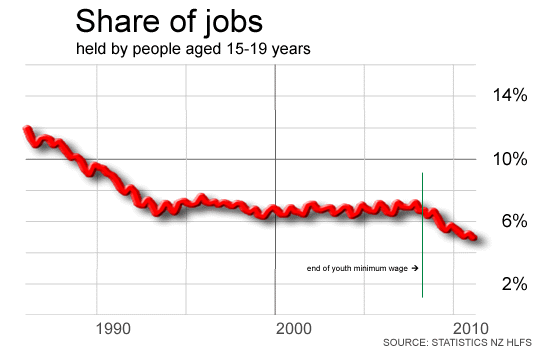 Since the end of the youth minimum wage, youth unemployment rates have risen to record levels – mirroring European youth unemployment rates where similar policy changes have been in place for a lot longer.
But overall unemployment rates are a lot lower now than in the previous recession of the early 1990's. It seems that 15-19 year olds are taking a bigger share of the pain.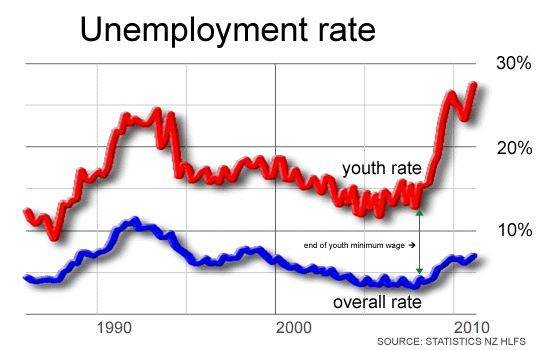 Once skilled, workers clearly move into more stable, higher paying jobs. Tracking the age-group employment shifts and median wage (LEEDS) data seems pretty clear. The worry will be that too many of the new 27.5% current youth unemployment levels are not getting the start earlier generations clearly got.
Without that start, we may be setting ourselves up for a deeper structural unemployment issue. Governments have worked hard to address getting the long-term unemployed back into the workforce with some good success.
It is hard to see how the removal of the youth minimum wage has helped the group it was targeted at – although it has surely helped older workers grab the available jobs. The jobs haven't disappeared, only the opportunity for young people to get started.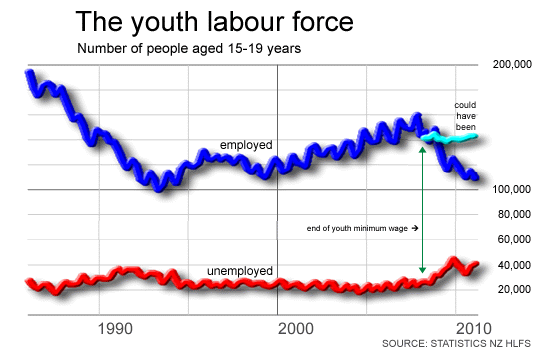 If young workers' share of overall employment had not fallen so sharply after April 2008, and had held at the ~6.5% level consistently evident in the 15+ year period from 1992 to 2008, we can calculate how many youth jobs would not have been lost – and that number now exceeds 30,000.