Opinion: Bernard Hickey argues the RBNZ should target non-tradable inflation to deal with a structural flaw that tilts our economy away from exporters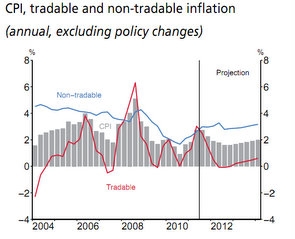 By Bernard Hickey
The Reserve Bank's unsurprising decision to hold the Official Cash Rate at 2.5% has exposed in more detail a structural flaw in the New Zealand economy.
Under its current framework of inflation targeting with a free-floating exchange rate, the Reserve Bank has no choice but to force or allow the export sector to do the heavy lifting of keeping inflation under control.
It admitted as much today when it said it could keep interest rates around 60 basis points lower than previously forecast over the next two years because a structurally higher exchange rate was helping it to control overall inflation.
That's great news for borrowers, spenders, voters, politicians, council bureaucrats and importers. It is appalling news for savers, producers, exporters and, ultimately, workers in the long term. That's because we will ultimately rise or fall on our ability to create high value jobs from exporting.
It's clear now that over the last decade the export sector has taken the pain of a high currency and relatively higher interest rates, while central and local governments, along with monopoly industries such as power generation, have increased prices and gobbled up a greater share of the economy.
Inflation in the non-tradable parts of the economy, which includes government and those monopoly-style industries where there is no competition from imports, consistently runs higher and stronger than inflation in the tradable parts of the economy, that includes exporters and those that compete with imports.
Along with a structurally low to non-existent savings rate, this has meant that our monetary policy and exchange rate regimes have tilted our economy towards the non-tradable sector. That has meant more jobs for people in government and the monopoly industries and less jobs in the productive sector.
Ultimately this is not sustainable.
At some stage foreign creditors will realize we cannot sustain the high current account deficits needed to keep this creaky framework shuffling along.
One solution would be for the Reserve Bank to target non-tradable inflation rather than overall inflation.
There's a good argument to say it cannot influence tradable inflation, which is determined by world prices and the currencies. Whereas monetary policy can have some influence on prices and activity inside the economy.
We have to find a way to break this logjam where every time the economy heats up the Reserve Bank increases interest rates, which pushes the currency up and hammers exporters.
We can't keep borrowing offshore and selling assets to foreigners forever.
Eventually there'll be nothing left to sell and the foreigners won't let us borrow more.