Alex's politico-economic blogroll: Will the rebuild really create that much pressure? It's not the RBNZ's fault; Apathetic youth (non) voters; Peter Cook on job creation; Cartoons
Here's my blogroll for the week. Have a good weekend everyone.
1. Will the earthquake really have that great an effect on monetary policy? Reserve Bank Governor Alan Bollard has said the central bank will be closely watching any inflationary pressures coming from the Christchurch rebuild as it decides when to raise interest rates. Christchurch-based economist Eric Crampton, who blogs at Offsetting Behaviour, wonders how quickly pressures will flow through, and whether they'll be as strong as suggested.
Earthquakes do bring spending. But only with long and variable lags. Even leaving aside wealth and capital destruction, the unavoidable uncertainty induced by ongoing aftershocks imposes large costs. Nobody knows when they'll be able to rebuild. Add on top of the natural and unavoidable uncertainty the regulatory uncertainty induced by the Councils' still deciding who will be allowed to rebuild where and subject to what building codes. Earthquakes just don't seem that great a Keynesian policy prescription.

There's a limit to the extent to which resource shortages in building will wind up generating resource shortages; at least some of the supply pressures in construction will likely be handled by importing workers from a flagging Australian construction sector. Wages will be bid up to the point at which Kiwi construction workers in Oz come back home.
2. Don't blame the Reserve Bank, what we need to do is focus on competitiveness and the size of government. Economist Matt Nolan at TVHE responds to Bernard's piece yesterday calling on the Reserve Bank to target non-tradable inflation only. That wouldn't work, Matt says, because interest rates would be higher, leading to a higher exchange rate.
The real problems lie with the competitiveness and productivity of NZ industry, and the size of government (which controls a whole heap of that non-tradable inflation like rates and electricity prices). They're not areas the Reserve Bank has responsibility for, so quit pointing the finger at them.
So what happens when they target "non-tradable inflation"

The RBNZ lowers non-tradable inflation by increasing interest rates further … likely leading to an even higher currency.

In this context, the stated aim of targeting non-tradable inflation doesn't met the goal.

Now Bernard Hickey likely believes that there are structural reasons why non-tradable prices are growing more quickly than relative-tradable prices.  And he would right.  The reasons are:

The Baumol effect, where services become relatively more expensive as we become more wealthy
A related issue, that tradable goods experience larger increases in productivity than non-tradable goods (as they tend to be more capital intensive, and face more competition)
Competition issues due to our scale
Issues of the size of government
The combined impact of our rising terms of trade and productivity improvements in developing economies (which has held down imported cost pressures – ex fuel).

In this context the only two "policy relevant" issues that have changed the "structure" of our economy are competition issues and the size of government – both things that fiscal authorities and competition authorities should look at … not the RBNZ.  All the other changes were responses to fundamental changes in our economy.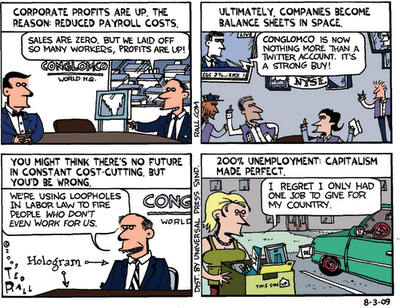 3. It doesn't matter whether foreigners own Fonterra shares or not, what matters is not letting non-suppliers own shares at all. Homepaddock isn't in favour of floating Fonterra.
What matters is that listing the company would take power and profit away from the suppliers who under the current co-operative model own 100% of its shares.

If Fonterra was listed non-supplying share holders wouldn't have the same interest in or commitment to ensuring decent returns to producers that supplying shareholders do.

Regardless of where they came from, non-supplying share holders would be most interested in the price of shares and return on investment. Suppliers are also keenly interested in the price of milk and dependent on it being fair.

People outside Fonterra are keen for the company to list. Shareholders are rightly determined to keep the shares and control in the hands of producers.
4. Apathetic youth of today. Green Party MP Gareth Hughes laments at signs young people are not enrolling to vote ahead of the election as much as they had for prior ones.
I'm not surprised. Gen Y, and the younger parts of Gen X, I think are painfully apathetic towards politics and the public debate. I find it extremely difficult to discuss politics with many in my age group (Gen Y) because they have absolutely no interest in it. Why? Well we've pretty much had it easy over the last decade haven't we. Our Baby Boomer parents gave up protesting a long time ago, and turned their attentions away from educating us about the debate. Our attentions have turned to whatever we've been told to turn them to via the internet and facebook and the likes, which certainly isn't political debate because that doesn't sell any more.
We just don't care.
'John Key's a nice guy, I don't hear much from that other bloke. Those 'student union' types at uni were weirdos (and in whose elections were the only ones to vote for themselves - the other 98% of students didn't care) - they talked about politics all the time, so I'm certainly not going to.'
Here's Gareth Hughes with a couple of tables: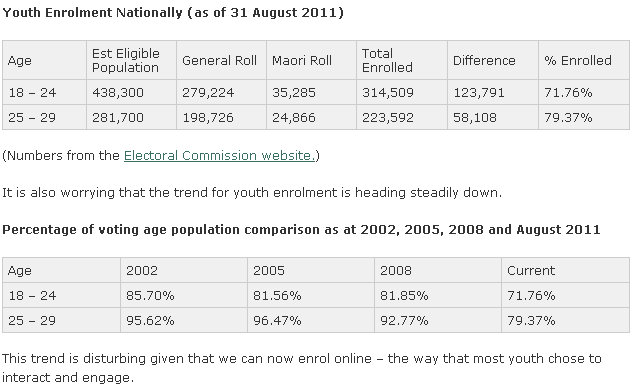 At the moment almost a third of 18–24-year-olds and a fifth of 25–29-year-olds are not enrolled to vote in the upcoming election! If you aren't enrolled you can't vote and have a say on November 26.           

The Electoral Commission does do a fantastic job of ramping up enrolments before elections. However, it may be time that a dedicated amount was budgeted for youth focussed enrolment programs to be rolled out. This isn't just about putting stalls up on university campuses, it's about getting to the working youth and the young people who are out of work as well.

Regardless of how youth vote, we should be encouraging young Kiwis to vote and take part in the democratic process. It is after all, your future that people like me are deciding here in Parliament, it makes sense that youth should vote for the people and parties that they feel will have the best impact on their future.
5. Dole numbers drop, welfare increases. Lindsay Mitchell likes that headline on Stuff, as it's not just about the unemployment benefit.
Yesterday all I heard about in various news bulletins was how the number of people unemployed had dropped.

It is arguably worse when the other benefits rise because the people that go on those tend to stay on welfare much longer. So behind the 'good news story' was a 'worse news story'. Typically recessions cause a lagging rise in totals on benefits other than the dole. Totals which do not fall again.
6. Creating jobs. Here's Peter Cook's way. HT Not PC
7. In opposition, National argued NZ's house prices were an inter-generational issue and said they would do sometime about it when in government. Peter Cresswell at Not PC takes aim at Phil Heatley and John Key:
Before the last election, National were going to "take aim" at house prices. They spent $10,000 on an overseas study on ways to "solve the problem."  National's housing spokesman, Phil Heatley, "went to the United States and UK to study ways of resolving the predicament of steeply rising house prices blocking many people from owning a home." Heatley identified "tight land supply" as "one of the factors which had driven up prices," and said he "favours re-zoning more rural land for urban development." All good stuff.

But this was before the last election.

Since then? Nothing.

Since then, we've had a Prime Minister confiding he's quite happy about house prices becoming rapidly less affordable, because the price inflation problem (which he can control) will "fix" the leaky house problem (which he can't).

Since then, we've had everyone from Canterbury to South Auckland still struggling to find serviced land on which to build a new house—and with tight land supply and rapidly increasing levies, charges and "contributions" forced on them by council, land developers have been unable to provide it.
8. Become an online activist for the Greens Party. HT David Farrar at Kiwiblog. The Green Party have an email alert for when the names of their MPs appear on blogs - then party hacks are encouraged to be the first commentors in an effort to 'get the message out'. Wonder if interest.co is scraped? Well, here goes, Russel Norman, Metiria Turei, David Clendon, Gareth Hughes (again), Catherine Delahunty, Keith Locke, Kevin Hague, Sue Kedgley, Kennedy Graham. Let's see what happens :)
Sign up for email notifications about when political blogs mention our MPs names and Green issues! These timely notifications will enable you to respond quickly enough to be among the first commenters, ensuring high visibility for our views and perspectives.

Sign up by joining the 'Online activists' group.
9. And David Farrar guest blogs for Roger Kerr's Friday Graph on youth wage rates. This is a difficult one, particularly as changes were made at the start of the recession, so hard to tell what had the most impact.
This graph from economist Eric Crampton (http://offsettingbehaviour.blogspot.com/) tells a very sad story. The blue line shows the adult unemployment rate and the red line the youth unemployment rate. As you can see up until 2008, the two rates were significantly linked.

The green line is the best fit line predicting the youth unemployment rate based on the adult unemployment rate. It shows based on the last 20 years of data, that youth unemployment should be around 18% not 28%.

In 2008 Parliament abolished the lower youth rate for the minimum wage. This meant it was illegal to hire a 16 or 17 year old for less than $12 an hour. You do not need to be a rocket scientist or an economist to conclude that the massive increase in youth unemployment is at least partially due to this law change. The best thing the Government could do to lower the youth unemployment rate from 28% is to have the minimum wage only apply to those aged 18 or older.
10. Here are some bloopers from our TVNZ and TV3.