The Pine Tree Paradox, by Michael Parker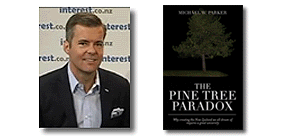 For a number of weeks we have been offering our registered users the opportunity to buy a copy of Michael Parker's The Pine Tree Paradox.
In fact we delivered so many, the first print run sold out.
But the second printing has arrived and we can now open up the offer to all readers*.
When an idea comes along that can transform a country, you want to share it. That's what we want to do with Michael Parker's The Pine Tree Paradox.
We all know that New Zealand's economic issues are chronic rather than acute. We continue to slide down the OECD ladder. The ideas in The Pine Tree Paradox are a game changer and offer a completely different way up and out.
Michael Parker creates a vision for New Zealand driven by innovation, not agriculture, and paints a clear view of our national strengths and potential as a global centre of innovation.
It's a spectacular idea, focused on creating a real, achievable long-term solution. But it's no quick-fix.  You can see Gareth Vaughan's video interview with Michael Parker here »
Not only does the big idea in this book challenge many local institutions and policies, it is one well worth reading, one we think you will want to share.
You can get your copy here »  (Credit card payment only**.)
In fact, it will also make a heady holiday gift for friends who like great ideas.
-------------------------
* while stocks last.
** the cost is $24.50 including GST and delivery. It can only be delivered to a local New Zealand address.
(Contact us at tptp@interest.co.nz if you need a copy shipped to an overseas address.)