Alex Tarrant asks what could be in store for New Zealand following the IMF saying it wants another US$500-600 billion boost
By Alex Tarrant
Markets were abuzz this morning following comments from the International Monetary Fund that it wanted a giant chunk of extra money because it thinks there will be demand for US$1 trillion of bail-out loans from sovereign nations (most of them developed economies) over the next couple of years.
It wants another US$500-600 billion, which would boost its available resources to about US$1 trillion, to help deal with the latest round of the financial crisis stemming from the eurozone sovereign debt crisis.
As New Zealand is a stakeholder in the IMF (a small one, but a stakeholder nonetheless), it is worth asking whether we will be called on to provide even more of our scarce dosh to the IMF as it comes cap-in-hand once again in a bid to save the world's financial system.
What we're signed up for
As a member of the IMF (we have been since 1961) we've paid up in cash more than half a billion dollars to them over the years - about NZ$540 million - as part of our NZ$1.81 billion quota commitment with the Fund.
That NZ$540 million is called our 'reserve tranche position' with the Fund - hard cash we've actually sent into its coffers. The rest of the quota - NZ$1.27 billion - represents promisory notes the IMF can call upon if it wants them.
Generally, a country's reserve tranche position - 'paid in capital' - with the IMF represents about 25% of its overall quota. Ours at the moment represents just over 29%.
On top of our quota we've also agreed to lend the IMF up to NZ$1.3 billion through a credit line called the New Arrangements to Borrow (NAB) facility. This US$550 billion line of credit from 40 countries was expanded tenfold from a piddly US$50 billion as we signed up in April 2010.
The NAB facility was only supposed to be called upon once the IMF had exhausted all other resources available to it. Seeing as we're contributing funds through the NAB, one would assume we'd paid up in those promisory quota notes, but that's not the case.
Political squabbling over quotas, mainly in the US, meant the IMF decided to access funds through the NAB facility instead of its quota facility, meaning New Zealand has been called upon to lend NZ$87 million to help with IMF assistance to Portugal and St Kitts & Nevis since April last year. See our earlier article.
Any new IMF financial assistance packages announced between now and March could trigger more lending from us under the NAB, as it is opened for windows of six months, the latest window opened at the start of October 2011.
We're already set to give them more hard cash with a quota increase
Even before this morning's call for another US$500-600 billion, the IMF was set to double the amount of funding it receives through quotas, while scaling back the NAB credit line.
Figures provided to interest.co.nz by the Finance Minister's office last year show New Zealand's quota with the IMF is estimated to rise 40% in October this year to NZ$2.54 billion. At the same time, our NAB commitments should fall 46% to NZ$0.69 billion. Our overall commitments (quota + NAB) would rise slightly to NZ$3.23 billion from NZ$3.08 billion.
Seeing as our quota is set to increase, the amount needed to be paid in as our reserve tranche position would also increase, meaning a cash payment from the government to the Fund will be in order. Given a reserve tranche position is generally 25% of a nation's full quota, we'd be required to have paid in NZ$635 million to the fund to satisfy this (currently we've paid NZ$540 million).
That's an extra hundred million in cash needed to satisfy this quota increase when it's expected to come into force in October, having first passed through our Parliament.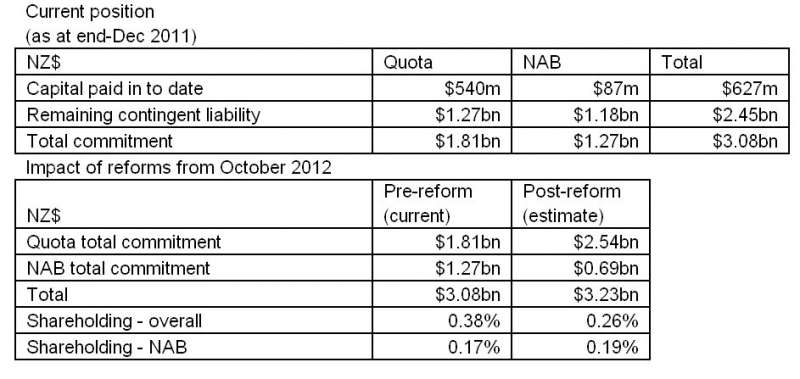 Please Sir, may I have even more?
Now the IMF is saying it may ask its members for even more.
It currently has about US$385 billion available to it and wants to get that up to about US$1 trillion.
This report in the Irish Times says the extra US$500-600 billion is likely to be sourced through ad hoc loans rather than voluntary contributions.
Political football
So who's going to pay?
The British government is coming under increasing pressure to not give the IMF any more cash, and a number of Conservative party MPs voted against their party on a European Union initiative to boost the IMF's coffers by 200 billion euro last year. The government still managed to squeeze through legislation for their 30 billion euro contribution, and it's expected Labour might sign up this time, but it's certainly not a given.
Meanwhile, the Americans aren't at all keen to give any more money to the IMF, and some Republican lawmakers are even trying to unwind a US$100 billion commitment made in 2009.
The US Treasury went as far to say: "The IMF cannot substitute for a robust euro area firewall. We have told our international partners that we have no intention to seek additional resources for the IMF."
Emerging market economies, including Brazil and India, may support the big boost, but only if European nations agree to take a leading role in boosting the IMF's coffers first.
The general wish from the IMF seems to be the eurozone bails out the eurozone, but as were currently seeing, we're all pitching in.
The latest desire for capital from the IMF may never eventuate, given political tensions are so tight. But there's certainly a possibility that over the next couple of years the IMF might just come knocking on our door once again.