Here's my Top 10 links from around the Internet at 10:00 am today in association with NZ Mint.
Bernard Hickey is on vacation and won't be back until early May.
I welcome your additions in the comments below or via email to david.chaston@interest.co.nz. I am still keen to get your suggestions for suitable cartoons. If you notice a really good one, please email me.
See all previous Top 10s here.

1. 'Split them up. Regulate them tighter'
The size of Australia's big four banks poses a unique risk for the economies of both Australia and New Zealand, according a group of academics who are calling for tighter regulations for the financial sector.
Ironically, one co-chair is Professor Glenn Boyle, the "BNZ Professor of Finance" at the University of Canterbury according to the group's website. Professor David Mayes, the "BNZ Professor of Finance" at Auckland University is another member.
They have just released a paper "Do the Big Four Australasian Banks Require Special Regulation?" Basically, they want the big four to split their operations across the Tasman. And they say, increased regulation of these banks would be an added safeguard against the fallout of one major bank encountering trouble through poor lending or risky transactions. Likewise, a national emergency, such as another major quake in New Zealand, could weaken the business of the big four in that market, creating a risk for the overall banking system in both countries.
They also think more focus should be placed on the bank leverage problem.
We are of the view that greater consideration should be given to making the Basel Committee's proposed leverage ratio requirement a first line of defense against bank failure rather than a secondary backstop. That would involve a significant increase in the proposed required minimum. While SIBs may react to such a non-risk-weighted requirement by increasing the riskiness of asset portfolios, there is nothing to prevent regulators applying higher minimum requirements for individual institutions which they perceive as adopting increased risk.

The leverage ratio approach appeals because of its simplicity and potentially lesser scope for manipulation – which the risk-weighted approach of Basel was supposed to, but did not, prevent. While Australasian bankers and regulators are generally not in favour of the leverage ratio approach (having invested substantially in the costly Basel risk-weighting industry) there is little evidence that the risk-based approach has proven superior.
2. Dependency cultures
The Economist has a useful comparison of how dependent some countries are on foreign "investment" to fund their borrowing-for-consumption habit.
Lots of countries in the rich world ran pro-cyclical current-account deficits before the financial crisis hit, which is to say they borrowed heavily when times were good. Yet only a handful have seen yields on their sovereign debt spike to alarming levels. One reason for this, as the chart below shows, may be an over-reliance on fickle foreigners to finance those deficits.
The markets don't seem to have noticed that we have a highly negative NIIP ("net international investment position") relative to GDP, because we are still able to roll over the international funding we have built up at damn good rates, considering.
The Economist's chart did not include the New Zealand data, so I hope they don't mind us adding it here: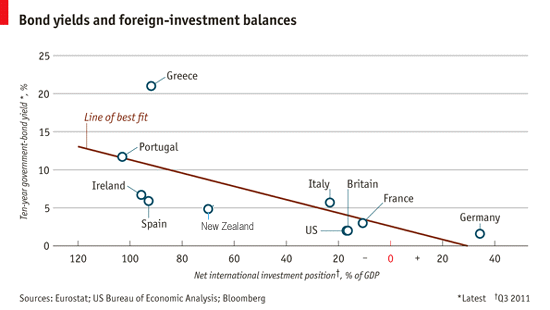 3. Changing the world
Much as predicted by futurists decades ago, tertiary education is about to be turned on its head. Fifty years from now, there will be only 10 universities in the world delivering higher education - or so says Steven Leckart. Making this practical right now are two Stanford professors who teach courses at the cutting edge. Average regional universities (Auckland?) should watch out. Unless we have a world ranking university based in New Zealand, our institutions will slip dangerously out of relevance.
Michael Parker has a great relevant idea.
But back to those Stanford professors - they have already got 65,000 students signed up for one of their courses and a system that works. Maybe it won't take 50 years.
The idea is to create a menu of high-quality courses that can be rerun and improved with minimal involvement from the original instructor. KnowLabs will work only with top professors who are willing to put in the effort to create dynamic, interactive videos. Just as Hollywood cinematography revolutionized the way we tell stories, Thrun sees a new grammar of instruction and learning starting to emerge as he and his team create the videos and other class materials. Behind every Udacity class will be a production team, not unlike a film crew. The professor will become an actor-producer.
4. The official view
The US Treasury Department published an interesting slide show Friday afternoon illustrating the depth of the financial crisis, the impact of the US government's intervention and the state of their economy. It's a political document of course, intended to showcase the policies of the Obama administration in the best possible light.
But it is also a useful summary of the recent economic events - from a US perspective naturally.  Included is the projection - expectation - that the US Treasury will make a profit of as much as US $163 bln on the myriad of bailouts it funded during the height of the GFC. Here is one of the charts, to which we have added the New Zealand data: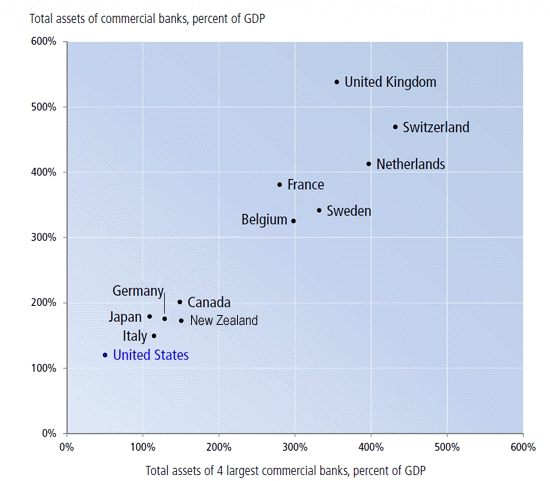 5. Not extinct yet
While Antarctic's emperor penguins are not an officially endangered species, they are considered a bellwether of any future climate changes in Antarctica because their icy habitat is so sensitive to rising temperatures. A recent satellite survey counted as many as 600,000 of them, up from previous estimates of 350,000 and the survey team declared this "good news from a conservation point of view". The WSJ reports: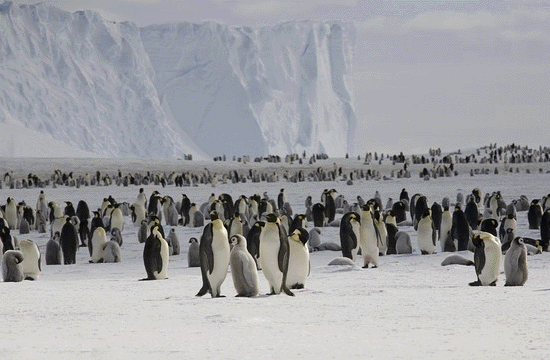 6. The big cost of a policy error
German exports are the engine behind the German economy. We hear anecdotal stories about how well BMW is doing in China, for instance. But is that what is really going on? Well, maybe not; most German exports are going to other EU countries. In fact, within the EU it's basically a giant zero-sum game. And this will be a problem for the Euro zone. Germany is "going Japanese"; deflation is their future and that means both real interest rates and a rising euro will happen at the same time which will make them uncompetitive at a time the rest of Europe can't step up.
In turn, that should mean good export opportunities into EU markets for its competitors while the locals face austerity and deflation. Not much fun for them.
7. American federal income taxes
We all know that Americans pay less tax than we do. Here's a graphic that sets it out so you can see what you might have incurred if you lived there.
Actually, its only part of the story; remember most States also levy an income tax; and many Counties (and some Cities) do as well. Still, the big focus is always on the US Federal income tax. If you need to file there you have until April 17 this year (US time). And of course, once you have done the standard return you also need to do them again to ensure you don't fall under the AMT rules (Alternative Minimum Tax). Good luck. By comparison, New Zealand's income tax system is simple.
8. Milk production
We are now tracking the New Zealand milk curve. Data is from the DCNZ and tracks milk produced for Fonterra, Tatua Co-operative, Westland Milk Products, Goodman Fielder, Open Country Cheese, NZ Diaries and Synlait. It is now a fundamental benchmark for the New Zealand economy and critical we watch it along with prices. Our export receipts will rise if volumes rise and is just as important as the dairy price tracking we do.
The expanding volumes show up well in these charts. That can be from both better farm productivity, but recently more likely by bringing on more production through farm conversion.
9. 'The incredible shrinking U.S. Government'
What do Republican presidents Reagan, Bush 1, and Bush W have in common that Obama doesn't? Total government grew under those presidents after they faced recessions. By contrast, federal, state, and local government has declined by more than half a million workers in the last three years. Big government ain't what it used to be.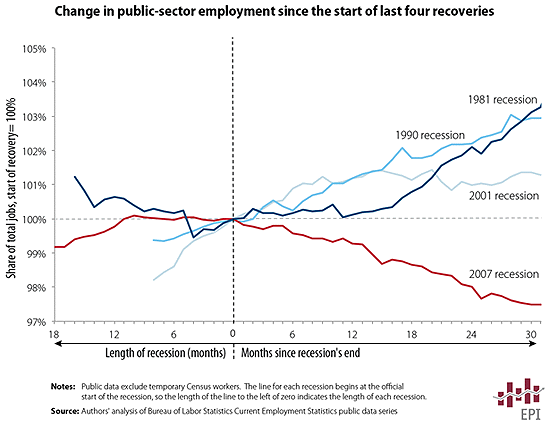 10. The last laugh
Glenn Stevens, Governor of the Reserve Bank of Australia, meets Clarke and Dawe and responds to criticism from union leader Paul Howes.