Here's my Top 10 links from around the Internet at 10:00 am today in association with NZ Mint.
Bernard Hickey is on vacation and won't be back until early May.
I welcome your additions in the comments below or via email to david.chaston@interest.co.nz.
I am still keen to get your suggestions for suitable cartoons. If you notice a really good one, please email me.
See all previous Top 10s here.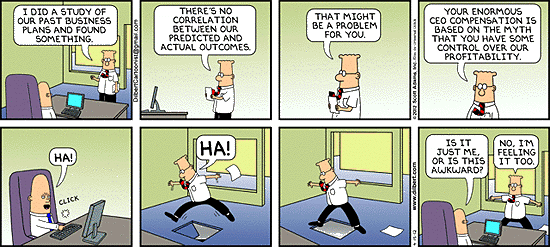 1. The next 'great migration' ?
'Everyone' wants to live near the city centre, or that is how it often feels in our property markets. Why is that? My generation essentially escaped the rundown, decaying central city neighbourhoods for the good life in the suburbs.
How times have changed - but Nathan Morris is suggesting that something more fundamental may be about to happen. If he is right, it will have big implications for public policy makers (and Hugh P.) Is he right? Or is this just the latest gasp of the widely discredited 'Smart Growth' lobby?
After 60 years, many commentators have announced that the American Dream is poised to make its next great shift - this time from the suburbs to the urban core of our cities.

Generation Y wants freedom, not obstacles or anchors. So when it comes to where and how they live, they also exhibit a greater desire to rent rather than own.

Just as cities were not completely abandoned in the 20th century, suburbs will not be abandoned in the 21st century. But the shift in preferences is clearly underway, and this radical change will manifest itself in the nature of real estate development over the next 20 years.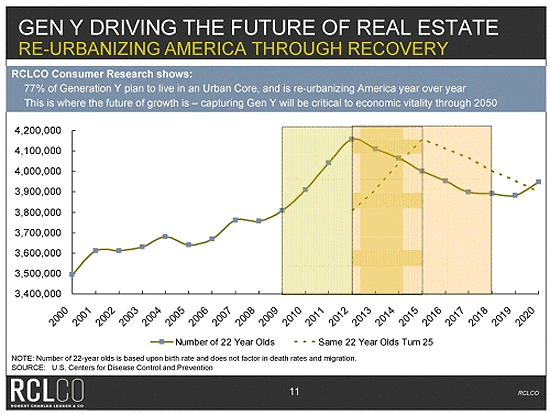 2. You ain't seen nothing yet
Facebook captivates people, both users and investors. This has resulted in sky-high valuations that may become its undoing. To justify these valuations, it needs to increase its revenues by +25% per year for a decade! Who will be be paying? A: It's users.
But there should be great doubt that those users will tolerate such a high level of monetisation of their own data. Here is Frédéric Filloux's take on the situation:
Facebook numbers are both fascinating and frightening. The social network will pass the 1 billion members mark this year and the capillarity of its services is creating an alternate internet before our very eyes. It has already become a credible substitute for email; it soon will be the dominant news channel for millions. At the same time, it is hugely profitable: Facebook's margin reaches 62% and its $3.5 billion cash pile will allow occasional mistakes or, if you prefer, bold experiments.

Then, what could go wrong for the ultra-dominant digital rhizome? Two things: its contempt of privacy and Wall Street frothy expectations.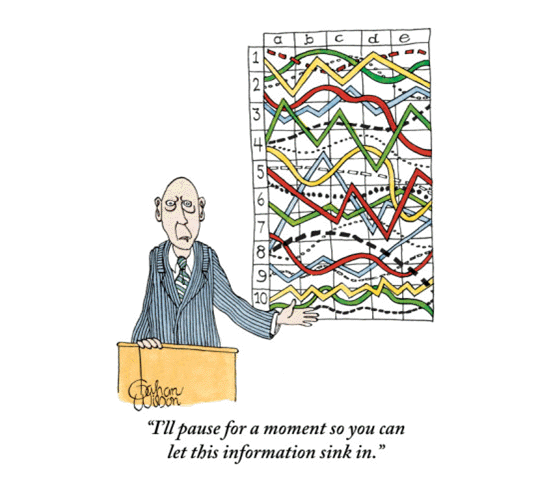 3. The rise of 'lousy' and 'lovely' jobs
More bad news for the middle class: as the economy recovers, jobs in the middle won't. That is the conclusion of an important new study that connects a long-term trend in the labour market with the business cycle of recession and rebound.
Thanks to technology, more and more 'routine' tasks can be done by machines. The most familiar example is the increasing automation of manufacturing. But machines can now do 'routine' white-collar jobs, too - things like the work that used to be performed by travel agents and much of the legal 'discovery' that was done by relatively well-paid associates with expensive law degrees.
Chrystia Freeland at Reuters has a useful review. And here is a chart from the paper itself that goes to the heart of the matter. Today's students need to choose their careers wisely.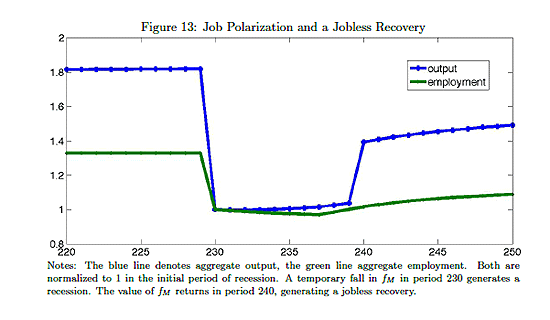 4. Today's ugly stat
Construction levels of single family houses is very weak in the US and things aren't improving. You might be a little surprised because some news reports said [accurately] that they are +17% ahead of the same period a year ago. But that hides the real scale of the US new house building depression. Here are the details from the venerable Christian Science Monitor, but it is their chart that says it all: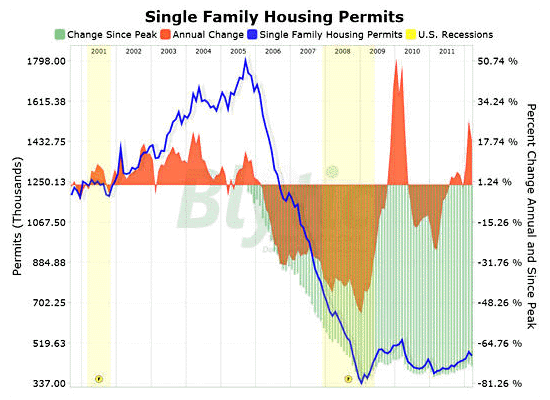 5. Warren Buffett has prostate cancer
Legendary investor Warren Buffett has prostate cancer but its the kind that is unlikely to slow him down anytime soon. He is almost 82 after all, so something is going to get him at some stage. Berkshire Hathaway shares fell almost 2% on the news. Buffett hasn't been beating his benchmark recently. Lustre is being lost - although by any measure he is a remarkable guy. 
6. 'We'll be back on track by the next election'
From The Economist: By the end of the last quarter of 2011, GDP in the 34 countries of the OECD was 6.8% lower than it would have been had it continued at its 1995-2007 trend growth rate of 2.7% on average. In monetary terms, that's US$2,200 per person.
According to the IMF's latest economic growth forecasts for the years up to 2017, it will take OECD countries another 2.7 years to reach its pre-crisis trend level of economic output. Applying these calculations to individual countries level, it is clear that the PIIGS have become particularly stuck in the mud, as can be seen in the chart below.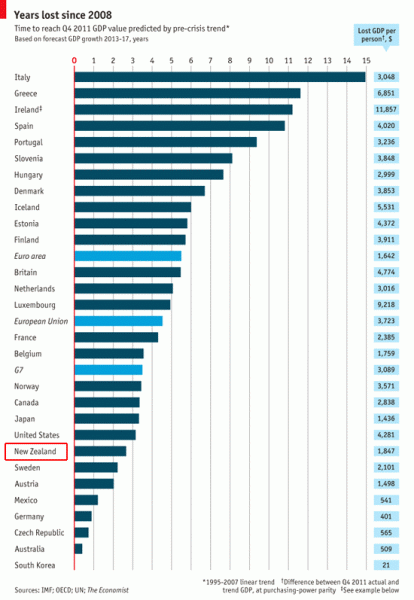 7. Stunning data
I am always amazed by the sheer shear volumes that go through the NZD foreign exchange markets. In 2011, all up they totaled NZ$2.9 trillion* - surely the biggest single number associated with the New Zealand economy and nearly 15 times greater than GDP. We track this activity here » based on the monthly RBNZ B4 data releases.
If you check our charts you will see that Spot transactions were in a minor volume decline from 2005 until the end of 2010. But since then they have been on an upward track. Spot transactions accounted for nearly 13% of all fx activity in 2011. Forwards accounted for only 5% although a check of that same chart will show that this activity is growing.
But the really big activity is in the swap markets - more than 80% is here. This activity was rampant 2005 to 2008 and has fallen away a lot since then. In fact March 2012 swap activity is down 18% on the same month a year ago.
(* Perhaps we should halve that number. The data counts both buyer and seller transactions and there will always be one of each in every trade, so the real volumes will be half those counted.)
8. Clever or dangerous?
There are some clever people out there (and you are probably one of them, of course). Some China watchers have worked out how to estimate the volume of hot money flowing into China - they removed the FDI, trade flows, fx revaluations and interest earned from the total official flow data.
Then they noticed something interesting. That hot money flow approximated the Chinese buildup in metals stocks. Is this evidence of Chinese metals speculation? Or metals speculation at the expense of the Chinese?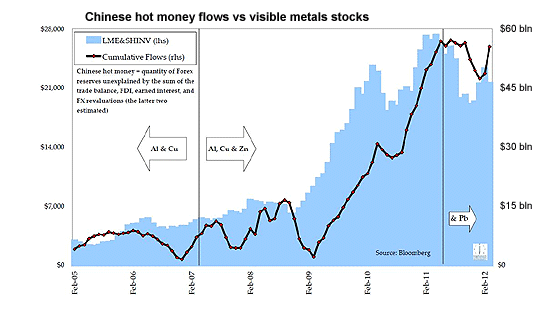 9. Grocery price update
CPI for Q1 2012 is due out in a few minutes so I thought it might be a good time to show you where our weekly grocery list monitoring is these days. Each week we check the cost of one 'healthy foods' list in New Zealand, and the same list separately in Australia. We have been doing the NZ list using the Countdown online shopping facility now for 44 consecutive weeks and will publish the full details when we reach the one year anniversary.
But here is a chart of the interim results. No evidence of grocery price inflation here - probably thanks to a high exchange rate and to the impact of 'house brands'.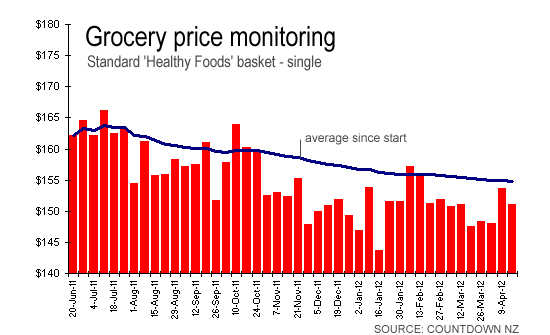 10. The last laugh
Not really comedy, but I reckon it will make you smile.