Monday's Top 10 with NZ Mint: Euro system 'near explosion'; progressive protectionism; sit and die; distruptive manufacturing; Clarke & Dawe; Dilbert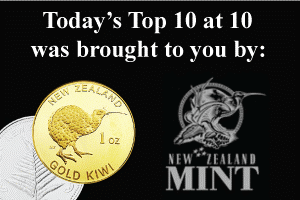 Here's my Top 10 links from around the Internet at 10:00 am today in association with NZ Mint.
Bernard Hickey is on vacation and won't be back until early May.
I welcome your additions in the comments below or via email to david.chaston@interest.co.nz.
I am still keen to get your suggestions for suitable cartoons. If you notice a really good one, please email me.
See all previous Top 10s here.

1. It won't last
As everyone knows, Australia is a "province of China" because of the dependency the Aussies have to China as its main minerals customer. China's per-capita consumption of steel (and other metals) is low by international standards so there is a general expectation that the Aussie mining boom will last a long time yet.
But some new analysis casts that view into considerable doubt. Research house Nomura has dug deeper and reckons its not per-capita that matters, rather its consumption-per-GDP that really matters, and on that basis China's consumption is "outrageously high". Basically it is using far more of these metals to generate the same amount of GDP than everyone else - and it can't last.
Here's the review of the Nomura reserach at Also sprach Analyst. This chart shows it for steel: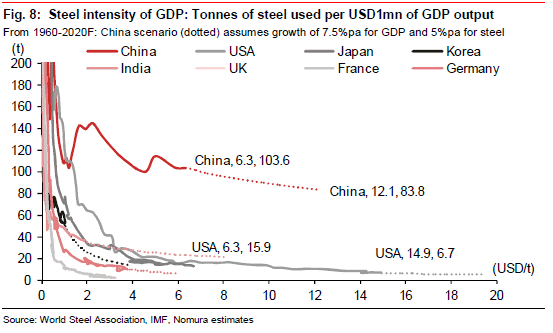 2. 'The euro-system is near explosion'
German tempers are boiling over the back-door euro rescues. Controversy is raging in Germany over soaring "payments" by the Bundesbank to shore up Europe's monetary system and cope with a tidal wave of capital flight from southern Europe.
It's the relentless sceptic Ambrose Evans-Pritchard's take on situation, but it's a powerful read never-the-less:
Even defenders of Target2 admit that such vast transfers need proper scrutiny. The International Monetary Fund said the system is a back-door means of financing the trade deficits of Italy, Spain, Ireland and Portugal.

Dr Sinn's IFO Institute has refused to back down. Its latest report said Target2 violates democracy. "Who are the losers from this process? The savers in those remaining European countries that still have sound economies," it said. They have been pledged their assets "without their knowledge or consent".

"This enormous international credit should have been subjected to the parliaments of Europe," it said.
3. Is bad urban design making us lonely?
I love Auckland - I reckon it's one of the world's great cities. I am sure most people like living where they do (otherwise why are you there?) In the case of Auckland, one of the things that really endears it to me is that it just grew, developing 'naturally' around a wonderful natural harbour. But 'experts' always want to change things, mainly for well-intentioned reasons. A popular reason these days is that cities 'can be lonely places'. They think we need to plan "physical structures and social organisation". You up for that?
Where we live can play a huge role in our social lives. Bigger cities offer more opportunities for interaction, suburban areas tend to prioritise private spaces over public ones.

But even small-scale urban design details can have a large impact on our social lives. Bad urban design is one of the major causes of loneliness and asocial behavior in Australia, according to a new report from the Grattan Institute, a think tank focused on public policy there. They don't have much faith that people will naturally work stuff out. They want more 'urban design'.

Cities can help social connection, or hinder it. They can be so poorly organised that they are hard to get around – a problem not just for getting to work, but also for seeing friends and family and participating in social activities.

A city that 'builds in' isolation through its housing options, transport accessibility, and other features, can have significant consequences for the strength of people's relationships and for physical and mental health.

Of course, the physical by itself does not determine what happens. Design is not destiny. People often find ways to meet despite physical obstacles. Conversely, the best-designed spaces don't guarantee connection. Overt attempts to engineer social interaction can backfire as people often withdraw when they feel their privacy is under threat. The right balance flows from an interaction between physical structures and social organisation.
4. Apocalyptic Daze
Catastrophic thinking is on the rise. And why not? The economy is frail, the earth is overcrowded, the specter of war looms. Impending disaster is everywhere. Some of our commenters have caught the bug.
But Pascal Bruckner is here to calm your nerves, although he suspects people don't want realism anymore, certainly not news of progress - they want tales of the "coming apocalypse".
Environmental worry is universal; the sickness of the end of the world is purely Western. To counter this pessimism, we might list the good news of the last 20 years: democracy is making slow progress; more than a billion people have escaped absolute poverty; life expectancy has increased in most countries; war is becoming rarer; many serious illnesses have been eradicated. But it would do little good. Our perception is inversely proportional to reality.

5. Please stand when you read this
A study of more than 200,000 Australians adds to the growing body of evidence that people who sit the most die the soonest. It also found that you can't exercise this effect away, though exercise does help reduce it greatly.
The study's simple message is that spending more time standing and less time sitting prolongs life.
Just thought you would want to know. More here »
6. Living without 30% of your electricity
The Japanese government has given the go-ahead for shutdown nuclear power plants to be restarted, following the Fukushima disaster. Nuclear power supplied 30% of Japan's electricity before the quake.
But actually getting them going faces a big hurdle - they also need local consents. The nation may need the power, but the locals don't want the risks in their backyards. Here's Fortune with an insightful analysis:
For the past year, through interviews with employees of TEPCO (some officially sanctioned by the company, some without its knowledge), government officials and nuclear industry experts in Japan and abroad, we've attempted to answer two of the most fundamental issues at the heart of nuclear debate now roiling Japan: how could the accident at Fukushima Daiichi have happened - and how, in particular, could it have happened in Japan, a country once known, not so long ago, for its sheer management and engineering competence?

The answers are bracing. The epic disaster at Fukushima Daiichi represents failure at almost every level, from how the Japanese government regulates nuclear power, to how TEPCO managed critical details of the crisis under desperate circumstances.
7. Away-with-the-fairies
Election campaigns throw up all sorts of wacky ideas. There is a campaign in France right now and one idea being peddled there is "progressive protectionism". It may seem foolish from an international perpsective, but it would seem doubly foolish from an EU view. Why would a wealthy country choose a path that would make itself hopelessly uncompetitive, one that will so obviously require an endlessly rising protective wall around it?
Here is a fan describing their fantasy:
Progressive protectionism by contrast would instead allow countries to wean themselves off export dependence. It would enable the rebuilding and re-diversification of domestic economies by limiting what goods states let in and what funds they allow to enter or leave the country. Having regained control of their economic future, countries can then set the levels of taxes and agree the regulations needed to fund and facilitate this transition. National competition laws would ensure that monopolies didn't develop behind protective barriers and an internationalist approach to trade with poorer countries would insist that the gains from reduced levels of international trade helped fund the move towards a localised economy that benefitted the poor majority. In essence, this approach would make space for domestic funding and business to meet most of the needs of society worldwide.
8. A worker revolt at American Airlines
Here's a novel approach. As you know, American businesses that go into bankruptcy can be reorganised without shutting down. The Courts oversee a process where the lenders and other creditors are offered a haircut or different terms so the business can trade on, and come out the other side rejuvinated. (The owners invariably lose everything, but jobs are often protected.)
Now unions are learning how to participate effectively. American Airlines is in bankruptcy, but their workforce has gone off and made an alternate pact with another airline, doing an endrun around the airline's management. It may be a sign of the future. Businessweek reports:
The president of American's pilots' union, the Allied Pilots Association, alluded to this in his Friday letter to pilots. "Working with US Airways, APA was able to achieve in just over a week far more than we had been able to achieve in more than five years of trying to bargain with AMR management," APA President Dave Bates wrote. "Our interaction with US Airways was in stark contrast to what we have been experiencing with AMR. We dealt directly with the people whose jobs are to run an airline."
9. The third industrial revolution
The digitisation of manufacturing will transform the way goods are made - and change the politics of jobs too. Like all revolutions, this one will be disruptive, and is likely to be very unfriendly to modestly skilled workers.  More from The Economist:
A number of remarkable technologies are converging: clever software, novel materials, more dexterous robots, new processes (notably three-dimensional printing) and a whole range of web-based services. The factory of the past was based on cranking out zillions of identical products: Ford famously said that car-buyers could have any colour they liked, as long as it was black. But the cost of producing much smaller batches of a wider variety, with each product tailored precisely to each customer's whims, is falling. The factory of the future will focus on mass customisation—and may look more like those weavers' cottages than Ford's assembly line.

Digital technology has already rocked the media and retailing industries, just as cotton mills crushed hand looms and the Model T put farriers out of work. Many people will look at the factories of the future and shudder. They will not be full of grimy machines manned by men in oily overalls. Many will be squeaky clean - and almost deserted. Some carmakers already produce twice as many vehicles per employee as they did only a decade or so ago.

Most jobs will not be on the factory floor but in the offices nearby, which will be full of designers, engineers, IT specialists, logistics experts, marketing staff and other professionals. The manufacturing jobs of the future will require more skills. Many dull, repetitive tasks will become obsolete: you no longer need riveters when a product has no rivets.
10. The last laugh
And now here's John Clarke with Bryan Dawe on the great ship of state we call Australia.