Here's my Top 10 links from around the Internet at 10:00 am today in association with NZ Mint.
Bernard Hickey is on vacation and won't be back until later next week.
I welcome your additions in the comments below or via email to david.chaston@interest.co.nz.
I am still keen to get your suggestions for suitable cartoons. If you notice a really good one, please email me.
See all previous Top 10s here.

1. Own goal?
Prior to the GFC, Spain achieved great success under the Socialist government of Rodríguez Zapatero in reducing income inequality.
Now it appears that the way it did that has left it ill equipped to fix its economic problems.
You may like to read this and then think how something similar may play out in New Zealand when the Christchurch construction frenzy gets into full gear.
The country's construction boom of the 2000s had a powerful effect on unskilled workers, providing ample jobs and boosting wages. As a result, the income gap between the rich and poor fell sharply, at a time when inequality was rising in other developed nations.

[One expert observer] noted that the building boom coincided with a troubling trend in the country's high-school dropout rate. It rose to 31 percent in 2009, at a time when dropout rates were falling elsewhere in Europe. Apparently, the abundance of well-paid, low-skilled jobs made education unattractive.
2. Gender equality
The gap between male and female life expectancy is closing and men could catch up by 2030. At least, that is the British expectation. The BBC reports:
May not be repeated here because smoking rates are far lower in New Zealand. The latest equivalent data for New Zealand (2009) if you are 30 is that if you are male, you can expect to live to 80, if you are female you can expect to live to more than 83. Of course, those are median expectations - half of you will live longer than that, half shorter. (You are going to be a long time 'retired' so plan accordingly.)
The reason could be down to men living a healthier lifestyle. "One of the main reasons, I think, is the trend in the prevalence of smoking. Smoking took off after 1920 in the male population and at its high about 80% of males smoked.

"Men are getting a bit better behaved and women are adopting male life expectancies."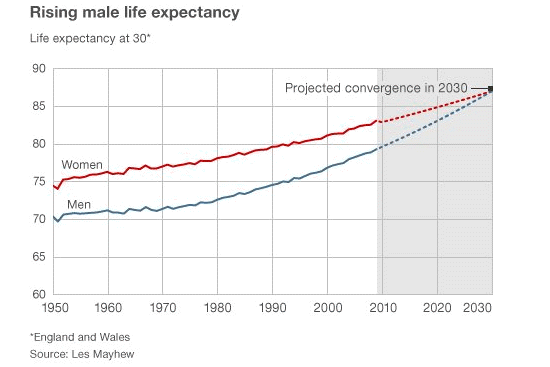 3. Savers to be forced to hold Govt stock?
You won't see too much linking by me to uber-bear Tyler Durden at ZeroHedge (even though I do read his stuff). But this one is worth consideration and a read: will bond investors and savers have to hold forced government loans at some point in the future?
Everyone and their dog realises that suffering the whole pain of a restructuring event at once is a bad alternative compared to spreading the pain over a longer period of time and spreading it in an orderly and less uncertain way.

It seems that the free market does not provide this option without harsh government intervention. The free market tends towards capital flight, wider risk spreads and thereby makes a restructuring event at the end of the road more likely. Greece for that matter has been half-solved at best and therefore has a good chance of being back on the brink soon.

I believe that at some point, we may see the implementation of a temporary regime which includes forced government loans for domestic private sector participants paired with strict capital controls for as long as the de-leveraging is going on.
4. History lesson
Columnists who focus on the euro crisis can't help themselves; they see eerie parallels between what is playing out now with what happened in the 1930's in . The UK Telegraph's Ambrose Evans-Pritchard has the bug, and I must say, he makes a compelling case: but you will either need to be a history buff, or of a certain [advanced] age ...
This week the tornado has smashed into the core, bringing down Holland's government and probably the French leader Nicolas Sarkozy as well in a cacophony of anti-EU diatribes.

Keynesians blame budget cuts, convinced that the pace of fiscal tightening - a net 2.5pc of GDP in Spain and 3.5pc in Italy -is beyond any sensible therapeutic dose, and already shown to be self-defeating in Greece, where economic collapse has left the deficit stuck near 10pc.

Monetarists blame the European Central Bank, accusing Frankfurt of tipping half of Europe back into slump by responding to last year's oil shock with rate rises. The effect was to compound drastic falls in real M1 deposits across Club Med, and trigger a credit crunch just as banks were slashing balances sheets to meet new rules. While the ECB has since launched its €1 trillion liquidity blast, this is not quantitative easing and has toxic side-effects.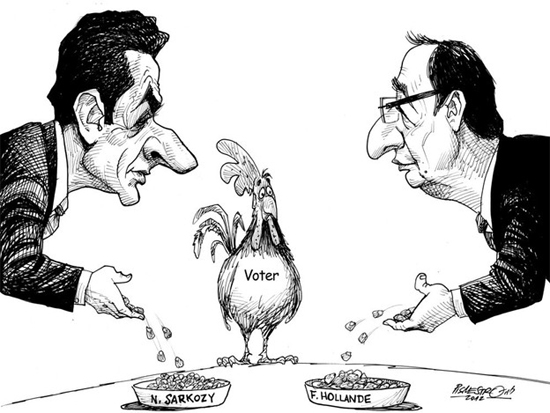 5. 'Baseball players deserve their pay; bankers don't'
The person who said that is an ex player-union boss, so you would expect him to say that. But the reasons he gave are worth reading all the same:
"The first thing about that is that here you have a direct conflict of interest, because sitting on a board are executives of other corporations, and what they are doing is adding ammunition to their own quest for higher salaries," Miller said, according to the AP report. "And it's such an obvious conflict of interest that it's awful. Of course they're going to vote for higher salaries."

And furthering enraging ... Miller, the actual owners of companies, shareholders, don't have a real vote in executive pay.
But did he conveniently ignore the clawback provisions in most executive pay schemes? Does Piri have a clawback clause? (Do kiwi bosses have clawback clauses?)
6. Mining for toilets
Under the ground in South Australia lies a valuable mineral which is in high demand, partly because more toilets are needed in China and India. That mineral is zircon, which is about as tough as tungsten or emerald and is used as a whitening agent for ceramics. But the riches may well come at the expense of grain harvests. Whether grain should be grown in such land is another question given the fragility of the soils there. It's a story of mining vs agriculture vs leaving the land alone. The ABC has the details:
7. Longer and deeper
Here's a graph from The UK Guardian showing that the UK economy has performed even more weakly since the current financial crisis began than in the Great Depression: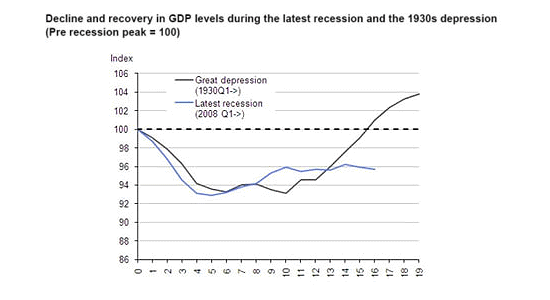 Each number on the horizontal axis represents one calendar quarter, while the vertical axis tracks economic outlook (with 100 representing the peak economic outlook before each downturn began).

With thanks to a fund manager who tweets as @Pawelmorski, who points out that Britain did "the equivalent of leaving the euro" (ie, quitting the gold standard) in 1931 (data points 4-7) on the graph.
8. China with a lamb advantage?
Chinese scientists have cloned a genetically modified sheep containing a "good" type of fat found naturally in nuts, seeds, fish and leafy greens that helps reduce the risk of heart attacks and cardiovascular disease. Reuters reports:
Lead scientist Du Yutao at the Beijing Genomics Institute and colleagues inserted the gene that is linked to the production of polyunsaturated fatty acids into a donor cell taken from the ear of a Chinese Merino sheep.

The cell was then inserted into an unfertilized egg and implanted into the womb of a surrogate sheep.

"The gene was originally from the C. elegans (roundworm) which has been shown (in previous studies) to increase unsaturated fatty acids which is very good for human health," Du said.

"Peng Peng", which has a roundworm fat gene, weighed in at 5.74 kg when it was born on March 26 in a laboratory in China's far western region of Xinjiang.

"It's growing very well and is very healthy like a normal sheep," Du told Reuters.
9. Is Michael Cullen about to do mass sackings at NZ Post?
Vernon Small at the DomPost looks at the tough options facing NZ Post as its snail-mail volumes continue their relentless fall:
NZ Post has warned 2012 is crunch time, with the state-owned enterprise needing hundreds of millions of dollars in capital for subsidiary Kiwibank as well as flexibility to cut store numbers and halt post delivery on some days.

In a toughly worded letter to State-owned Enterprises Minister Tony Ryall, NZ Post chairman Michael Cullen said most short-term fixes had been exhausted.

Cost-cutting and new products could no longer match the falling mail volumes.

In the letter, released under the Official Information Act, Cullen said 2012 "must be the year in which we take the first steps in making fundamental changes to our operational models".
10. The last laugh
It's Friday, so expecting something from Christov. In the meantime, here is Clarke and Dawe's latest.